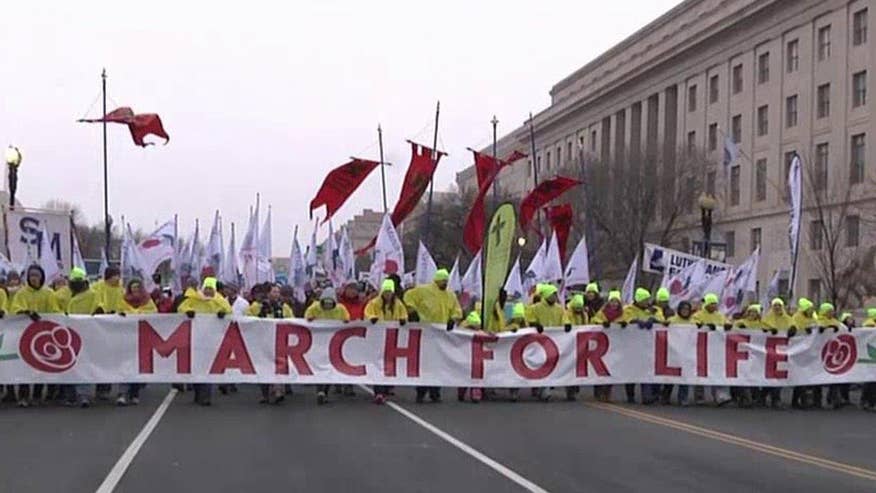 A looming blizzard shut down much of Washington Friday, but not a pro-life demonstration dubbed "March for Life," whose organizers vowed to slog through snow to carry their message to the steps of the Supreme Court.
The annual event, which began in 1974 and is aimed at overturning the landmark Roe v. Wade case that legalized abortion, kicked off just before noon Friday with a rally at Washington Monument. The gathering came just as the first flurries fell in what is expected to be a ferocious, 48-hour storm that could bury the capital under two-and-a-half feet of snow.
"This movement to end abortion in this country is bigger than us and it is bigger than a weather event."

- Jeanne Mancini, March for Life
"This movement to end abortion in this country is bigger than us and it is bigger than a weather event," said Jeanne Mancini, president of the group that organizes the event. "This is a cause that is worth our best efforts and dedication, despite difficult circumstances."
Weather has affected the event in the past. While it has attracted reported crowds of 250,000 or more, as well as huge counter demonstrations, a snowstorm winnowed the 1987 turnout to just 5,000.
Estimates were not immediately avalable, but event organizers insisted that "tens of thousands" would take part Friday.
Mancini praised the crowd at Washington Monument for shrugging off weather woes to make their point.

"The world may think we're a little crazy to be here on a day like this," Mancini told the gathering just after noon, adding that it was a worthy sacrifice in the fight against "the human rights abuse of abortion."
Marchers were expected to find much of the route to the courthouse abandoned, as the city was under a state of emergency and the federal government shut down at noon. All monuments and the National Mall will be closed through Sunday, according to the National Park Service. The Smithsonian also announced that its museums and National Zoo will be closed through Sunday.
In typical years, the event is attended by by church and youth groups bused in from area schools and beyond. But with schools closed, and travel restricted by the storm, turnout was down.
Republican presidential candidate Carly Fiorina made it to the rally, and blasted the woman she hopes to run against in the presidential election.
"Right now, Hillary Clinton is in New Hampshire giving a pro- abotion speech," Fiorina said. "She is saying that all of us, as conservaitve women, don't count.
"You can scream and throw condoms at me all all day long. You will not silence me," Fiorina continued, citing a tactic used by counter-demonstrators in the past. "Ours is a fight of the character of our nation for the value of life."
Sen. Jodi Ernst, R-Iowa, planned to speak, as did former NFL star Matt Birk, who after the Baltimore Ravens won the Super Bowl in 2013, refused to go to the White House for the celebratory tribute, citing President Obama's support for Planned Parenthood.
Not everyone looks upon Roe v. Wade as a negative turning point for the country. In a statement released Friday, Obama called the decision an affirmation of "a woman's freedom to make her own choices about her body and her health."
"As we commemorate this day, we also redouble our commitment to protecting these constitutional rights, including protecting a woman's access to safe, affordable health care and her right to reproductive freedom from efforts to undermine or overturn them," Obama's statement read.