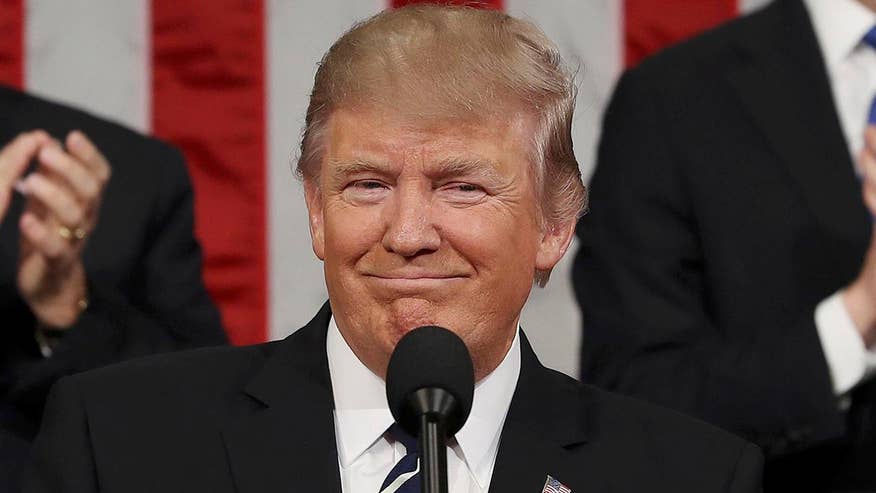 President Donald Trump's speech to a joint session of Congress Tuesday night set a Twitter record: some 3 million tweets were sent about the address, making it the most-tweeted speech of its kind, according to Twitter.
The company's @gov account reported that the speech generated more tweets than any other State of the Union or joint Congressional session address in history. The previous record was 2.6 million tweets.
With 3M Tweets, tonight's @POTUS speech was the most Tweeted #SOTU or #JointSession address ever, surpassing previous record of 2.6M pic.twitter.com/HVSA3uh8Xr

— Twitter Government (@gov) March 1, 2017
The "top Tweeted moments" of the speech were of three quotes, according to Twitter, and included "We are blessed to be joined tonight by Carryn Owens." Owens is the widow of the Navy SEAL, William "Ryan" Owens, who perished during an operation in Yemen.
These are the top Tweeted moments from President Trump's address to a #JointSession of Congress: pic.twitter.com/F0Ihhm0cCu

— Twitter Government (@gov) March 1, 2017
The top people Tweeted about were, unsurprisingly, the president (@POTUS), Speaker Paul Ryan (@SpeakerRyan), and Carryn Owens.
Here are the top Tweeted about people from President Trump's address to a #JointSession of Congress: pic.twitter.com/kpIBbv1xNJ

— Twitter Government (@gov) March 1, 2017
The most retweeted tweet, according to Twitter? It was one by President Trump, beginning with the phrase "We are one people, with one destiny."