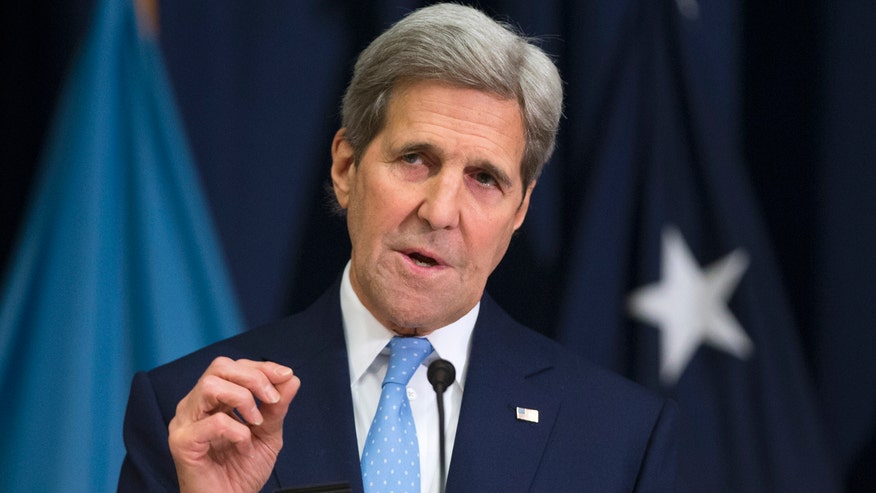 Secretary of State John Kerry and the International Atomic Energy Agency said independently Saturday that Iran has completed the necessary steps in the international nuclear deal to allow Tehran to immediately recoup roughly $100 billion in frozen assets.
"Iran has honored its commitment to alter, in fact dismantle, much of its" nuclear operation, Kerry said in Vienna. "All of Iran's paths toward a nuclear weapon have been stopped. … Today marks the first day of a safer world."
The deal was reached last summer after roughly two years of negotiation between Iran, the United States and five other world powers.
Iran has since shipped out tons of uranium and removed from service thousands of centrifuges -- key components in making a nuclear weapon.
President Obama on Saturday signed executive orders lifting the economic sanctions on Iran, but it was unclear by early evening whether he would make a public statement.
In addition to recouping hundreds of billions of dollars, Iran and its economy will vastly benefit from new oil, trade and financial opportunities now that the Western sanctions against it are lifted.
Democratic presidential frontrunner Hillary Clinton, a former secretary of state, praised the deal soon after Kerry's announcement, calling it an "important achievement of diplomacy backed by pressure."
"These are important steps that make the United States, our allies and the entire world safer," she said. "I congratulate President Obama and his team. And I'm proud of the role I played to get this process started."
However, Republicans and other Obama administration critics do not support the deal, saying in large part that the United States should have demanded tougher rules for inspecting Iran's nuclear-related facilities.
"President Obama's nuclear agreement with Iran is fatally flawed and gravely jeopardizes the national security interests of the American people, our ally Israel and other peaceful nations in the Middle East and around the world," GOP presidential candidate Ben Carson said. "Furthermore, the disastrous agreement will release more than $100 billion to Iran and allow it to continue exporting terrorism around the world."
The announcement about Iran complying with the deal was also made by International Atomic Energy Agency General Yukiya Amano, who said he is also releasing a report on Iran's actions.
"This paves the way for the IAEA to begin verifying and monitoring Iran's nuclear-related commitments under the agreement, as requested by the U.N. Security Council and authorized by the IAEA Board," he said in a statement.
United Kingdom Foreign Secretary Philip Hammond welcomed the implementation of the deal.
"The nuclear deal … in which Britain played a major role makes the Middle East and the wider world a safer place," he said. "Years of patient and persistent diplomacy, and difficult technical work, have borne fruit as we now implement the deal."
The Associated Press contributed to this report.