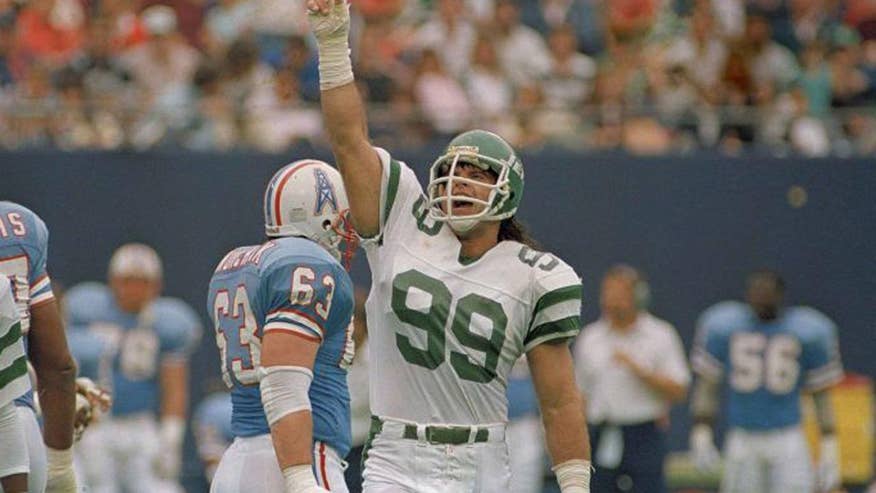 Mark Gastineau, one of the prominent figures in the New York Jets' sack exchange, revealed in a radio interview on Thursday that he's suffering from a slew of health problems.
Gastineau told 710 WOR Radio in New York that he was diagnosed with dementia, Alzheimer's disease and Parkinson's disease about a year ago.
"It's disturbing," Gastineau said. "But it's disturbing to the point where I want to get out and I want to help other youths and help other people coming into the game. Right now, I'm able to do it.
"When my results came back, I had dementia, Alzheimer's and Parkinson's. Those were three things that I have. ... It's something that I want every player that goes out and plays to be protected in the best way they can be protected."
Gastineau was promoting USA Football's Heads Up Football program, which prides itself on making the game safer. The Jets' career sack leader says the techniques the program teaches could have helped prevent his health issues.
"I'm not going to say that I'm not going to let my child play when I know there's techniques out there that if I would have had them," Gastineau said, "I know that I wouldn't have the results that I have now."
Gastineau said he learned the "head, stick and hands" technique as a youngster while playing the game at various levels.
"When we would hit each other, I mean, you heard pops like a shotgun going off," he said.
He also disagreed with former football and baseball star Bo Jackson, who recently said he wouldn't allow his children to play football.
"I think that if he would have known about the Heads Up program, I don't think that he would have said that he never would have let his kids play," Gastineau said. "The only reason that I would allow my child to play is because of this USAFootball.com. I would not allow my child to play if I did not have this Heads Up Football. There's no way in the world. You cannot expect your child not to be injured if you do not enter this program."
According to the New York Post, Gastineau rambled on in the interview at parts and interrupted his own thoughts at times.
Gastineau played in the NFL from 1979 to 1988, spending every second of his career with the Jets. He anchored the New York Sack Exchange defensive line, which included Joe Klecko, Marty Lyons and Abdul Salaam. The team led the league in sacks in 1981 with 66.
The Arizona State alum recorded 74 sacks in his career and at the height of his career led the league twice in the category – 1983 and 1984.
The Associated Press contributed to this report.