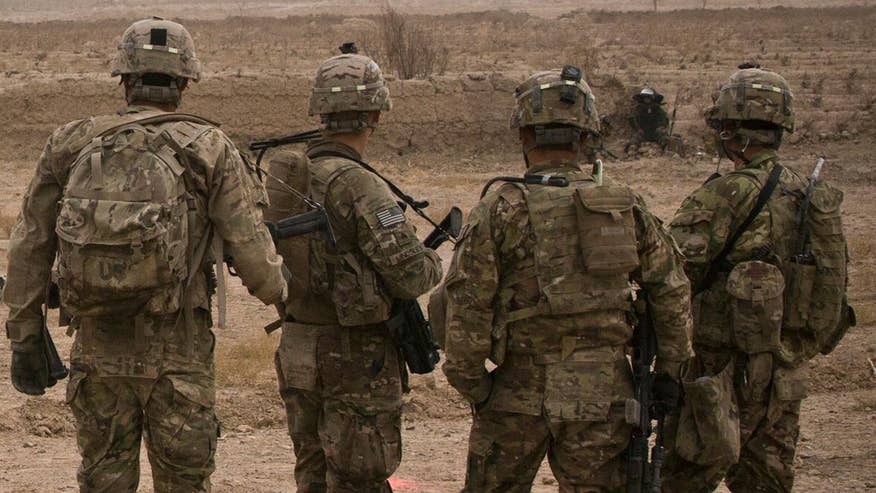 The United States is considering deploying up to 1,000 soldiers to Kuwait as a reserve force in the fight against the Islamic State terror network in the region, Reuters reported on Wednesday.
"This is about providing options," a U.S. official told the news agency.
VIDEO: MARINES ARRIVE IN SYRIA TO RETAKE RAQQA FROM ISIS
Those in favor of the move said having the reserve force located in Kuwait would provide the U.S. a greater capacity to respond to battlefield challenges. Officials reportedly said the decision will be part of the U.S.'s strategy review to defeat the militants in Iraq and Syria. The report said that there are about 6,000 troops serving mainly as advisers in the area.
Meanwhile, a detachment of U.S Marines arrived in Syria outside the ISIS de-facto capital of Raqqa, a U.S. defense official confirmed Wednesday to Fox News.
FATHER OF ISIS TERRORIST REFUSES TO ACCEPT 'TRAITOR'S' BODY
The Pentagon is not publically confirming the move, citing operational security.
U.S.-backed Iraqi forces fought their way Tuesday into the heart of western Mosul, storming the government complex in this part of the city but quickly pulled back in the face of heavy fire from the Islamic State group.
Last week, the troops reached the first bridge from the south in western Mosul, known locally as the 4th Bridge. U.S.-led airstrikes disabled all of Mosul's five bridges last year in a bid to isolate the militants.
The United Nations said that by Sunday, it had registered that about 42,000 people fled their homes in western Mosul since the start of the operation last month. The U.N. Office for Humanitarian Coordination, OCHA, said in a statement that 13,350 people fled to government-run areas in one day alone.
The troops expect to encounter far more fleeing civilians once they enter deeper into the more densely populated part of the city. The U.N. estimates that about 750,000 civilians are still trapped in their houses in Mosul's western side.
Fox News' Lucas Tomlinson and The Associated Press contributed to this report.