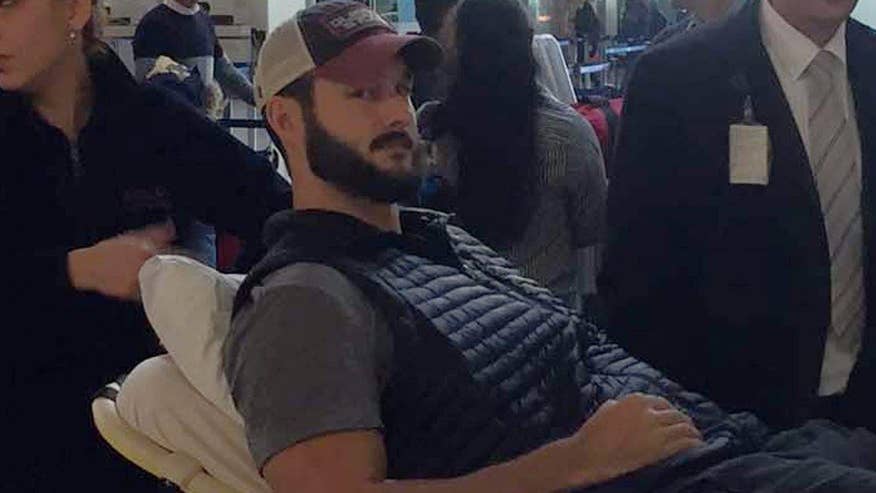 The lone American confirmed to have been injured in a New Year's terror attack on an Istanbul nightclub was saved by his cell phone, his brother told local media Monday.
William Jacob Raak, 35, of Chadds Ford, Pa., was one of an estimated 600 people partying inside the Reina nightclub early on New Year's Day when a gunman entered and opened fire at around 1:15 a.m. The attack, which was claimed by ISIS, killed at least 39 people, many of them foreigners, and injured close to 70 others.
Raak, who was at the club with a group of nine people, was shot in the hip. His brother, Michael Raak, told NBC10 that the bullet "hit his phone" before traveling to Jacob Raak's knee.
Doctors told Raak that the cell phone prevented the bullet from hitting a major artery, likely saving the American's life.
In an interview with NBC News, Raak said he laid on the floor of the nightclub and played dead as the gunman moved through the bloody scene. He described himself as "probably the luckiest person in the whole thing."
"When he shot me I didn't move — I just let him shoot me," he said. "I was shot when I was already on the ground. He was shooting people that he had already shot."
Seven of Raak's companions at the club were shot. All were expected to survive.
Camera crews captured Raak being loaded onto an ambulance outside the nightclub.
"I was shot in the f---ing leg, man," he yelled to reporters. "These crazy people came in shooting everything."
Raak's mother, Grace Raak, told The Associated Press on Monday her son was visiting Istanbul to celebrate his birthday, which was Wednesday.

"We are praying for those that were injured, for their speedy recovery, and we're praying for the family and friends of those who lost loved ones," Grace Raak said.

She said it was her understanding that her son was to arrive home Tuesday night.
Prime Minister Binali Yildirim said the attacker left a gun at the club and escaped by "taking advantage of the chaos" that ensued. Some customers reportedly jumped into the waters of the Bosporus strait to escape the attack.
The mass shooting followed more than 30 violent acts over the past year in Turkey, which is a member of the NATO alliance and a partner in the U.S.-led coalition fighting against ISIS in Syria and Iraq.
The country endured multiple bombings in 2016, including three in Istanbul alone that authorities blamed on ISIS, a failed coup attempt in July and renewed conflict with Kurdish rebels in the southeast.
The Associated Press contributed to this report.