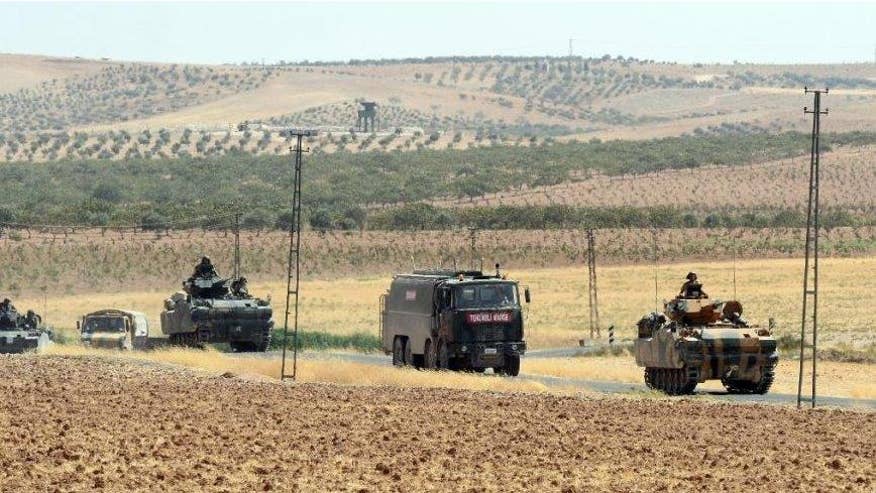 Turkey's military launched a second incursion into Syria Saturday against an Islamic State-held border town, in a move that U.S. officials view as a necessary step to flushing out the jihadist group from the war-torn country.
A Turkish armored unit supported by artillery strikes moved across the border into Al-Rai, a Syrian city that Syrian rebels lost to Islamic State earlier in May and which is located roughly halfway along the line of control bebetween the Turkish-Syrian border.
A statement from the Turkish military said that Syrian rebels fighting with the support of Turkish armored units and artillery had control of the Syrian town. It wasn't immediately clear when the operation started or what kind of resistance the forces met during the incursion.
The thrust follows a successful operation last week by Turkey's military and an estimated 1,000 Syrian rebels to seize Jarablus, which lies across the border from Gaziantep, a Turkish city of two million people that has been severely destabilized by the flow of foreign fighters entering Syria and leaving that war-torn country to spread Islamic State's terror spree in their homelands.
Saturday's incursion took place 36 miles west of Jarablus and represents a new second front for the Turkish military in Syria. If Turkish-backed rebels can successfully hold the area, it would slice in half the approximately 62 miles of territory that Islamic State has controlled along the Turkish border and isolate its remaining forces in that corner of Syria.
Click for more from The Wall Street Journal.