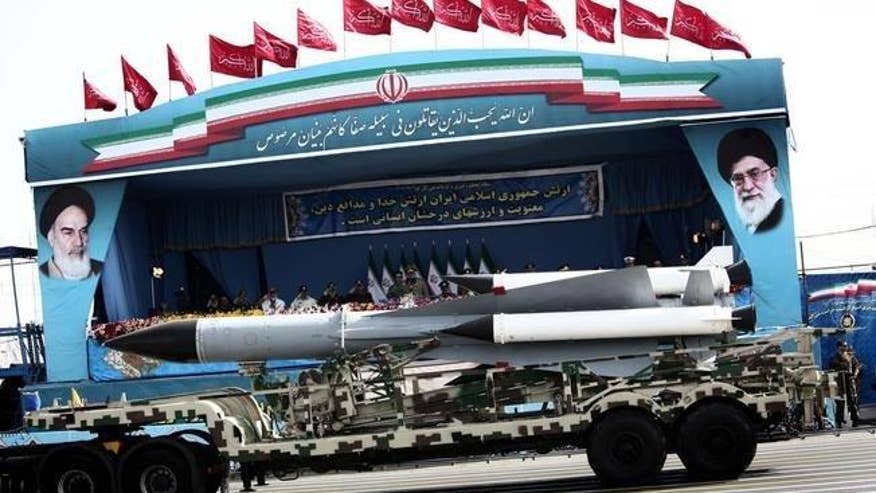 Even as Iran brazenly rolled out components of a new advanced air defense it received from Russia Sunday, President Hassan Rouhani said "a mighty Iran" would not "mount a threat to neighbors and other Islamic countries."
Iran started to receive its first parts of the S-300 missile defense
system from Russia last week. Some of the parts were shown in the country's Army Day parade Sunday.

"A mighty Iran militarily, politically and economically won't mount a threat to neighbors and other Islamic countries," Rouhani said, The Tehran Times reported. "The strength of other Islamic countries is ours and vice versa."
Russia delivered the defense system despite repeated U.S. objections. A video from the parade purportedly shows the missile system being carried past a podium. However, the Pentagon hasn't confirmed whether they are parts of the system.

The S-300 missile defense system is one of the more advanced types of weaponry of its kind that can engage multiple aircrafts and ballistic missiles around 90 miles away, according to Reuters.
"We all pursue the same goal and likewise, our diplomacy and armed forces both pursue the same goal: national security, stability and development," Rouhani said.
Flying overhead during Iran's Army Day celebrations were old U.S. F-14 and F-4 fighter jets, sold to Iran during the Nixon administration. At the time, the jets were the most advanced warplanes in the U.S. military's inventory, but they have both been long scrapped.
In the late 70s, the United States sold high-end military equipment to Iran, as long as it was non-nuclear.
This news comes days after Russian jets harassed a U.S. Air Force spy plane over the Baltic Sea Thursday as well as buzzed a U.S. Navy destroyer 31 times over two days, according to the Pentagon.
"The enemy should bear in mind that there is no schism among our nation, government and armed forces," Rouhani said. "We are all fingers of the same hand."
President Obama will be in Saudi Arabia this week to discuss with Gulf leaders about Iran's growing presence in the region.
Rouhani highlighted that presence in his speech Sunday, noting a series of economic, technological and scientific advancements the Islamic Republic had achieved due to increased travel to the country, The Tehran Times reported.
"Had it not been for the mighty army, it would have been impossible to achieve this," he said.

Fox News' Lucas Tomlinson contributed to this report.