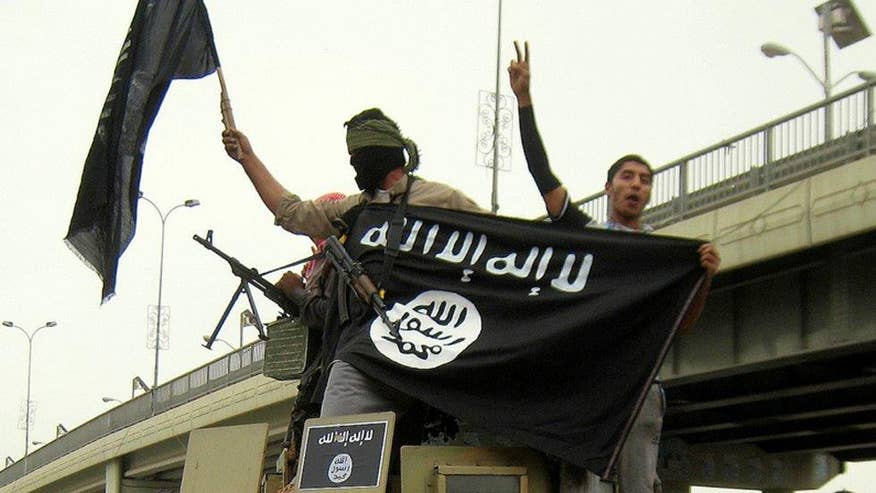 A senior Islamic State commander with a $5 million bounty on his head was targeted and "likely killed" in an airstrike in northeastern Syria last week, a U.S. defense official told Fox News Tuesday.
Tarkhan Tayumurazovich Batirashvili, also known as Abu Umar al-Shishani, is believed to have been killed in the aerial attack last Friday, according to U.S. officials.
The airstrike took place March 4 near the Syrian town of Al Shadaddi, a former ISIS stronghold that was captured in February by the U.S.-backed, predominantly Kurdish Syria Democratic Forces.
"His potential removal from the battlefield would negatively impact ISIL's ability to recruit foreign fighters - especially those from Chechnya and the Caucus regions -- and degrade ISIL's ability to coordinate attacks and defense of its strongholds like Raqqah, Syria, and Mosul, Iraq," Pentagon Press Secretary Peter Cook said in a statement on Tuesday.
The strike last Friday was conducted by multiple waves of manned and unmanned U.S. aircraft, and initial assessments indicate Batirashvili was likely killed along with 12 additional ISIS fighters, according to a U.S. defense official.
The official added that it was "unusual and noteworthy" that Batirashvili -- who was the ISIL equivalent of the Secretary of Defense -- had traveled to the Al Shaddadi area from Raqqa.
The trip was likely to bolster the sagging morale of ISIS fighters there, who have suffered a series of defeats by Syrian Democratic Forces as they moved from Al Hawl to Al Shaddadi, the official said.
Batirashvili, is one of hundreds of Chechens who have been among the toughest jihadi fighters in Syria.
He is an ethnic Chechen from the Caucasus nation of Georgia, specifically from the Pankisi Valley, a center of Georgia's Chechen community and once a stronghold for militants.
He is sometimes called "Omar the Chechen" and known for his red beard.
He joined ISIS in 2013, where he oversaw a prison facility near Raqqah, Syria where the terror group may have held foreign hostages. In mid-2014, he coordinated closely with ISIS's financial section to establish a base of operation near Minbij, Syria.
He was later appointed northern commander to ISIS by Abu Bakr al-Baghdadi with authority over the terror group's military operations forces in northern Syria, according to a U.S. defense official.
The U.S. Treasury Department designated Batirashvili as a Specially Designated Global Terrorist pursuant to Executive Order 13224 for action for or on behalf of ISIS, and offered a $5 million reward for information to bring him to justice.
Fox News' Lucas Tomlinson and the Associated Press contributed to this report.