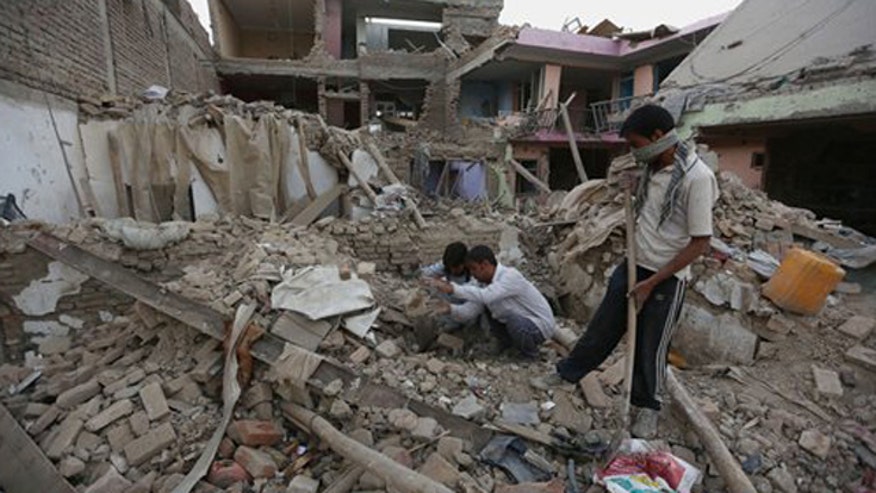 An American soldier was killed and two others were wounded in a militant attack at a U.S. Special Operations forces base in the Afghan capital on Friday, part of a deadly wave of bombings from militants that also targeted a Kabul police academy and an Afghan army compound.
A military source told Fox News late Saturday the American soldier killed was a Green Beret, part of a team of U.S. Special Forces based in Kabul.
The service member died in an explosion that occurred outside the headquarters of the U.S. military's Special Forces in Kabul at Camp Integrity, officials said Saturday.
"A coalition facility (Camp Integrity) was attacked at 10:15pm, 7 Aug.," Army Col. Brian Tribus, a spokesman for U.S. and coalition forces in Afghanistan, said in a statement to Fox News. "One Resolute Support service member, eight Resolute Support contracted Afghan civilians, and four insurgent attackers were killed."
He said several other Resolute Support service members and contracted civilians were wounded or injured in the attack.
"All Resolute Support personnel have been accounted for and the camp has been secured," Tribus said.
The attack took place hours after a suicide bomber dressed in a police uniform struck outside the gates of a police academy in the Afghan capital, killing at least 20 recruits and wounding 24, Afghan officials said.
Earlier in the day, a massive truck bomb killed at least 15 people in a residential area of Kabul. The 1 a.m. blast flattened an entire city block and also wounded 240 people, officials said.
The office of Afghan president Mohammad Ashraf Ghani said 47 women and 33 children were among the casualties in that attack. The president's deputy spokesman, Zafar Hashemi, said about 40 of the wounded would remain hospitalized. It was unknown how the attackers smuggled a large amount of explosives into the heavily guarded city.
The State Department on Saturday condemned the attacks.
"These attacks resulted in hundreds of casualties and at least 44 deaths, including children, and demonstrate again the insurgency's complete disregard for the lives of innocent Afghans," spokesman Mark Toner said. "Such actions have no justification."
Friday's bombings ended a month-long lull in violence in Kabul and shocked many residents. The violence came in a time of deep divisions in the Taliban leadership amid the news of the death of founder and leader Mullah Mohammad Omar.
Ghani threatened a rapid and forceful response to the bombing, saying it was aimed at diverting public attention from the Taliban's leadership struggle.
Zafar Hashemi, the president's deputy spokesman, blamed the Taliban and said the attackers aimed to "hide the cracks between their own factions and create terror."
Nearly 10,000 U.S. troops remain in Afghanistan, including thousands of U.S. Special Ops Forces who train Afghan Army soldiers and continue to go on missions with them. Although, if the Afghan National Army does a raid, the U.S. Special Ops troops will hang back, a special operations soldier who recently returned from Afghanistan tells Fox News.
Fox News' Lucas Tomlinson and The Associated Press contributed to this report.