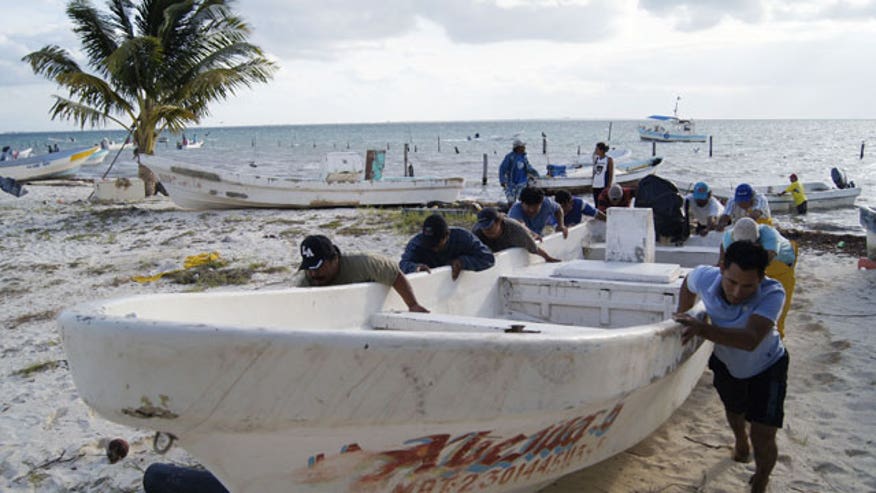 PLAYA DEL CARMEN, Mexico – Tropical Storm Rina battered Mexico's Caribbean coast and the island of Cozumel with winds and rain Friday, and the navy forcibly evacuated some residents who refused to leave a low-lying island in the path of the storm.
Rina was a far cry from the Category 3 hurricane that some had feared would hit the resort-studded region and many tourists abandoned Cancun and the Riviera Maya ahead of its arrival. The storm was weakening further early Friday, with maximum sustained winds of near 45 mph , down from 110 mph at its peak.
Playa de Carmen, a resort town across from Cozumel, was left without electricity and streets were largely empty as Rina swept along the coast.
The Mexican Navy sent boats to Holbox island, off the northeastern tip of the Yucatan Peninsula, to forcibly remove about 80 people who had balked at leaving the island during an earlier evacuation of about 2,300 people.
Lines snaked from ticket counters in Cancun's crowded airport as airliners heading to Canada and Europe waited in pouring rain. State Tourism Director Juan Carlos Gonzalez Hernandez estimated 10,000 tourists had left by Wednesday night, though thousands of others remained.
NASA cut short an undersea laboratory mission near Key Largo, Florida, bringing the crew back to land, and schools were closed in communities along the coast, as were ports.
But some decided to ride out the weakened storm.
"We would prefer to lie on the beach and get in the ocean, but right now all we can do is walk around and go shopping," said Vera Kohler, a 27-year-old tourist from Frankfurt, Germany, who arrived Wednesday and planned to stay in the area until Sunday.
Domenico Cianni, a retired restaurateur from Vancouver, Canada, said he also prepared for a hurricane by buying extra food and beer and putting shutters on the windows of his rental home. But after hearing Rina had been downgraded to a tropical storm he decided to join tourists at Playa del Carmen's pier.
"We were curious about what's happening. We wanted to be part of the action," Cianni said.
The U.S. National Hurricane Center said the storm was likely to keep bringing rains across the region for days. It was centered about 20 miles north of Cancun and was moving to the north-northeast at 4 mph Friday morning, but was expected to double back to the south and and move along the coast toward Central America while weakening further.
To track this storm and for other hurricane coverage click here.
For the latest from the Fox News Extreme Weather Center click here.