CRIME
State police searching for a man accused of killing a state trooper say they found two pipe bombs in the Pennsylvania woods during their manhunt.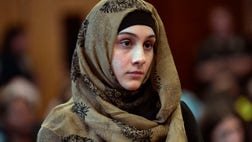 Terror
A sister of the Boston Marathon bombing suspects was led away in handcuffs Tuesday after a brief court appearance on allegations that she threatened to "put a bomb" on a...
Regions
A Kentucky high school was put on lockdown Tuesday afternoon after shots were reported and one student injured, WDRB.com reported.