Homicide
A jury convicted a Northern California man of first-degree murder in the killing of an animal control officer, rejecting testimony from a psychologist who stars on the reality...
Homicide
Pennsylvania State Police had a special pair of handcuffs set aside and ready for the man wanted in the fatal shooting of one of their troopers, Cpl. Bryon Dickson.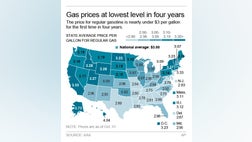 ECONOMY
The sight is so surprising that Americans are sharing photos of it, along with all those cute Halloween costumes, sweeping vistas and special meals: The gas station sign, with...