DISASTERS
Forecasters say severe drought or worse will continue into next year across much of the West, including parts of western Utah, most of Nevada and practically all of California.
Crime & Courts
A pistol-packing pastor helped catch a grandmother last week who police say has been stealing dozens of packages from the front porches of homes in a Texas town, KTRK reported.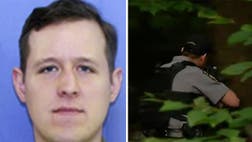 Crime & Courts
Law enforcement authorities are on the trail of the self-taught survivalist suspected in the ambush shooting attack that killed one Pennsylvania state trooper and wounded...