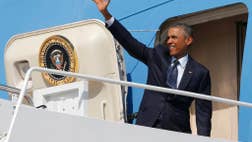 MILITARY
The U.S. is adding 350 more troops to help protect the American Embassy in Baghdad and its support facilities in the capital, raising the number of U.S. forces in the country...
Sex Crimes
The first Air Force instructor convicted of rape in a sex scandal at one of the nation's busiest military training centers has died in prison.
EDUCATION
A new Oklahoma City preschool is staying away from plastic toys, serving only vegan and gluten-free food, and focusing on teaching children early about living a healthy...