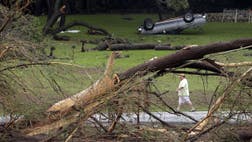 Floods
Local officials in Texas have urged residents living near rivers swollen by torrential rainfall to consider leaving the area due to the threat of more flooding later in the...
RELIGION
When Marco Rubio attends his 44th birthday party and fundraiser at the home of the host of the "Pawn Stars" reality show Thursday, it won't be his first birthday in Las Vegas.
TERROR
Former New York Gov. George Pataki plans to say Thursday whether he's running for the Republican presidential nomination.