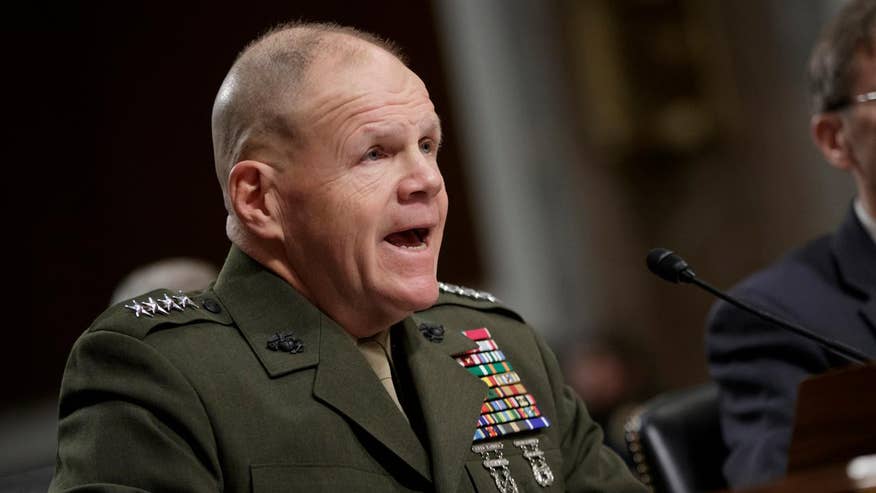 The nation's top Marine told a group of skeptical senators on Tuesday that he intends to make cultural changes at the service branch in response to the scandal over nude photo-sharing that has rocked the military.
Gen. Robert Neller, the Marine Corps commandant, asked the women enlisted in the Marines to "trust the leadership to correct this problem" and vowed to hold those involved accountable.
He also addressed the men of the Marines during his opening statement to the Senate Armed Services Committee, asking, "What is it going to take for you to accept these [female] Marines as Marines?"
Neller added that the Marines will do what it takes "to remove this stain" and added, "It can't go on anymore."
Neller's comments and public push for reform follow the revelation that former and active-duty members of the Marines have been sharing nude photographs of female service members on a private Facebook page called "Marines United" that boasted it had 30,000 members.
The Center for Investigative Reporting, which first reported the investigation, found that since Jan. 30, more than two-dozen women had been identified by their rank, full name and military duty station on Marines United.
But the problem isn't limited to the Marines. Beyond Facebook, a website called AnonIB has peddled pornographic pictures among service members in other branches as well.
Frustrated senators on Tuesday accused the Marines of routinely ignoring complaints of sexual harassment, assault and cyberbullying.
Raising her voice, Sen. Kirsten Gillibrand, D-N.Y., asked why no one had been held accountable since reports of online harassment surfaced more than two years ago. Gillibrand pressed Neller on making "hollow" promises to clean up the corps but not delivering.
"Who has been held accountable? Who has been held responsible? Have you actually investigated and found anybody guilty?" she asked.
She added: "Your answers today are unsatisfactory. They do not go far enough."
Neller responded that he didn't have a "good answer" for why there have been so many lapses.
"I'm not going to sit here and duck around this thing," he said. "I'm not. I'm responsible. I'm the commandant. I own this."
Democratic Sen. Jeanne Shaheen asked why the public should believe pledges to clean up the corps now. She pointed out that military leaders in the past have vowed to correct sexual abuse and harassment problems but that nothing has changed.
"It's hard to believe something is really going to be done," she said. "Why should we believe it's going to be different this time than it has in the past?"
During the public portion of his testimony – which came before a closed-door session with lawmakers – Neller hinted that changes were coming.
"The Marines Corps I have served for over 40 years has a problem," Neller admitted.