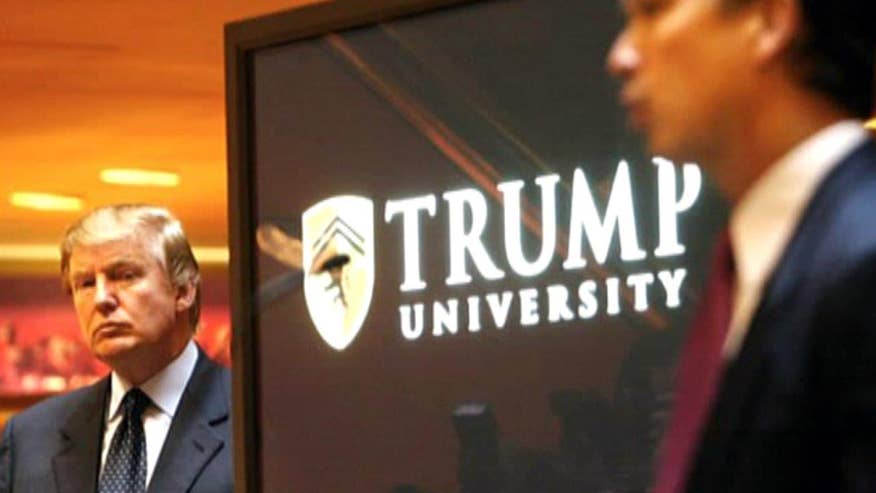 A federal judge ordered Friday the release of Trump University internal documents in a class-action lawsuit against the defunct real estate school owned by presumptive Republican presidential nominee Donald Trump.
U.S. District Judge Gonzalo Curiel in San Diego calls for the documents to be released Thursday. The order comes in a response to a request by The Washington Post.
Trump University has been cited repeatedly in anti-Trump political ads during the primary campaign as evidence that Trump fails to live up to his promises. Trump's lawyers have denied any wrongdoing in the case before Curiel as well as another class-action suit in San Diego and a $40 million lawsuit filed in 2013 by the state of New York alleging that more than 5,000 had been defrauded.
The billionaire real estate mogul, for his part, has claimed that Curiel is a "hater of Donald Trump" and should be ashamed of how he has handled the case. Trump also has questioned whether Curiel, who is Hispanic, is biased against him because of his call for deporting immigrants in the U.S. illegally.
"I think Judge Curiel should be ashamed of himself. I think it's a disgrace that he is doing this," Trump said Friday.
The lawsuit overseen by Curiel states that Trump University's nationwide seminars and classes were like infomercials and pressured students to buy more but didn't deliver as promised in spite of students paying as much as $35,000 for seminars. Curiel already has set a Nov. 28 trial date.
Trump, who appears on a list of defense witnesses for the trial, has repeatedly pointed to a 98 percent satisfaction rate on internal surveys. But the lawsuit says students were asked to rate the product when they believed they still had more instruction to come and were reluctant to openly criticize their teachers on surveys that were not anonymous.
The Post reported that Curiel's order to release an estimated 1,000 pages of documents cites heightened public interest in Trump and that he had "placed the integrity of these court proceedings at issue."
The judge appeared to reject the argument by Trump attorneys that the information had commercial value, saying that there was no support for the assertion that Trump University may resume operations.
Since the early 1980s, Trump personally has been sued at least 150 times in federal court, records show. Only a handful of those cases are pending, with the ones involving Trump University being the most significant.
The judge had previously floated the idea of a June trial but then previously settled on an August date before Trump's rise in the primaries.
Trump's attorneys have resisted a trial during the campaign.
"This will be a zoo if it were to go to trial," Trump lawyer Daniel Petrocelli said at a March hearing.
Trump has railed against the judge, calling him hostile and suggesting his positions in the case may be the result of Trump's stance on border security. The presumptive GOP nominee has noted the Curiel's ethnicity.
Trump said of the judge at an Arkansas rally in February: "I believe he happens to be Spanish, which is fine. He's Hispanic — which is fine."
The Associated Press contributed to this report.