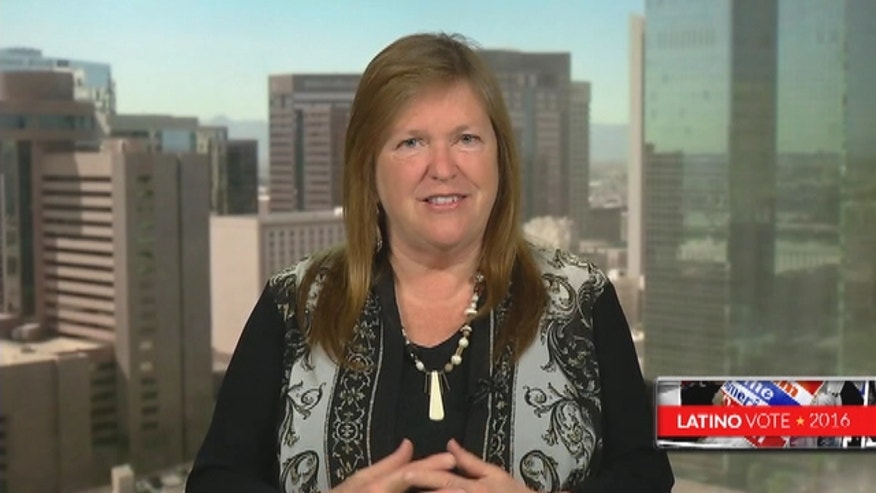 Jane O'Meara Sanders has full confidence in Sen. Bernie Sanders of Vermont, she told Fox News Latino, because the Democratic candidate for president – and her husband of 28 years – has never let her down.
"In 1981, when I heard him speak for the first time, I thought he embodied everything I ever believed in," she said. "And 35 years later, I can say I'm more impressed with him and more proud about the fact that he has never let me down, never let the people that counted on him down."
Sanders is locked in a bruising nomination fight with former Secretary of State Hillary Clinton, one that many people say he has a very slim chance of winning.
"We get a day a month [in which the press says], 'Oh, maybe he can do it,'" O'Meara Sanders said, "but the rest of the time, 'It's impossible.' We don't believe anything is impossible."
On the eve of Super Tuesday 2, with five states – Illinois, Ohio, Missouri, North Carolina and Florida – holding primaries, Sanders trails Clinton 1,235 to 580 in the delegate count. (2,383 are needed to win the nomination outright.
O'Meara Sanders believes her husband will do more than hold his own on Tuesday and beyond.
"Our hope is that a high voter turnout will put him over the top in a few of those states," she said, taking a break from campaigning for her husband in Arizona to speak to Bryan Llenas. "The history is that the larger the turnout, the better Bernie does … which says a lot."
"We're staying in until the convention," she vowed. "The more people know him, the more they support his ideas." She added, "Time is on our side."
Clinton and Sanders have been tangling with each other to win the support of Latino voters, with Sanders challenging Clinton's hold on the group especially among young voters. One of the charges aimed at Sanders by the former First Lady's campaign is that he's a Johnny-come-lately to the immigration issue.
"That's not true," O'Meara Sanders said. "He went down to Immokalee, Florida, long before he thought about running for president, and he had no reason to go except that he had heard that tomato growers were being paid starvation wages and having no housing."
Asked what had surprised her and her husband most during the campaign about Latino voters, she answered, "Hearing about the deportations."
She added, "We meet young people, and they say some of their family members have been deported. Others who say, 'I go to sleep every night worried that there'll be a knock on the door'... I guess I wouldn't say 'surprise,' because we've been reading about it, but to hear it first hand and to hear the pain that it causes."
"[Clinton] has the Latino establishment," O'Meara Sanders admitted to FNL. "Bernie is not the establishment candidate. But … the Latino community is responding to his message, and we're very grateful for that."
Asked which of the Democratic presidential hopefuls would fare better against that other non-establishment candidate in the hunt for the White House, real estate mogul Donald Trump, O'Meara Sanders said, "Bernie is a very good campaigner, and it would be a real contrast of ideas. I think that there is no doubt he would be the stronger candidate."
Some observers have pointed out that Sanders is drawing support largely from some of the same sources as Trump is – white voters who feel disconnected from and angry at the political establishment, but to her, there is a world of difference in their appeals.
"Right from the beginning,[Trump was] talking about Mexicans and Latinos and Muslims – what he's trying to do is divide people. He's taking people's frustrations and fear and anger and stoking it to be more angry to blame others."
"What Bernie is doing," she said, "is recognizing that, yes, there is reason that people are feeling so distrustful of this government, of the system. It's not just the government – it's Wall Street, it's the special interests – and Bernie is offering real solutions instead of blame."
Bryan Llenas currently serves as a New York-based correspondent for Fox News Channel (FNC). Click here for more information on Bryan Llenas. Follow him on Twitter @BryanLlenas.