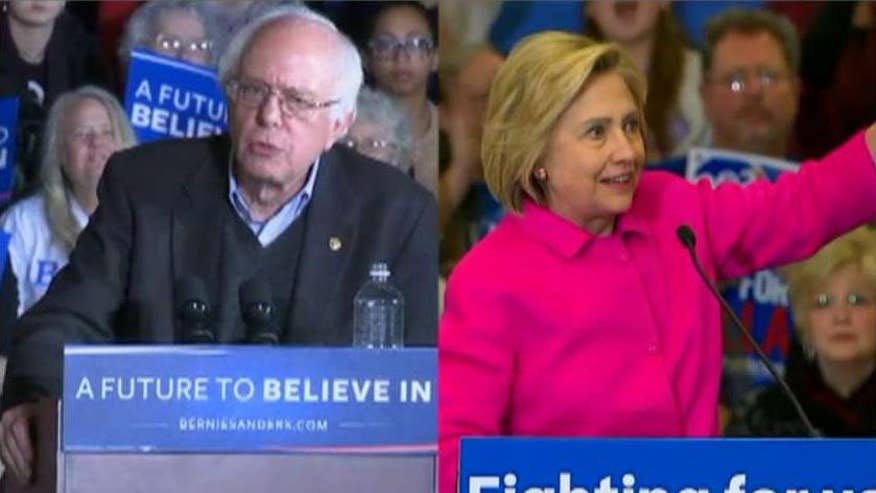 Hillary Clinton proved in South Carolina that her "firewall" of black voters remains intact -- and she's banking on that support to dominate a delegate-rich slate of Southern contests by the time polls close on Super Tuesday.
"I don't think there is any doubt about it," said Terry Madonna, director of the Franklin & Marshall Poll in Pennsylvania. "She has consolidated their support and it has not wavered."
The big question Tuesday, though, is not so much whether Clinton wins the Southern states but by how much -- as this will determine how big Sanders' delegate deficit becomes.
To give an idea of what's at stake: Texas offers 222 delegates, Georgia offers 102, Virginia offers 95, Tennessee offers 67, and Alabama offers 53.
Clinton leads the polls throughout, and the importance of the black vote cannot be understated in these contests.
According to data from 2008, black voters made up 51 percent of the Democratic primary crowd in Alabama. In Texas, black turnout was 19 percent; in both Tennessee and Virginia, it was roughly 30 percent; in Georgia, it was 51 percent that year, when Barack Obama was on the ballot against Clinton.
Though Clinton struggled for black support in the 2008 primary, exit polls showed she won more than 80 percent of those voters on Saturday in South Carolina -- handing Clinton her first decisive win of the season and potentially setting the course for a Southern sweep.
This makes things very difficult for Sanders, given the delegates -- and political momentum -- at stake.
Sanders is pinning his hopes on states like Minnesota, Colorado, and Oklahoma, which have fewer black voters. Likely sensing these will be the real battlefield, Clinton was expected to do her last-minute campaigning in Minnesota before heading to Miami for her campaign party Tuesday night.
After leaving Minnesota himself, Sanders will be in his home state of Vermont -- the one state where he is a shoo-in -- for election returns.
There were two factors working against Clinton when she ran this race in 2008 -- she was facing a black opponent, and she did not take the ground game as seriously. This time, said Madonna, "they are not taking it for granted now, they are not fooling around."
Early on, he noted, she began courting black leaders in these key Southern states, reminding them of the longstanding ties between the Clintons and the black community, which date back to her husband's administration. She also began "addressing the issues that the African American community cares about " earlier, and since then, Sanders "has been playing catch up," Madonna noted.
She is also not afraid to tout common cause with the nation's first black president. "I will build on the progress that President Obama has made," Clinton said in a recent trip to Chicago.
But that doesn't mean that Sanders hasn't captured some of this vote, with his emphasis on criminal justice, policing, and minimum wage on the campaign trail.
And Clinton has had occassional confrontations with young black voters on the campaign trail.
"The black 'old heads' are the ones supporting Hillary and the younger people are pushing toward Bernie," offered Frederick Harris, director of the Institute for Research in African-American Studies at Columbia University. South Carolina Rep. Gilda Cobb-Hunter suggested that Sanders was picking off votes in this demographic "because people are not feeling that they have been listened to by establishment politicians."
Black university students may lean toward Sanders, but Cathy Cohen, a University of Chicago political scientist who studies black millennial voters, said young African Americans more immersed "in a more traditional civil rights network, including a black church," might be more persuaded in favor of Clinton.
But it will all depend on turnout.
Despite their willingness to vote over the last few years, millennials have not proven they will turn out in large numbers on primary day.
"They're the ones who may show up to Hillary and Bernie's rallies and disrupt stuff," said Harris. "But we don't know if they're going to come out and vote or not."
FoxNews.com's Kelley Vlahos and The Associated Press contributed to this report.