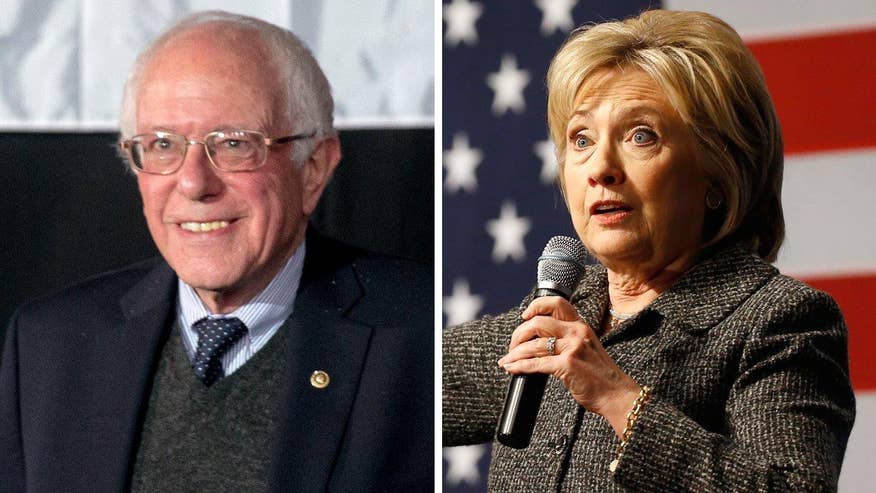 **Want FOX News First in your inbox every day? Sign up here.**
Buzz Cut:
• Hillary Clinton's red scare
• Server situation keeps getting worse
• Trump, Palin try to build left-right coalition
• New Rubio ad hits Hillary
• 'Dad, the trumpets saw the pants'
HILLARY CLINTON'S RED SCARE
Is this the Clinton campaign or the John Birch Society?

Hillary Clinton's campaign network is riot with talk about socialism, seeping in under the door or perhaps in the fluoridated water. You never know where the "conspiracy to sap and impurify all of our precious bodily fluids" will turn up.

Among those warning of socialist creep is prominent Clinton booster, Missouri Gov. Jay Nixon, who got double coupons for warning of a threat to the very heartland of the nation. "Here in the heartland, we like our politicians in the mainstream, and he is not — he's a socialist," Nixon told the NYT.

The sinister socialist to whom Nixon is referring is 74-year-old Vermont Sen. Bernie Sanders, who has been in Congress since 1991 and for all of his adamancy about being an independent and a, yes, socialist has almost always been a perfectly pliant supporter of the Democratic party.

Democratic leaders getting Sanders' vote has been something like bums turning up for a hot meal at the Salvation Army: You have to listen to a little sermon, but you'll get what you came for.

Now remember, Democrats are socialists. Heck, most Republicans are socialists, in the traditional sense that socialism refers to the government taking resources from the private sector and redirecting them. In an academic understanding, it's all about degree. Some people are socialist enough to want the government to build highways and provide basic regulations for commerce.

What Sanders means is that he would like the government to do much, much more of that. Like, much more.

But during the Cold War and beyond the word came to be associated with the dangerous boys in the Politburo. Being associated with the Union of Soviet Socialist Republics was not exactly good PR. And that after the National Socialists of Germany, well, you're going to need a re-branding.

Welcome back progressivism!

But despite the relatively short ideological leap between Clinton's policies and those of Sanders, the scare is on. Joining Nixon in the red scare is Clinton PAC man David Brock.

"He's a socialist," Brock told Bloomberg News. "… He's got a 30 year history of affiliation with a lot of whack-doodle ideas and parties." Not very kind to say about a guy who has been a loyal Democrat and shared 93 percent of votes in common with Clinton when she was in the Senate.

This ought to prove a couple of things to election observers: Team Clinton is very nervous and utterly willing to do anything to win.

Server situation keeps getting worse - Fox News: "Hillary Clinton's emails on her unsecured, homebrew server contained intelligence from the U.S. government's most secretive and highly classified programs, according to an unclassified letter from a top inspector general to senior lawmakers. Fox News exclusively obtained the unclassified letter, sent Jan. 14 from Intelligence Community Inspector General I. Charles McCullough III. It laid out the findings of a recent comprehensive review by intelligence agencies that identified 'several dozen' additional classified emails -- including specific intelligence known as 'special access programs' (SAP). That indicates a level of classification beyond even 'top secret,' the label previously given to two emails found on her server, and brings even more scrutiny to the presidential candidate's handling of the government's closely held secrets."

New poll has Bernie leading Hillary in New Hampshire - CNN: "Bernie Sanders' lead over Hillary Clinton in New Hampshire is on the rise, with the Vermont senator leading the former secretary of state by 27 points, 60% to 33%, a new CNN/WMUR poll has found. The new poll, mostly conducted before Sunday night's debate, found Sanders' support has grown by 10 points since a late-November/early December CNN/WMUR poll, which found Sanders holding 50% to Clinton's 40%. New Hampshire Democrats' views on the race are solidifying as well, with 52% saying they have definitely decided who they will support, up from 36% who felt that way in early December. Among those voters, Sanders holds an even broader 64% to 35% lead."

WITH YOUR SECOND CUP OF COFFEE…
On this day 153 years ago Union General Ambrose Burnside, reeling from an embarrassing defeat at the hands of Robert E. Lee in Fredericksburg, Va., tried to redeem himself by taking advantage of an unusually warm and dry January to quick march his Army of the Potomac for a surprise attack. But it would turn out that Burnside's gift for innovation was mostly limited to facial hair. The Massachusetts Sesquicentennial Commission has a wonderful description of the big idea that would cost him his command:

"On the night of January 20-21, as they were set to begin, a light rain began and then turned very heavy. The roads that had seemed easy to navigate quickly turned to impassable mud. The march should have taken an easy four hours, but it became a four-day nightmare. The wagons and heavy artillery simply sank and the teams of horses and men hauling them with ropes could not remove them...Meanwhile, across the river, the Confederate soldiers, who were quite aware of Burnside's plan, sat and watched, mocking the Union soldiers with signs that read "Yanks, if you can't place your pontoons yourself, we will send you help" and "This way to Richmond." Burnside gave his men rations of whiskey to encourage them to keep going, but this effort backfired: a fight broke out that eventually turned into a melee of 2,500 men…Burnside ordered the men back to camp on January 24."

Got a TIP from the RIGHT or the LEFT? Email FoxNewsFirst@FOXNEWS.COM

POLL CHECK
Real Clear Politics Averages
Republican Nomination – Trump 34 percent; Cruz 20 percent; Rubio 11 percent; Carson 9.5 percent
General Election: Clinton vs. Trump – Clinton +2 points
Generic Congressional Vote: Republicans +0.5

TRUMP, PALIN TRY TO BUILD LEFT-RIGHT COALITION
In Donald Trump's savage, short-term fight with Ted Cruz, Sarah Palin's endorsement probably helps shore up Trump with some suspicious Iowa conservatives.

But as Palin pointed out in her remarks, she and Trump are both focused on building sort of a left-right coalition now. It may seem odd to the politically uninitiated to call her and Trump centrists, but that's kind of the brand. It's the re-birth of the Reform Party. Jesse Ventura, call your office.

As Palin put it, "Well, Trump, what he's been able to do, which is really ticking people off, which I'm glad about, he's going rogue left and right, man. That's why he's doing so well. He's been able to tear the veil off this idea of the system."

Cruz, on the other hand, is following a more traditional path to victory in Iowa: conservatism, Christianity and contact with voters.

Cruz is getting ready to barrel back into Iowa with Glenn Beck, Rep. Steve King, R-Iowa, and other conservative all-stars at his side for a final caucus push. Cruz also got a big bump when the state's Governor Terry Branstad, called for Cruz's defeat for opposing ethanol subsidies. Branstad's opposition lets Cruz further intensify his brand as the one the GOP establishment is most afraid of.

Trump is trying for a new model in which he brings in lots of new voters, especially disaffected Democrats and independents. It may work, but based on recent history, Cruz is making all the right moves for the traditional GOP electorate in the state.

Power Play: Trump the establishment pick? - The GOP establishment might be faced with a tough choice in the coming months: Ted Cruz or Donald Trump? In the choice of who could be the nominee the vote seems unanimous: Trump. Why? Chris Stirewalt explains all in just 60 seconds. WATCH HERE.
[Watch Fox: Ben Carson joins "The Real Story with Gretchen Carlson" today at 2 p.m. ET to talk about the death of his volunteer.]
New Rubio ad hits Hillary - In a new ad out today, the Rubio team uses one of the Florida senator's best lines from the Fox Business Network debate knocking Hillary Clinton on her handling of the Benghazi scandal. The television ad is set to air today in New Hampshire and South Carolina.

Rubio takes on atheist at event in Iowa - DMR: "Confronted by an 'activist atheist,' Marco Rubio said he'll champion a country where 'no one is forced to violate their conscience.' 'No one is going to force you to believe in God, but no one is going to force me to stop talking about God,' said the Florida senator, prompting applause and a whistle of support from the crowd. During a town hall on Monday morning, Justin Scott, 34, of Waterloo asked about Rubio's new ad, explaining that atheists such as him are "looking for somebody that will uphold their rights as Americans, and not pander to a certain religious group," he said…'You have a right to believe whatever you want,' said Rubio, a Roman Catholic, in response. 'You have a right to believe in nothing at all.'"

[Watch Fox: Gov. Chris Christie will be on "Your World with Neil Cavuto" today at 4p.m.]

'DAD, THE TRUMPETS SAW THE PANTS'
ABC News: "When the cold gets tough in Minnesota, one longtime Minneapolis resident uses frozen pants to make it more fun. Tom Grotting is famous in his Minneapolis neighborhood for freezing pants and placing them in unlikely places, including his front yard…Grotting soaks the pants in a bucket of water and then hangs them outside, sculpting them as they freeze. The whole process takes less than 30 minutes, he said. The fun begins for Grotting when he decides where to put the frozen pants. Past locations have ranged from outside the neighborhood coffee shop to next to parking meters…Grotting said two people who have never caught on to his prank are his two children, a 15-year-old daughter and 19-year-old son. 'The kids hate it,' Grotting said. 'My daughter is in the band and had a big rehearsal with the trumpet players and she texted me and said, 'Dad, the trumpets saw the pants.'"

AND NOW A WORD FROM CHARLES…
"[Hillary Clinton's server] is an investigative story. And now it's in the hands of the FBI. It's hard to imagine that the Department of Justice will ignore this or wave it away." – Charles Krauthammer on "Special Report with Bret Baier."

Chris Stirewalt is digital politics editor for Fox News. Want FOX News First in your inb
Chris Stirewalt joined Fox News Channel (FNC) in July of 2010 and serves as politics editor based in Washington, D.C. Additionally, he authors the daily Fox News Halftime Report political news note and co-hosts the hit podcast, Perino & Stirewalt: I'll Tell You What. He also is the host of Power Play, a feature video series on FoxNews.com. Stirewalt makes frequent appearances on network programs, including America's Newsroom, Special Report with Bret Baier and Fox News Sunday with Chris Wallace. He also provides expert political analysis for FNC's coverage of state, congressional and presidential elections.