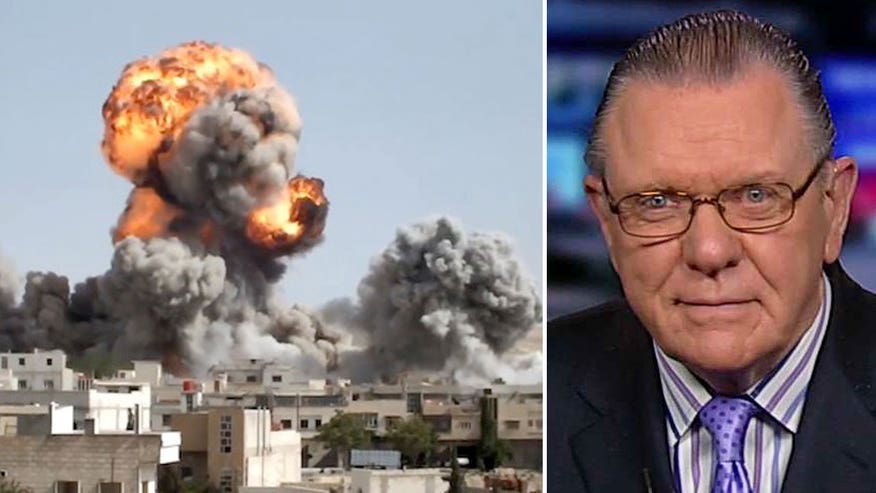 U.S. lawmakers have begun investigating possible intelligence lapses related to Russia's ongoing military action in Syria, it was reported early Thursday, as NATO defense ministers held a crisis meeting in Brussels.
Reuters, citing congressional officials and other official sources, reported that the House and Senate intelligence committees were looking at whether the intelligence community misjudged or overlooked signs of Moscow's action, which began in earnest Sept. 30 with airstrikes supporting Syrian government forces.
The officials told Reuters that intelligence analysts were specifically caught off guard at the speed and aggression of Russia's use of air power, as well as the Moscow's targeting of Western-backed rebel groups as opposed to the Islamic State terror organization (ISIS).
"They saw some of this going on but didn't appreciate the magnitude," one official told Reuters. One source suggested that U.S. experts initially thought that Russian military buildup near the Syrian port of Latakia was for a snap military exercise as opposed to a prolonged show of force. Another source told Reuters that there had been a lag time of "about a week" before spy agencies began voicing alarm about Russian military operations.
The wire service reported that a senior Obama administration official insisted that there were "no surprises" in Russia's actions, and added that policymakers were "comfortable" with the intelligence they received prior to the Russian military action.
The Pentagon inspector general's office is already investigating allegations by civilian intelligence analysts that top officials at U.S. Central Command (CENTCOM) altered reports about ISIS to give a more optimistic account of the year-old U.S. airstrike campaign in Iraq and Syria
Moscow has repeatedly insisted that its planes have only hit positions held by ISIS and the Nusra Front, Al Qaeda's branch in Syria.
The U.S. meanwhile has had to navigate around regional alliances and enmities in trying to roll back ISIS's spread across large parts of Iraq and Syria. In Syria, Washington refuses to work with the Damascus government of Bashar al-Assad in the air campaign, saying Assad needs to leave power, and it has been wary of appearing to help Syrian troops with strikes against ISIS.
U.S. Defense Secretary Ashton Carter said Russia's airstrikes in Syria in support of the Assad regime were "pouring gasoline on the fire" and called for Moscow to pursue a political solution.
Meanwhile, on Thursday, NATO Secretary General Jens Stoltenberg said the alliance was ready to deploy forces to defend Turkey after the Ankara government reported back-to-back violations of its airspace by Russian warplanes last weekend.
NATO on Monday issued a statement demanding that the violations cease. Russia called its penetration of Turkish airspace a minor incident that was unintentional. Stoltenberg had already brushed off the Russian explanation.
"NATO is able and ready to defend all allies, including Turkey, against any threat," the secretary-general said Thursday. He said NATO had already increased "our capacity, our ability, our preparedness to deploy forces, including to the south, including in Turkey, if needed."
"We are constantly assessing the situation also with the Turkish government," Stoltenberg said, adding that he would be meeting later Thursday with Turkish Defense Minister Mehmet Vecdi Gonul.
On Wednesday, Russian warships fired cruise missiles in the first combined air-and-ground assault with Syrian government troops since Moscow began its military campaign in the country last week.
British Defense Secretary Michael Fallon accused Russia of acting chiefly in Syria not to attack ISIS, but to shore up the beleaguered Assad government, thus making a serious situation "much more dangerous." NATO officials have expressed fears there could be an encounter, accidental or otherwise, between Russian planes and air forces of the U.S.-led coalition attacking ISIS in Syria.
"We'll be meeting today to see what we can do to de-escalate this crisis particularly in terms of air safety," Fallon said as he arrived at NATO headquarters. "We'll be calling on Russia specifically to stop propping up the Assad regime, to use their own (air) crews constructively to stop Assad bombing his own civilians."
German Defense Minister Ursula von der Leyen said Russia must recognize that if it targets opposition groups in Syria that are fighting Islamic State, "Russia will strengthen ISIS and this can be neither in the Russian interest, nor in our interest."
The Associated Press contributed to this report.