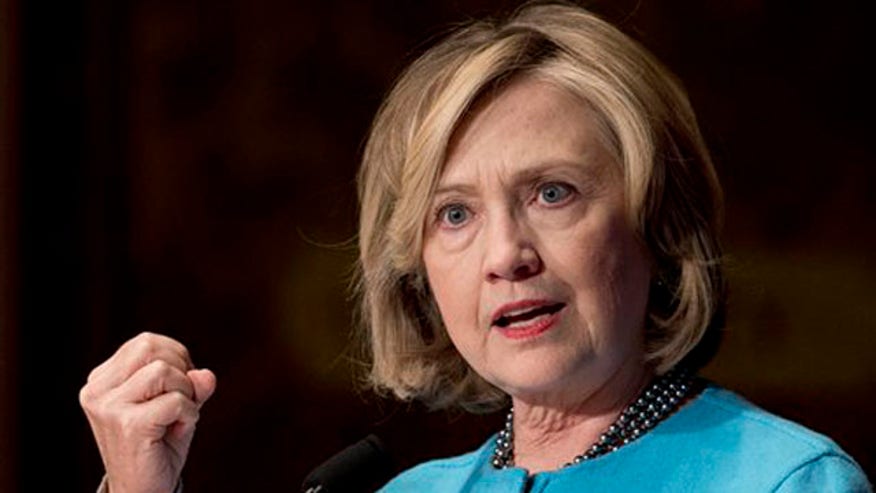 **Want FOX News First in your inbox every day? Sign up here.**
Buzz Cut:
• Hillary retreats deeper into cocoon
• Boehner lays down ObamaCare replacement marker
• Romney gets loose in Mississippi
• As many as 6 million will pay ObamaCare tax
• Ageism claims Dippy
HILLARY RETREATS DEEPER INTO COCOON
With the conventional wisdom on the left congealing against the idea of even a symbolic challenge to Hillary Clinton's march to the Democratic nomination, her team is now publicly toying with the idea of continuing to delay the official launch until the middle of summer. On Monday, the campaign offered a sneak peak to Politico, indicating that the campaign would come out of the shadows in April. In what appears to be a rebuttal to the staff assumptions from "a Democrat familiar with Clinton's thinking," the news site reports today that "the actual kickoff would be in July." Clinton would submit to partial scrutiny from the Federal Elections Commission starting in April, the story says, but would keep most of her operation off the books until the beginning of July. The stated reason: the candidate wants "develop her message, policy and organization." Because the previous 14 years of running for president haven't given them enough time to nail it down…

[Additional white dudes retained - Politico also reports that two 2012 Obama digital gurus are at the top of the list for Hillary's campaign-in-waiting, Teddy Goff and Andrew Bleeker.]

So who cares? - The money line in the rebuttal from whoever Politico was quoting in throne room is this: "[Clinton] doesn't feel under any pressure, and they see no primary challenge on the horizon. If you have the luxury of time, you take it." This should terrify Democrats. If the campaign cocoon is so dense and so deep that courtiers are publicly quibbling in the press about the right moment for the monarch butterfly to emerge, they are farther out of touch with reality than even previous reporting had indicated. But if this really is Clinton herself speaking through an emissary, it would suggest the kind of stage fright that foretells a risk-averse, bloodless, pre-fab campaign. Sound familiar? Those were the hallmarks of Clinton's losing endeavor in 2008 and, if the leaks are to be believed, the tendencies have deepened in the past seven years. Clinton's book tour showed not a candidate who was "rusty" but one who was unwilling to acknowledge political reality. A rusty candidate might complain about being "dead broke." But only an arrogant one would insist that she was right to say so.

["The same old candidates running for President #ThingsToRunFrom" – Sen. Rand Paul, R-Ky., on Twitter]

Deflate - The first hazard of being so blithe as to say Clinton "doesn't feel any pressure" is that it would not take long for a Democratic revolt to spring up. The presumptive nominee could be caught unawares, like this guy. While Clinton would be hard to stop from seizing the nomination, the effort of quelling an insurrection might be a strain. The other, larger, hazard is that this trend depicts a candidate who will not be ready to meet the challenges of the general election. The longer Clinton stays inside the palace, hiding her treasury and ducking behind her retainers, the harder her eventual emergence will be. She should be feeling pressure – the same pressure that drove Jeb Bush to get off the couch before Christmas. Many consultants make their livings by soothing and reassuring candidates. And with a $2 billion pot of cash at hand, there will be no shortage of people around who encourage Clinton to believe that she is a perfect and wonderful creation who only needs to be more like herself to win. That's what losing campaigns often do.

[In the latest Fox News poll, only 24 percent of voters agreed with President Obama's sentiment in the State of the Union describing America as "tight-knit" while 73 percent see the country as dysfunctional.]

BOEHNER LAYS DOWN OBAMACARE REPLACEMENT MARKER
In an interview with Fox News "Special Report" anchor Bret Baier Wednesday, House Speaker John Boehner assured that a Republicans alternative to ObamaCare is in the works and will be forthcoming from Congress. It's no secret that GOP lawmakers have struggled in coalescing around an alternative due to what Boehner recently described as "a lot of divergent views." Referring to an interview with CBS last week where the speaker was asked about a prospective GOP plan, Baier observed: "You said you didn't have one. Will you by the end of this Congress? "There are three committee chairmen that have the jurisdiction over the health care policy in our country." Boehner explained, "And those three chairmen are working together to craft what we believe would be a better approach with regard to health care for the American people than ObamaCare." "So there will be one alternative?" Baier pressed. "There will be an alternative and you'll get to see it," Boehner replied. Watch the interview here.

[WashEx's Philip Klein examines the 5 biggest obstacles to agreement on a Republican alternative to ObamaCare: "the problem isn't that Republicans haven't released any healthcare plans, but that they've had trouble rallying around a single one due to some fundamental differences. If Republicans are going to coalesce around an alternative, they will have to reach consensus …"]

Shortlist for new CBO boss revealed - The Hill: "Republicans on the Budget Committee are interviewing candidates to replace Douglas Elmendorf as head of the Congressional Budget Office [CBO], according to four people with direct knowledge of the process. … According to sources, those approached include Alex Brill, research fellow at the American Enterprise Institute and an economist on former President George W. Bush's Council of Economic Advisers; Jeff Brown, a finance professor at the University of Illinois who also served on the Council under Bush; and Warren Payne, who was policy director under former House Ways and Means Committee Chairman Dave Camp [R-Mich.]."

[In the latest Fox News poll, 64 percent of voters feel the country is still in a recession yet 58 percent of voters are optimistic about the economy.]
Punishment meted - The Hill: "After publicly defying Speaker John Boehner [R-Ohio], Florida GOP Reps. Daniel Webster and Richard Nugent won't be getting their seats back on the Rules Committee, The Hill has learned."

CRUZ SHOVES MCCONNELL ON A.G. NOMINATION
Roll Call: "Sen. Ted Cruz [R-Texas] called attorney general nominee Loretta Lynch's immigration views 'dangerous' Wednesday and questioned whether Majority Leader Mitch McConnell [R-Ky.] should even have the chamber consider her nomination. 'That is the decision the majority leader is going to have to make. I believe we should use every constitutional tool available to stop the president's unconstitutional executive action. That's what Republicans, Republican candidates all over the country said over and over again last year,' the Texas Republican said in a brief interview with CQ Roll Call as the daylong Judiciary Committee hearing on Lynch's nomination neared conclusion."

[In the latest Fox News poll, the majority of voters say the White House has mostly failed on priorities including illegal immigration at 64 percent, economic improvement at 52 percent failed the economy and making the country safer at 49 percent.]

"I would just say that fundamentally [Loretta Lynch] openly advocated for the providing of scarce jobs in America to those who are here illegally." --Sen. Jeff Sessions, R-Ala., on "The Kelly File" Watch here.

FEDS: UP TO 6 MILLION WILL PAY OBAMACARE TAX
The Hill: "As many as 6 million people will have to pay a penalty under ObamaCare for going without health insurance in 2014, federal officials suggested in projections released Wednesday. That means between 2 percent and 4 percent of all taxpayers lacked medical coverage for all or part of the year and do not qualify for an exemption under the individual mandate, according to the Treasury Department. Another 10 to 20 percent of taxpayers, or 15 million to 30 million people, were uninsured but will qualify for an exemption from the mandate, shielding them from paying $95 or 1 percent of household income when they file their taxes. Wednesday's estimates are the clearest picture so far from the administration ahead of ObamaCare's first tax season."

WITH YOUR SECOND CUP OF COFFEE...
This year's breakout film at the Sundance Film Festival, Tangerine, is full of surprises according to The Verge, from the story in front of the camera to the shooting behind the camera. The camera in question wasn't even a camera but an iPhone 5S. Plenty of films have been made with iPhones but this is by far the most successful and first to make it to Sundance. The decision to use iPhones was made to accommodate the independent film's small budget according to director Sean Baker, saying "It was surprisingly easy. We never lost any footage." Baker and his team used three phones, an $8 app called Filmic Pro that allowed more control over focus, aperture and color, a Steadicam and an adapter lens to attach to the iPhone. "These phones, because they're so light, and they're so small, a human hand, no matter how stable you are, it will shake. And it won't look good." The lenses were the key ingredient to make the movie look fit for the big screen. "To tell you the truth, I wouldn't have even made the movie without it," Baker says.

Got a TIP from the RIGHT or LEFT? Email FoxNewsFirst@FOXNEWS.COM

POLL CHECK
Real Clear Politics Averages
Obama Job Approval: Approve – 45.8 percent//Disapprove – 49.1 percent
Direction of Country: Right Direction – 33.4 percent//Wrong Track – 57.6 percent

[Watch Fox: The latest Fox News polls on 2016 presidential primary contests and candidate matchups, as well as Iran policy, are released tonight on "Special Report with Bret Baier" at 6 p.m. ET.]

ROMNEY GETS LOOSE IN MISSISSIPPI
Boston Globe: "Mitt Romney staged a campaign-style swing Wednesday through a Deep South state that spurned him in the 2012 Republican primary, calling for a national war on poverty, testing a few attack lines directed at Hillary Rodham Clinton, and declaring his fondness for pulled pork…Romney also renewed his call for a national fight against what he calls 'chronic generational poverty,' and began elaborating on the kinds of policies he would push if he mounts a third presidential campaign. 'The rich have done historically well,' he said. 'I'm concerned about the middle class and the poor in this country.'…Romney highlighted his vision for sustained economic prosperity and outlined broad foreign policy goals, criticizing what he considers weak global leadership by President Obama and Clinton. He said that Clinton, the presumed front-runner for the Democratic nomination, 'cluelessly pressed a reset button for Russia, which smiled and then invaded Ukraine, a sovereign nation.' Calling Obama's recent State of the Union address 'naïve at best and deceptive at worst,' he criticized the foreign policy of both Obama and Clinton."

[Mitt has edge in S.C. poll - [Charleston] Post and Courier: "The telephone survey of 831 likely GOP primary voters was conducted last week by Gravis Marketing of Florida. Romney got 20 percent, followed by [former Florida Gov. Jeb Bush] at 16 percent and [Wisconsin Gov. Scott Walker] at 9 percent."]

Jeb will headline RNC spring donor hoedown - WashEx: "Former Florida Gov. Jeb Bush will headline the Republican National Committee's spring retreat, the committee announced Monday in an email to supporters…The meeting will be held March 20-22 at the Waldorf Astoria resort in Boca Raton, Fla., for major donors to the Republican Majority Fund, a joint fundraising committee that supported Republican Senate candidates and the National Republican Senatorial Committee."

Southern Soiree – Gov. Scott Walker [R-Wis.] joins the list of speakers for the Southern Republican Leadership Conference held this May in Oklahoma City, Okla. 2016 contenders also slated to speak include former Sen. Rick Santorum [R-Pa.], Gov. Bobby Jindal [R-La.], Dr. Ben Carson and former Hewlett-Packard CEO Carly Fiorina.

Walker PAC starts on offense against Hillary - The Hill: "Wisconsin Gov. Scott Walker's [R] new leadership committee takes a shot at Hillary Clinton with its first ad. The two-minute ad, titled 'Our American Revival,' describes President Obama as a failed leader and offers a warning about looking to the past for answers. 'America stands on the brink, at a time and place in our history where failed leaders preside over a nation adrift,' a male narrator says in the ad. It criticizes Obama for a foreign policy 'that projects weakness abroad.' 'America can't stop this by looking to the past,' the ad continues as a picture of Clinton is shown, 'or for answers in Washington, D.C.'"

Futurist - AP: "Walker told reporters in Racine, Wisconsin, that he's setting up the committee to see if his ideas resonate with voters. He also said he planned trips to important primary states including Iowa, New Hampshire, South Carolina, Nevada and Florida in the coming weeks and months. 'If we see that's a message that resonates, that would probably encourage us to go forward,' Walker said…He took a dig at potential Republican candidates Jeb Bush and Mitt Romney, as well as Democrat Hillary Clinton, without mentioning any of them by name. 'They want new, fresh leadership, particularly if Republicans are going to take on a candidate from the past.'"

Huckabee pummels Politico - Former Arkansas Gov. Mike Huckabee took Politico to task for misquoting him in a splashy article headlined: 'Mike Huckabee complains of 'trashy' women at Fox News.' There's just one problem, Huckabee never said it. The article referenced a recent radio interview in which Huckabee was talking about his recent book on values. "I never said anything about the women of Fox News," Huckabee told one such woman, Megyn Kelly, on Wednesday's edition "The Kelly File." "It was an utterly fabricated lie on the part of the writer at Politico. There's no way it could have been fabricated unless he was just too lazy to read the chapter in the book he was trying to talk about," Huckabee said.

[Get thine smelling salts! - "Well I do have news before I let you go. We are not only swearing, we're drinking, and smoking, we're having premarital sex, we have birth control before we go to work and sometimes boss around a bunch of men." – Megyn Kelly, talking to Mike Huckabee. Watch here.]

[Huckabee's book tour continues through the early primary state of South Carolina today and Friday.]

N.H. GOP to host April cattle call - WaPo: "The Republican Party in New Hampshire is organizing a two-day festival of political speechmaking in April designed to formally kick off the 2016 presidential campaign in the early primary state. The "First in the Nation Republican Leadership Summit," to be held in Nashua on April 17 and 18, is expected to feature many presidential hopefuls…"

Rand will shoot drones like skeet - WashEx: "Do not fly a drone over Sen. Rand Paul's house. The Kentucky Republican has a warning for any unmanned drones that may fly near his house: 'I've got a shotgun,' he told CNN. When asked about the legality of drones or if they should be banned, Paul said, 'Drones should only be used according to the Constitution. But if they fly over my house, they better beware because I've got a shotgun,' he added. The questioned was prompted after an off-duty officer with the National Geospatial-Intelligence Agency crashed a drone on the White House lawn early Monday morning after reportedly drinking while flying it. Paul also said 'maybe' when asked if he wanted to live at the White House, but added the fence needs to be better guarded."

Pence laments faux news idea - Indianapolis Star: "Gov. Mike Pence told a conservative talk show host Wednesday that he would reject any version of his new 'Just IN' website that looks like state-run media, continuing to distance himself from a written news service plan developed by his staff…Pence appeared on Greg Garrison's radio talk show to explain his administration's new communications plans, at one point saying he was unsure who wrote the plan for 'Just IN,' details of which were first reported by The Indianapolis Star…"

THE JUDGE'S RULING: SELF-INFLICTED WOUND
Fox News Senior Judicial Analyst Judge Andrew Napolitano says the feds "shot themselves in the foot" in the case of Ali Saleh al-Marri, a convicted conspirator who entered the United States before 9/11 in order to create a sleeper cell and was recently released.

Beyond parody - "#mediabuzz" host Howard Kurtz rips into Al-Jazeera's English outlet for banning the use of the word "terrorist" to describe Islamist militants who carry out attacks like the one in Paris this month: "This is the worst kind of political correctness, an effort to avoid calling out crimes against humanity in the name of linguistic neutrality."

ERIC CANTOR FINALLY GETS INTO HARVARD
"Harvard's Institute of Politics (IOP), at the John F. Kennedy School of Government, today announced …additions to its 2015 IOP Spring Fellows class. … Eric Cantor, former U.S. House of Representatives Member (2001-14; VA-7th, R), Majority Leader (2011-14) and Majority Whip (2009-11) will join the Institute as a Visiting Fellow in early April. Mr. Cantor is currently Vice Chairman and Managing Director at Moelis & Company, a global independent investment bank. Visiting Fellows traditionally meet with student groups; lead discussion sessions on topical issues and their experiences in public and political service; and participate in public policy classes with students and Harvard University faculty…."

Okay, which ones are wild, which ones are wonderful? - Sen. Shelley Moore Capito, R-W.Va., will announce her complete staff today, including Chief of Staff Joel Brubaker, Communications Director Ashley Berrang, Deputy Communications Director Amy Graham, State Director Mary Elisabeth Eckerson and Director of Economic Development Aaron Sporck.

AGEISM CLAIMS DIPPY
The Mirror in England reports that an iconic member of the Natural History Museum is forcing the retirement of Dippy the Diplodocus. The dinosaur skeleton has been in the museum for over 100 years but is being forced out because he was deemed "no longer relevant" for the natural world today. In the summer of 2017, a real whale skeleton will be suspended from the ceiling of Hintze Hall. Meanwhile Dippy, a plaster replica skeleton, will be preserved for a possible tour of England. The change is part of a "decade of transformation" according to director Sir Michael Dixon. "As the largest known animal to have ever lived on Earth, the story of the blue whale reminds us of the scale of our responsibility to the planet. This is an important and necessary change," he said. The female blue whale arrived at the museum just 10 years after opening in 1891 but remained in storage until 1938 while Dippy was first put on display in 1905 after a donation by American millionaire Andrew Carnegie.

AND NOW, A WORD FROM CHARLES…
"[The Taliban] slits throats, it attacks buses, it drives car bombs into markets and it's not a terrorist group? Look, you can't parody this administration. The idea that the United States would not do this is preposterous…This is a fantasy. Obama has pretended that the war on terror, the war in Afghanistan, the war in Iraq are all winding down and the wars are all back. So, I mean, this is sort of embarrassing." —Charles Krauthammer on "Special Report with Bret Baier" Watch here.

Chris Stirewalt is digital politics editor for Fox News. Want FOX News First in your inbox every day? Sign up here.
Chris Stirewalt joined Fox News Channel (FNC) in July of 2010 and serves as politics editor based in Washington, D.C. Additionally, he authors the daily Fox News Halftime Report political news note and co-hosts the hit podcast, Perino & Stirewalt: I'll Tell You What. He also is the host of Power Play, a feature video series on FoxNews.com. Stirewalt makes frequent appearances on network programs, including America's Newsroom, Special Report with Bret Baier and Fox News Sunday with Chris Wallace. He also provides expert political analysis for FNC's coverage of state, congressional and presidential elections.