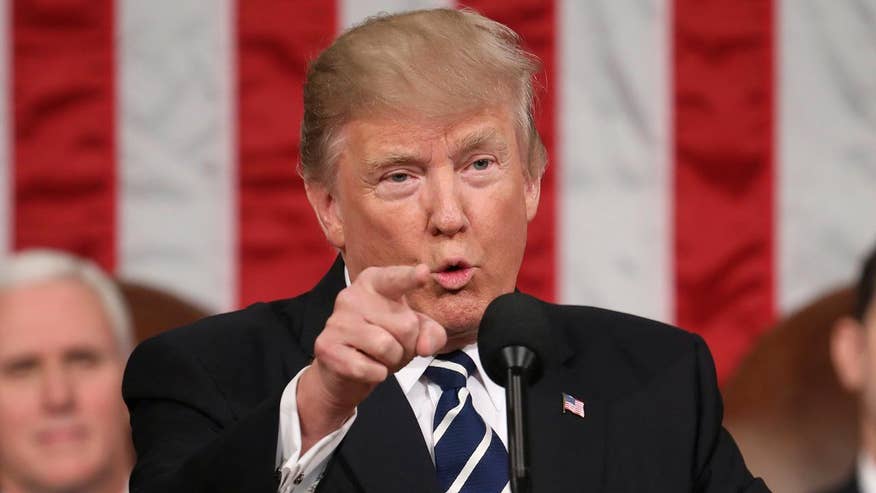 The man in the Oval Office has finally captured that most elusive of Washington spirits: a "presidential" tone. In his Tuesday speech to a joint session of Congress, President Trump offered optimism and hope. The dark vision of his inaugural address was gone, as were the personal insults and harsh attacks that routinely appear in his rallies and tweets.
In their place were moments of grace, most especially when Mr. Trump introduced the widow of Navy SEAL Ryan Owens, promising that Americans will never forget her husband, who sacrificed his life Jan. 29 in Yemen on behalf of comrades and country.
Absent, too, was the usual rush of stock phrases masquerading as policy. Instead, the president offered serious ideas in a steady, deliberate voice.
Mr. Trump's speech did little to sway congressional Democrats, most of whom could barely bring themselves to stand when he entered the House chamber. But they were not Mr. Trump's target audience. He aimed his speech at those voters who reluctantly backed him or begrudgingly voted for Hillary Clinton, thinking as they did that America could do better. On Tuesday those voters were given hope that America just might be able to.
To continue reading Karl Rove's column in the Wall Street Journal, click here.
Karl Rove joined Fox News Channel as a political contributor in February 2008. He also currently serves as a columnist for the Wall Street Journal. Mr. Rove helped organize the political-action committee American Crossroads. His latest book is "The Triumph of William McKinley: Why the Election of 1896 Still Matters" (Simon & Schuster, 2015). Follow him on Twitter @KarlRove.