Common, Nelly weigh in on Super Bowl halftime outrage, NFL national anthem protests
By Jessica Sager
Published January 17, 2019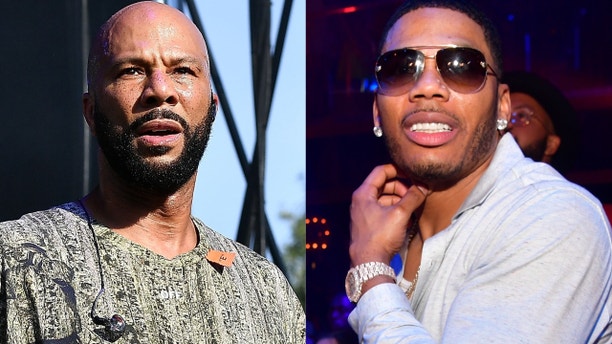 Rapper Common isn't thrilled that Travis Scott agreed to play the Super Bowl Halftime Show with Maroon 5 and Big Boi, but not everyone in the music community agrees with his stance.
PETITION URGES SUPER BOWL LII HALFTIME PERFORMERS TO TAKE A KNEE DURING SET
"I ain't with supporting the NFL. They don't really support black people," he told TMZ Wednesday. "They're not supporting [Colin] Kaepernick. Kaepernick said he's standing up for people who are being shot down, black and brown. The NFL basically blackballed him. They've shown how they feel about us for real. I respect the NFL players, but the owners, man, they ain't shown nothing."
SUPER BOWL LII PLANNERS IN ATLANTA: THIS SHUTDOWN MEANS 'UNCHARTED TERRITORY'
Colin Kaepernick reportedly didn't give Scott his blessing to perform at the Super Bowl Halftime Show, but sources previously claimed that while they disagreed, they remain cordial.
CLICK HERE TO GET THE FOX NEWS APP
"I mean, look. I love Travis Scott, he's a dope dude, but I really don't want to support none of that stuff," Common continued. "And I respect Rihanna, people like Rihanna who said they ain't wanna do that, they ain't gonna support that. But Travis is doing what he's gotta do ... I feel like man, I wish he wouldn't [do the halftime show] to be honest. It's his own choice, though. I love him ... All I know is I'm supporting Kaepernick."
PETITION URGES MAROON 5 TO BACK OUT OF SUPER BOWL LIII HALFTIME SHOW
Rihanna and Cardi B reportedly each turned down spots on the Super Bowl Halftime Show due to her support for Kaepernick and the Black Lives Matter movement.
AMY SCHUMER TAKES CREDIT FOR SUPER BOWL HALFTIME SHOW BOYCOTT
Reports claimed that Jay-Z also tried urging Scott to skip the performance.
Meanwhile, rapper Nelly, who's performed the Super Bowl Halftime Show twice, sees the outrage as hypocritical and pointless.
"I don't see the big deal on people upset about who's performing at halftime, because people have to understand if you're really against the NFL, the halftime show is not what you should be concerned about," the "Ride Wit Me" MC told TMZ on Thursday. "If you're watching the NFL ... if you're supporting your team ... that's how [the owners] get paid. They don't get paid through the halftime show."
"I wouldn't say that he has a point in the sense of — I mean he has his own reasons but again, if you watch the NFL every Sunday, you support your team, that's how they make their money. They don't make their money through the halftime show."
AL SHARPTON BLASTS TRAVIS SCOTT FOR SIGNING ON TO PERFORM AT SUPER BOWL LII HALFTIME SHOW
"If you're trying to make a stand against the NFL, you should probably not watch it on Sunday or you should not go to the games. The halftime show is irrelevant."
https://www.foxnews.com/entertainment/common-stands-with-colin-kaepernicks-nfl-protests-while-nelly-claims-travis-scott-super-bowl-outrage-is-pointless