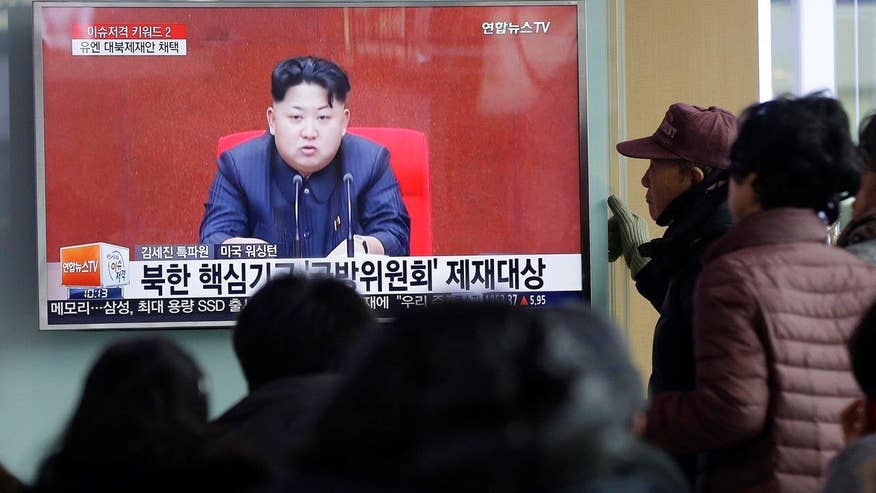 North Korean dictator Kim Jong Un reportedly ordered officials Friday to improve the country's nuclear attack capability by conducting more weapons tests.
Reuters, citing North Korea's official news agency (KCNA), reported Friday that Kim also watched a ballistic missile test take place.
The KCNA report did not say when the test happened, but it was most likely referring to the country firing two rockets into the sea on Thursday as a response to South Korea's latest round of sanctions.
"Dear comrade Kim Jong Un said work… must be strengthened to improve nuclear attack capability and issued combat tasks to continue nuclear explosion tests to assess the power of newly developed nuclear warheads," KCNA reported.
When asked about the comments, South Korea's Unification Ministry spokesman Jeong Joon-hee described them as "rash and thoughtless behavior by someone who has no idea how the world works," according to Reuters.
U.N. Secretary-General Ban Ki-moon called on Pyongyang a day earlier to "cease destabilizing acts."
On Thursday, North Korea also "liquidated" South Korean assets at the closed joint factory park in the North Korean border town of Daesong and at a scrapped tourism resort at Diamond Mountain.
In a continuation of bellicose rhetoric that has spiked in recent weeks, a statement from the North's Committee for the Peaceful Reunification of Korea said North Korea will also impose "lethal" military, political and economic blows on the South Korean government to accelerate its "pitiable demise."
South Korea's government called the statement a "provocative act" and warned the North not to damage any South Korean assets.
The missiles fired by North Korea on Thursday flew about 310 miles before falling into the ocean off the country's east coast, according to Seoul's Defense Ministry. They were believed to be Scud-type missiles, ministry spokesman Moon Sang Gyun said.
Such missile firings by the North are not uncommon when animosity rises. North Korea hates the annual military drills staged by Seoul and Washington, calling them preparations for an invasion. The allies say the drills, which this year are described as the biggest ever, are defensive and routine. North Korea warned at the start of the drills Monday of pre-emptive nuclear strikes.
On Wednesday, North Korea printed photos in official media of a purported mock-up of part of a nuclear warhead, with Kim repeating a claim that his country has developed miniaturized atomic bombs that can be placed on missiles.
Information from secretive, authoritarian North Korea is often impossible to confirm, and the country's state media have a history of photo manipulation. But it was the first time the North has publicly displayed its purported nuclear designs, though it remains unclear whether the country has functioning warheads of that size or is simply trying to develop one.
South Korea's Defense Ministry on Wednesday disputed the North's claim that it possesses miniaturized warheads. The U.S. Department of Defense also said this week that it had no evidence that North Korea had succeeded in miniaturizing a warhead, Reuters reports.

The United States said Wednesday it has dispatched three B-2 stealth bombers capable of launching nuclear as well as conventional weapons to the Asia-Pacific region. The U.S. Strategic Command said the bombers will conduct training with the Australian military during their deployment, which amounts to a show of force at a time of mounting tensions with North Korea.
The Associated Press contributed to this report.