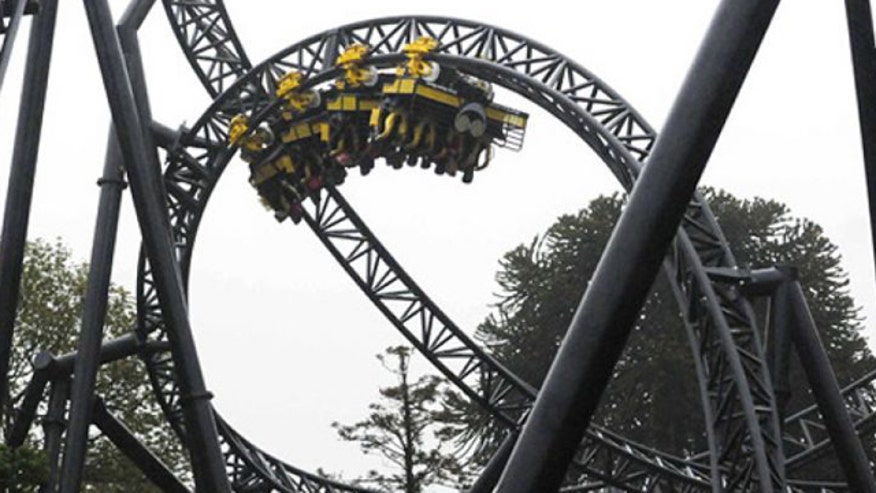 A roller coaster collision Tuesday at an England amusement park was a "shocking" scene with "blood everywhere" that left at least four teenagers seriously injured.
Staff at Alton Towers in Staffordshire said emergency crews were on scene and built a platform to reach those stuck 25 feet in the air on "The Smiler" roller coaster, the BBC reported.
Merlin Entertainment, the park's operator, said two sets of roller coaster cars collided on a part of the track. One of the sets of cars was empty while the other one was carrying 16 parkgoers.
"When the second carriage crashed, people were screaming and shouting -- even after it stopped. Everyone around the park ran over," Ben Richardson, who witnessed the collision, told the BBC. "The people looked significantly distressed. It was almost like a car crash, very full on."
Danny Simm, who was at the park at the time of the collision, wrote on Twitter that there was "blood everywhere," Sky News reports.
"People unconscious, knocked out," the tweet said. "It really was shocking."
Another witness, Tom Whelton, told Sky News that the roller coaster had broken down three hours earlier following technical difficulties.
"Of the 16 occupants on board the ride, two teenage boys and two teenage girls, have sustained serious leg injuries," a West Midlands Ambulance Service spokeswoman said. The other passengers on the ride suffered minor injuries, the spokeswoman added.
Merlin Entertainment said "there will be a full investigation once we have recovered the guests who are our priority."
The ride -- which has a maximum drop of 98 feet and travels at speeds of up to 52 mph -- has had a history of incidents.
In July 2013, two months after "The Smiler" opened, a metal bolt fell off the track, prompting the rescue of 48 people on the coaster as staff closed the ride to investigate.
"At no time was any visitor at any risk, and 48 guests on the ride at the time were safely disembarked," a spokesman said following the incident, according to Sky News.
Months later, in November 2013, several of the roller coaster car's wheels broke off and hit passengers who were sitting at the front of the ride.
The amusement park says "The Smiler" has 14 loops and is "not for the faint hearted.
"The Smiler also features a series of twisted psychological effects, including optical illusions and blinding lights designed to mess with your mind and body," the amusement park says on its website.
The theme park, 150 miles north of London, is one of Britain's most popular tourist attractions, according to The Associated Press.