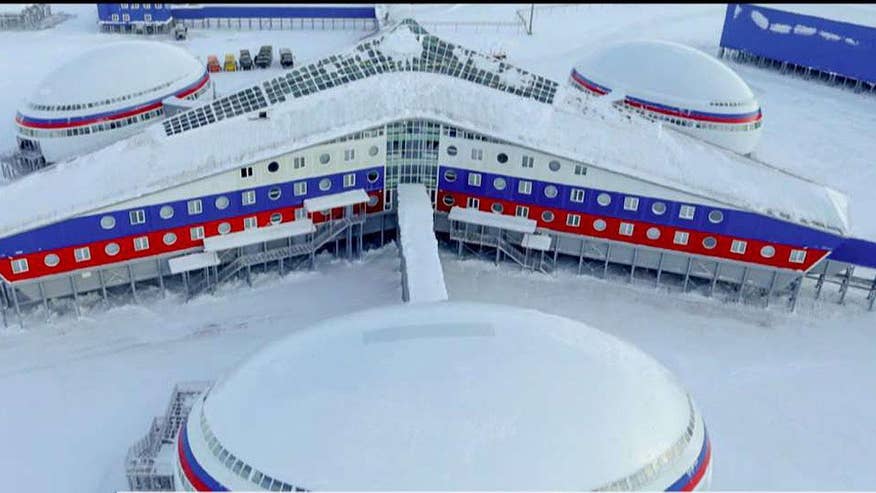 The next battle for supremacy between the U.S. and Russia is shaping up to be a lot chillier than the last Cold War with the Soviet superpower.
In the Arctic Circle, the Russians are touting a new military base, a development that underscores how "woefully behind" the U.S. is in the ice race, in the words of former Coast Guard Commandant Adm. Robert Papp.
"We've got our minds on a lot of other things around the world, and we're not focused on the Arctic," Papp, who served as the State Department's special representative to the Arctic, told Fox News. "Russia, on the other hand, is very connected. It's part of their culture. They appreciate the riches, the oil and gas reserves that they have along that very long coastline, and they are looking to exploit it for their own prosperity."
The Arctic is less likely to be the site of a real war, Papp said, as it is the focus of a resource grab by Russia and China.
The new Arctic base was unveiled recently by the Russian Defense Ministry, complete with an interactive tour on the ministry's website and photos of armed Russian troops riding reindeers.
"There's a lot of propaganda involved," Papp said, referring to President Vladimir Putin's visit in March to the Arctic Trefoil built on Franz Josef Land, an archipelago that belongs to Russia.
"Rather than be critical, and look at Russia and portray it as a Cold War, we ought to wake up and realize we need to be prepared in the Arctic as well," he said.
TRUMP FACING PRESSURE TO COUNTER RUSSIA'S ARCTIC FLEET
There are trillions of dollars of oil and gas reserves under the Arctic, deposits larger than those of Saudi Arabia. Russia and China are looking at ways to control future sea lanes being opened due to global warming, according to Papp.
The Nagorskoye military airfield is 14,000 square miles -- its polar complex can house 150 troops in subzero conditions for 18 months at a time.
"Russia is clearly flexing its strategic capability in the Arctic," Sen. Dan Sullivan of Alaska said. "The sea routes are opening and President Putin has said himself the Arctic is going to be the new Suez Canal."
The Republican senator and Marine reservist has been trying for years to urge the U.S. to position itself in the Arctic.
He applauds the Pentagon's decision to reverse cuts made during the Obama administration to disband Alaska's 4th Brigade Combat Team of the 25th Infantry Division, whose specialized skills can be utilized in Arctic conditions.
Recently, Chinese research vessels have been seen in the Arctic to explore new sea routes that would save days and money to ship products to Europe.
Russia also is investing in ice breakers that will help them navigate through the Arctic waters, vastly outpacing the U.S. fleet development.
What is happening with Russia?
"We have two and one is broken right now," Sullivan lamented. "The Russians have 40 and they are planning on building 13 more, including nuclear-powered ice breakers."
The Trefoil is Russia's second Arctic base.
The U.S. Geological Survey estimates there are 412 billion barrels of oil under the Arctic.
Jennifer Griffin currently serves as a national security correspondent for FOX News Channel . She joined FNC in October 1999 as a Jerusalem-based correspondent. You can follow her on Twitter at @JenGriffinFNC.