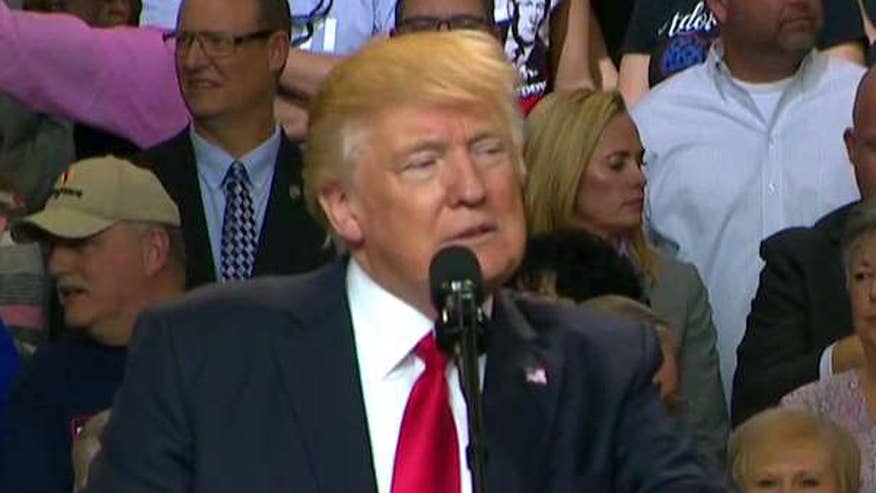 **Want FOX News Halftime Report in your inbox every day? Sign up here.**
On the roster: Trump plows under protests on TrumpCare - New Russia allegations surface against former Trump campaign boss - FBI investigation into Trump, Russia started three months before election - Tillerson Russia trip timing awkward - But you'll still respect me, right?
TRUMP PLOWS UNDER PROTESTS ON TRUMPCARE
Maybe the most notable thing about the debate over President Trump's proposed replacement for ObamaCare is how little anyone is talking about policy.

After many years discussing the ins and outs – mostly outs – of the beleaguered health insurance program, Republicans are spending an astonishingly small amount of time talking about what they want to do to replace it.

Trump headed out to Kentucky Monday night for a campaign rally where he did mention his plan or, rather, the things he wants to do after his plan is passed.

There was no particular discussion about the specifics in the measure, which is headed for a vote on Thursday, or even its general merits. That's probably because nobody in particular seems to like it, even after Speaker Paul Ryan and his team pinned a suite of policy revisions onto its tail Monday.

Today, Trump headed to the Hill to urge Republican lawmakers to pass his plan – not so much for what's in it but for its political necessity and its importance for him personally.

This tells us a couple of things: First, that Trump is – despite the ongoing wild gyrations over Russian influence – displaying some steadiness. For the new president to stand beside a bill that is controversial and unpopular rather than dump it back in Ryan's lap shows a surprising willingness to engage in sacrificial leadership. And second, this will be the defining political struggle of Trump's young presidency. This is TrumpCare.

Trump's most ardent defenders have tried to blame Ryan for the creation of this patchwork plan, but by embracing it so closely, the president is passing up a politically expedient escape and instead staking his limited political muscle squarely behind the measure.

But can he force it through?

There's not a lot of reason for conservatives to be much happier about the legislation despite the leadership's tweaks. And moreover, they know that the deal only gets worse from here as the more-moderate Senate takes the baton. This is as good as it is likely to get for the right.

What conservatives have to worry about is Trump hounding them if they manage to defeat the measure this week. If they hand the president a painful loss at exactly the moment that his administration is mired with low public approval and tossed with Russian dressing it could be a devastating setback.

The prospect of contending with an angry, wounded Trump for the next three years would be no happy thought for House conservatives.

Plus, the next deal to keep ObamaCare afloat if this one fails would likely be even less conservative – a health insurance subsidy version of the spending plans passed in the Boehner era with lots of Democratic votes.

Trump's pitch, previewed in Louisville, is that the details of this plan matter less than its passage for political purposes. Do this unpleasant thing, he essentially agues, so that we can get to the fun stuff: tax cuts, a massive infrastructure spending package and renegotiating trade deals. TrumpCare is just the cover charge to get into the party.

The initial response from conservatives was that they weren't feeling the beat just yet. "House leadership does not have the votes to pass this very liberal bill unless they have a bunch of Democrats on board," crowed Rep. Mo Brooks, R-Mo., upon exiting the briefing on the updated version, according to Politico.

Trump reportedly hit them pretty hard today, warning that Republicans would lose the House and the Senate both if they did not proceed.

And, according to multiple sources, Trump called out House Freedom Caucus leader Rep. Mark Meadows by name and joking-not-joking warned him that the president was going to "come after" him.

So now it's clear: In what is proving to be the first ideological test for conservatives of the Trump era, the president is not going offering any exemptions for conscientious objectors.

THE RULEBOOK: MONEY IS THE BEST WEAPON
"This power over the purse may, in fact, be regarded as the most complete and effectual weapon with which any constitution can arm the immediate representatives of the people, for obtaining a redress of every grievance, and for carrying into effect every just and salutary measure." – Alexander Hamilton, Federalist No. 58
TIME OUT: FIRST TALKING, NOW LAUGHING
NatGeo: "Forget the laughing kookaburra—kea are the birds that really tickle each other's funny bones…Scientists already knew that kea—native to New Zealand's mountainous South Island—make a non-threatening warbling sound while playing with other kea. But since the birds also warble alone, the noise could simply be an expression of pleasure… To find out if kea use their play call to spread emotion among other kea, researchers led by Raoul Schwing, of the Messerli Research Institute in Austria, went to Arthur's Pass National Park and broadcast recordings of several bird calls in the earshot of wild kea…The effect was clear: When kea of both sexes heard play calls, they exhibited more and longer play behavior than when they heard the other calls…"
Flag on the play? - Email us at HALFTIMEREPORT@FOXNEWS.COM with
your tips, comments or questions.

NEW RUSSIA CLAIMS SURFACE AGAINST FORMER TRUMP CAMPAIGN BOSS
NYT: "After his name surfaced last August in a secret ledger listing millions of dollars in payments from a pro-Russian party in Ukraine, Paul Manafort not only lost his job running Donald J. Trump's presidential campaign but also assumed center stage in a bizarre internecine struggle among Ukrainian political forces. On Monday, the intrigue took another turn, when a member of Parliament in Ukraine released documents that he said showed that Mr. Manafort took steps to hide the payments, which were tied to Mr. Manafort's work for former President Viktor F. Yanukovych. The documents included an invoice that appeared to show $750,000 funneled through an offshore account and disguised as payment for computers. Mr. Manafort, who denied the latest allegations, has asserted that the ledger is a forgery and that the member of Parliament, Serhiy A. Leshchenko, was involved in a scheme to blackmail him."
FBI investigation into Trump, Russia started three months before election - Yahoo News: "The FBI's counterintelligence investigation into possible coordination between the Trump campaign and the Russian government, confirmed by FBI directorJames Comey in congressional testimony Monday, began as early as late July — just weeks after a former British spy briefed bureau agents about evidence he had collected about such ties, sources tell Yahoo News."

Tillerson Russia trip timing awkward - USA Today: "Secretary of State Rex Tillerson ... would hold 'meetings' in Russia directly after attending Group of Seven talks in Italy in early April. He is also expected to be at Trump's Mar-a-Lago resort in Florida when Chinese President Xi Jinping visits there on April 6-7…Tillerson's Russia visit also means he will skip a NATO foreign ministers' summit on April 5-6."

HOW'S IT PLAYING
"FBI probe of Trump-Russia links could last months, Comey tells House committee" – Kansas City Star
"Comey says FBI probing Trump-Russia links, wiretap claims bogus" – Pittsburgh Post-Gazette
"Comey rejects tweet by President Trump that Russia did not influence outcome of election" – LAT

"A bombshell confirmation from Comey on Russia" – Boston Globe

"Comey: FBI probing Trump-Russia links, wiretap claims bogus" – Star Tribune

"FBI confirms investigation of Trump, Russia ties, says no evidence of Obama wiretap" – Dallas Morning News
PLAY-BY-PLAY
Trump's defenders becoming weary with continued controversies - NYT

Dems to grill Gorsuch in day two of hearings - Fox News

Hillary aides furious over Comey testimony - Fox News

Ivanka Trump to get West Wing office, but not become a government employee -Politico

White House defends Trump's golf as work related, unlike Obama - The Hill

AUDIBLE: OR NAH...
"I wish you could, too." – Sen. Diane Feinstein, D-Calif., to Judge Neil Gorsuch after the Supreme Court nominee deflected a question saying he wished he could give a "yes of no answer."

FROM THE BLEACHERS
"I was wondering if it would benefit some readers today (seeing how texting has changed the American vocabulary)…to post a 'modern translation' to the Rulebook quotes?" – J. Scott Marks, Indianapolis, Ind.

[Ed. note: Srsly, bro?]
"Do you know if anyone has asked [FBI Director James Comey] this question (regarding the Trump wiretap accusation): Mr Comey, 'If you opened an investigation in July 2016 with regards to a Trump/Russian campaign/election collusion, are you using surveillance to gather facts in the investigation? If so, could that be considered 'wire-tapping' as the administration has claimed?" – Mark Hoffman, Des Moines, Iowa

[Ed. note: Even if they had, Comey wouldn't have been able to talk about the details of an ongoing investigation. But I might suggest that the president and his supporters drop the inquiry line for now. Yes, Trump will eventually claim to be vindicated when it is revealed the kind of surveillance to which his campaign was subjected. But it's pretty clear now that there's not much chance that anyone will corroborate Trump's claim that it came at former President Obama's order.]
"Common as cows in India? Are there enough bamboo shoots in the world to support that many pandas?" – Raoul Lowery Contreras, San Diego
[Ed. note: If the ribs are good enough, I believe that our best scientists will be equal to the task!]

Share your color commentary: Email us at HALFTIMEREPORT@FOXNEWS.COM and please make sure to include your name and hometown.

BUT YOU'LL STILL RESPECT ME, RIGHT?
KIRO: "A heartbroken Colorado family whose beloved family dog was confiscated by animal control officials as a suspected wolf hybrid is now celebrating his expected return home. The Abbato family's 10-year-old German shepherd mix, Capone, is just a dog after all and not a wolf hybrid, according to a DNA test. Owner Tracy Abbato said the test results verified what she's known all along. 'He doesn't have an ounce of wolf in him,' Abbato told KDVR TV. …The family adopted the dog from an animal shelter 10 years ago and was told at the time that he was a German shepherd mix. Capone escaped from their yard on Feb. 24 right into the custody of Animal Control, who refused to allow the dog to return home because of concerns that he looked and acted like a wolf. The dog is still in custody awaiting a hearing this week."
AND NOW, A WORD FROM CHARLES…
"Right now, the storyline is now that the president was wrong. Everyone is saying it. His own FBI director is saying it…But that's the price of doing this kind of tweeting." – Charles Krauthammer on "Special Report with Bret Baier."

Chris Stirewalt is the politics editor for Fox News. Sally Persons contributed to this report. Want FOX News Halftime Report in your inbox every day? Sign up here.
Chris Stirewalt joined Fox News Channel (FNC) in July of 2010 and serves as politics editor based in Washington, D.C. Additionally, he authors the daily Fox News Halftime Report political news note and co-hosts the hit podcast, Perino & Stirewalt: I'll Tell You What. He also is the host of Power Play, a feature video series on FoxNews.com. Stirewalt makes frequent appearances on network programs, including America's Newsroom, Special Report with Bret Baier and Fox News Sunday with Chris Wallace. He also provides expert political analysis for FNC's coverage of state, congressional and presidential elections.