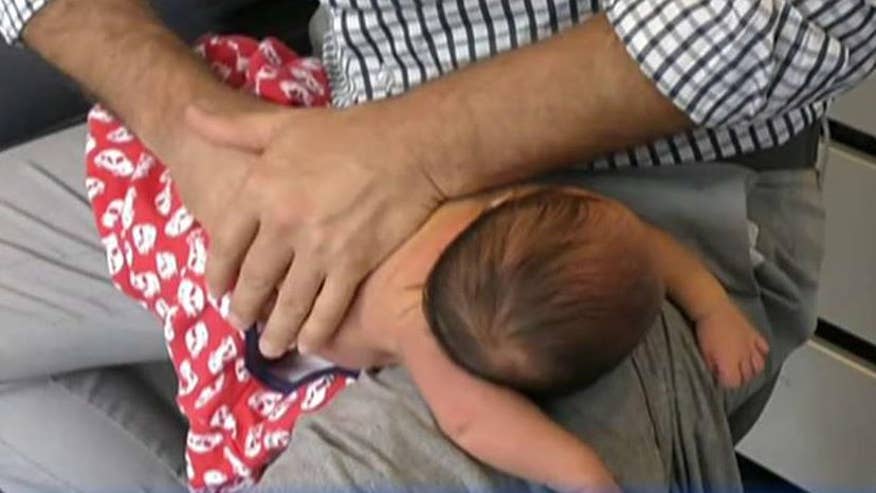 An Australian doctor is facing backlash after a video of him cracking the back of a 4-day-old premature baby was posted to social media. Dr. Ian Rossborough, who treats babies and children suffering from various illnesses, said his young patient was suffering from colic and reflux, Sky News reported.
In the video, Rossborough lays the unidentified baby across his lap before pressing down. Viewers hear a loud crack followed by the baby crying out.
While posts on social media ripped the doctor for using such a harsh method on a newborn, at least one doctor said the treatment has been known to improve the health of children.
"Colic is really caused by crying episodes and stressed babies," Dr. Tim Bain, of Bain Clinic Wellness, told Fox & Friends. "We think there may be something to do with gas in the intestines, bubbles, that kind of stuff. The medical treatment is really simethicone— that really has been proven not to work, but people are doing that every single day."
Bain said that while he adjusts the spine of babies in his own practice, he is careful to do it with less pressure. He said there are a handful of peer-reviewed studies that suggest this chiropractic treatment works better than simethicone for treating colic.
The parents of the child have also come under fire, as children typically grow out of the condition by the time they're 3 months old. But Bain defended the parents of the child in the video and said he, too, sees parents at his practice who are desperate for solutions to ease their children's stress.
"I've seen this happen a lot, and parents bring in babies, and truthfully the adjustment does work," he said. "It works really well with calming babies … because you're affecting and activating nerves in the spine that are changing the stress modes of the baby, and the baby becomes less stressed, mommy becomes less stressed, and everything starts to kind of wind down a little bit from there."
Dr. John Cunningham, a spine specialist, told ABC News he was shocked to see the video and made a formal complaint to the Australian Health Practitioners Regulation Agency (AHPRA).
"There would be risks that the child could suffer some sort of fracture. Why on earth would you do that to a newborn?"