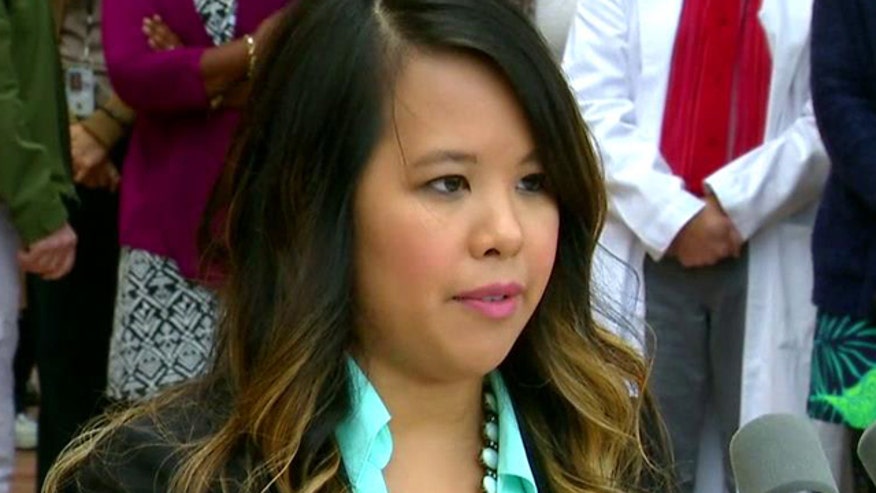 A Dallas-area nurse infected by the Ebola virus, and who sparked a nationwide search for other possible infections, was declared free of the virus and released from a Maryland hospital Friday.
"Although I no longer have Ebola, I know that it may be a while before I have my strength back," 26-year-old Nina Pham, a nurse at Texas Presbyterian Hospital, said during a press conference Friday.
Pham had contracted the virus while treating Liberian national Thomas Eric Duncan, the first Ebola patient to be treated on U.S. soil. Pham tested positive for Ebola Oct. 12 and was transferred to the National Institutes of Health in Bethesda, Maryland.
During the conference, Pham thanked her medical team at both hospitals and asked for privacy. She also thanked Dr. Kent Brantly, an Ebola survivor who donated blood during her treatment.
Duncan had initially sought treatment at the Dallas hospital on Sept. 25, but he was discharged with antibiotics. On Sept. 28 he returned to the same hospital by an ambulance after vomiting outside the apartment complex where he was staying. Duncan died in an isolation ward on Oct. 8.
A second nurse who treated Duncan, 29-year-old Amber Vinson, also tested positive for the virus, which spreads through contact with bodily fluids and can cause fever, bleeding, vomiting and diarrhea. She was transferred to Emory University Hospital in Atlanta.
Vinson's family said the Centers for Disease Control and Prevention (CDC) could no longer detect the virus in her body. In a statement, Emory said tests no longer detect the virus in her blood but they do not have a discharge date at this time.
Vinson flew from Ohio to Dallas the day before reporting symptoms, raising concerns about possible spread of the disease outside of Texas even as U.S. health officials say the risk of transmission is low.
There have been a total of nine cases of Ebola treated in the U.S. since the beginning of August, with the most recent being a doctor in New York City who was diagnosed with the virus after returning from Guinea where he was treating infected patients.
The latest U.S. patient to be diagnosed with the virus is a 33-year-old health care worker who was working for Doctors Without Borders in Guinea. Dr. Craig Spencer tested positive for the virus on Oct. 23 and was transported by a specially trained team wearing protective gear to Bellevue Hospital from his Manhattan apartment. Bellevue Hospital is one of eight facilities in New York designated to treat Ebola.
Three other Americans who contracted the virus while working for Christian missionary organization in Liberia were flown to the United States for treatment and have recovered.
Nancy Writebol contracted the virus in July while working for a SIM USA hospital with her husband, David, who was not infected. She was treated at Emory and discharged on Aug. 19.
Brantly also was treated in isolation at Emory after contracting Ebola while working for Christian relief group Samaritan's Purse. He was released on Aug. 21.
Dr. Rick Sacra, a Boston physician who was working for SIM USA, arrived in the United States on Sept. 6 and was treated for three weeks at Nebraska Medical Center.
Another patient who has elected to remain anonymous and has only be identified as having worked for The World Health Organization (WHO), contracted Ebola in sierra Leone and began treatment at Emory on Sept. 9. He was discharged on Oct. 19.
Health care workers have been particularly hard hit during this outbreak, but they are not the only ones at risk.
Ashoka Mukpo, an American freelance television cameraman working for NBC News in Liberia, was flown out of the country for treatment at Nebraska Medical Center in Omaha.
Mukpo, 33, was declared free of the virus on Oct. 21. "Recovering from Ebola is a truly humbling feeling. Too many are not as fortunate and lucky as I've been. I'm very happy to be alive," he said in a Twitter post this week.
The NBC crew who worked with Mukpo also returned to the United States and were ordered into quarantine after violating their voluntary confinement.
Hospitals across the United States have been urged to watch for possible cases and to ask patients about their travels to help screen for the virus. Patients have been monitored in Virginia, Maryland, Connecticut, Massachusetts, Kansas, Washington, Hawaii and Florida, but non tested positive for Ebola.
Ebola has killed more than 4,500 people and infected more than 9,100 in the worst outbreak on record, centered in three impoverished West African countries: Guinea, Sierra Leone and Liberia.
Reuters contributed to this report.