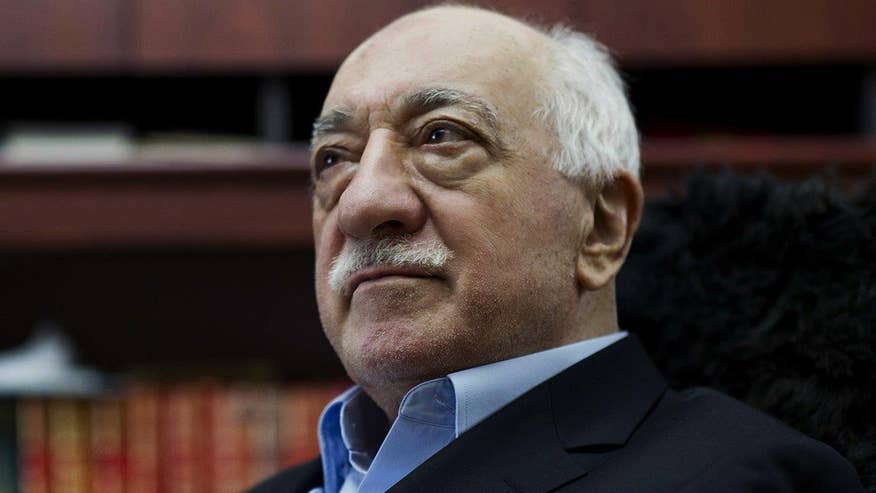 Turkey's ruling party on Friday ordered a purge of followers of a U.S.-based imam the government blames for masterminding the country's failed July 15 coup.
The order came a day after Turkey issued a warrant for Fethullah Gulen's arrest, a move seen as a prelude to a formal extradition request.
The state-run news agency said the Justice and Development Party, founded by President Recep Tayyip Erdogan, issued a circular ordering its members to "immediately start efforts to purge those linked to the (Gulen movement) or who gave support to the reprehensible coup."
The government has branded Gulen's movement a terrorist organization and has launched a sweeping crackdown on its alleged followers since the attempted coup, which left more than 270 people dead.
U.S. Secretary of State John Kerry is expected to arrive in Turkey later this month, Turkey's foreign minister said Friday, amid strained relations with Washington over the possible extradition of Gulen.
The Turkish government has expressed increased frustration over perceived foot-dragging by the United States over a Turkish demand that Gulen be returned to Turkey to face trial.
Turkey accuses Gulen, a former ally of Erdogan who lives in self-imposed exile in Pennsylvania, of being behind the coup attempt by renegade officers in Turkey's military.
Gulen has denied involvement or prior knowledge of the violent coup attempt. Washington for its part, has asked for evidence of the cleric's involvement, and has said the extradition process must be allowed to take its course.
Turkish Foreign Minister Mevlut Cavusoglu said Kerry was scheduled to arrive in Turkey Aug. 24, the state-run Anadolu Agency reported. He also spoke of the possibility of a separate visit by U.S. Vice President Joe Biden.
Since the coup attempt, nearly 70,000 people suspected of links to Gulen have been suspended or dismissed from jobs in the civil service, judiciary, education, health care and the military. And about 18,000 people have been detained or arrested, mostly from the military, on suspicion of being involved in the failed putsch. European officials and human rights groups have expressed concern over the crackdown.
The crackdown has also expanded to journalists and former employees of Gulen-linked media. On Friday, Anadolu said 12 journalists who used to work for Zaman newspaper were formally arrested pending trial, including columnist Mumtazer Turkone. Six other journalists were jailed pending trial last week.
The Associated Press contributed to this report.