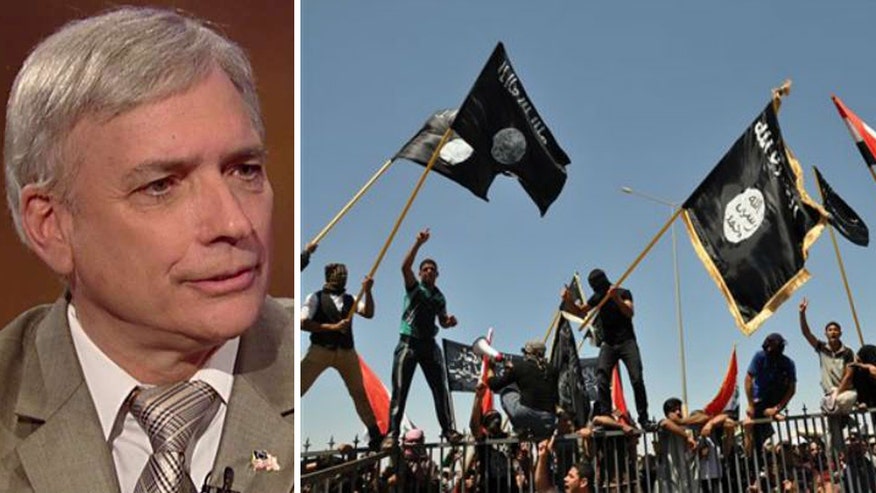 The appearance of a vacation at a swanky Mediterranean beach resort is just a pretext to unleash terror.
For at least two years, ISIS has been telling foreign fighters who wish to join the Islamist group in Syria to book round-trip tickets to Southern Turkey and arrange stays at seaside resorts to avoid suspicion. But once the terrorist-wannabes are in Turkey, they're smuggled into Islamic State-held territory and quickly instructed in the art of killing.
"When they go back to France or in Germany, they can say, 'I was only on holidays in Turkey,'" said Harry Sarfo, a German prisoner who joined ISIS in 2015 and recently spoke to The New York Times. "The longer they stay in the Islamic State, the more suspicious the secret service in the West gets, and that's why they try to do the training as quickly as possible."
Sarfo's prison cell interview provides a rare glimpse under ISIS' mask, illuminating the practices and operations of a group that shrouds itself in secrecy.
One of Sarfo's more notable revelations is the existence of an intelligence unit charged with identifying suitable foreign recruits and exporting those fighters around the globe to carry out the group's deadly deeds. Known in Arabic at Emni, the group is run by one of ISIS' top leaders, Abu Muhammad al-Adnani, who is known primarily as an Islamic State spokesperson. Sarfo described Emni as extremely organized and efficient, with divisions for European, Asian and Arab affairs.
Soon after he arrived in Syria in April 2015, Sarfo was asked by Emni to return to Germany for a future attack. During that conversation, Emni operatives told him the group desperately needed attackers in Germany and Britain because previous recruits had "chickened out." Another man at the meeting asked about terrorists in France.
"And they started laughing," Sarfo told The Times. "But really serious laughing, with tears in their eyes. They said, 'Don't worry about France.'"
Seven months later, coordinated attacks at various Paris locations killed 130 people.
Two of Adnani's top Emni lieutenants, Abu Souleymane and Abu Ahmad, have strong links to the Paris attackers. A hostage at the Bataclan theatre during the Paris attacks overheard one of the terrorists ask another: "Should we call Souleymane?" The first terrorist was quickly admonished for speaking in French and told to switch to Arabic. Ahmad's Turkish telephone number was found in the cellphone of a would-be attacker arrested before the Paris assault and also written on a piece of paper in the pocket of pants holding a severed leg belonging to one of the Paris suicide bombers.
Members of Emni told Sarfo that the group had not had luck infiltrating the U.S. with operatives who had visited Syria, and were instead utilizing social media as the primary method to recruit terrorists.
"For America and Canada, it's much easier for them to get them over the social network, because they say the Americans are dumb – they have open gun policies," Sarfo said. "They say 'We can radicalize them easily, and if they have no prior record, they can buy guns, so we don't need to have no contact man who has to provide guns for them.'"
A contact man or "clean man" is typically a new Muslim convert and is a staple in many European attacks, Sarfo said. The person acts as a go-between for an ISIS operative and the terrorist on the ground, supplying instructions, information about how to properly credit ISIS and ferrying videotaped pledges for ISIS to use.
Sarfo said he began plotting his escape from ISIS soon after his illusion of the group was shattered while he helped on a propaganda film shoot. He had previously assumed the videos were not staged. But for this video, Sarfo walked back and forth with a black ISIS flag while other fighters shot and killed captives during take after take, trying to perfect the look of the execution. After killing one person, a German fighter turned to Sarfo.
"How did I look like?" he asked. "Did I look good, the way I executed?"