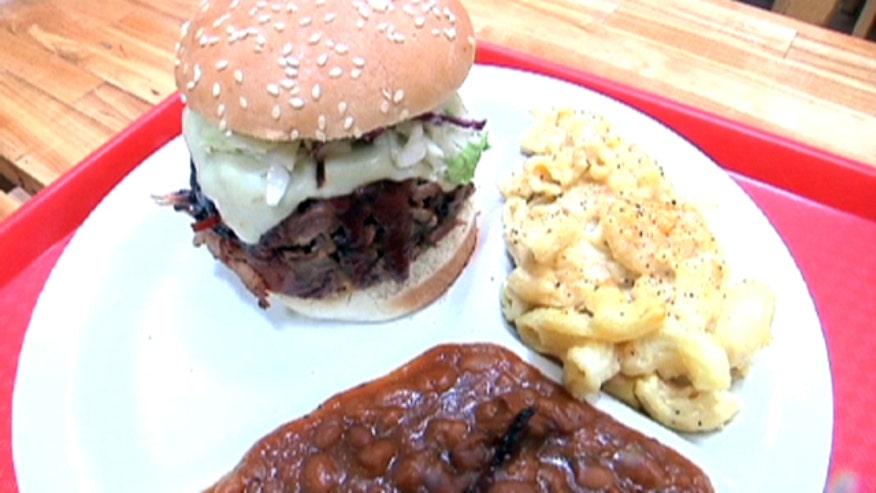 There are few sandwiches worth traveling across the country for, but the towering Midwest Monster might be one.
The signature sandwich at Pork On A Fork in Phoenix, Arizona, made with slow-cooked pork piled high with fixs, is a towering monstrosity that draws some 500 customers a day to this small barbecue joint.
"You expect a big sandwich but once it comes back out on the plate, people's eyes open up," said Pork on A Fork manager, Jacob Perry.
Pork On A Fork has been voted one of the best barbecue restaurants in Phoenix by local media. The owners, Wes Hansen and Justin Erickson, say it's because they offer fresh, hormone-free meats raised on their Nebraska farm that's cooked over charcoal and pecan wood--no gas. They also offer classic sides like mac n' cheese, spicy beans and coleslaw.
The Midwest Monster, however, is anything but classic. To keep its form, the sandwich ingredients are first stuffed into a cup, beginning with a layer of jalapenos, then a quarter-pound of fresh pork and beef brisket.
The ingredients are then seared and splashed with a secret "Crazy J's" sauce and pepper jack cheese. Finally, the piping hot sandwich is topped with cool coleslaw.
The finished sandwich hits the spot, as you taste the mixture of pork and beef and the freshly melted cheese. And the coleslaw on top is like eating an entire barbecue meal all in one.
The restaurant owners are originally from the Midwest and say their restaurant has become a hot spot because they've brought their Midwestern flare to the desert.
"There's really not a whole lot of barbecue in Arizona," Perry said. "There's a few good places but you know they brought something new to the scene here for sure."
Matt Finn is a Fox News correspondent based in the Chicago bureau. Follow him on Twitter: @MattFinnFNC