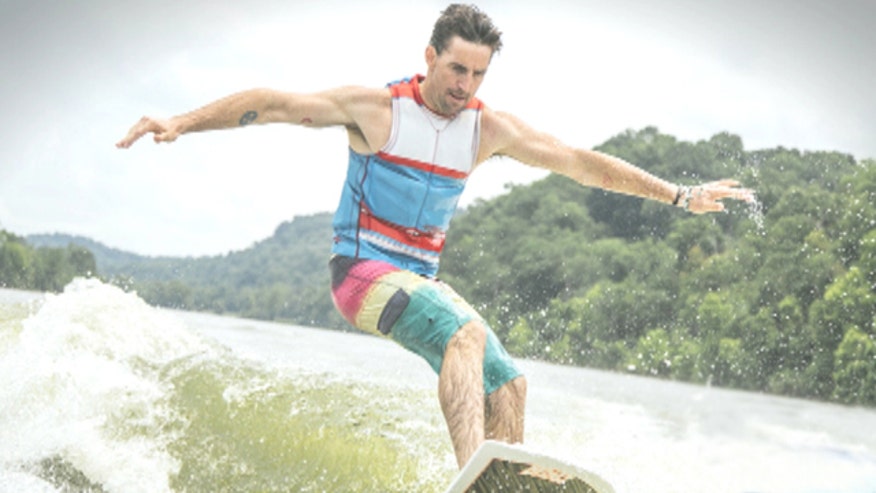 Country music sensation Jake Owen is not only known for his summertime hits, such as "Beachin" and "Summer Jam", but his love of water sports.
Owen, who grew up on the coastal town of Vero Beach, Florida, always finds time to get on the water. An avid wakesurfer, boater and fisherman, he says water is how he unwinds.
Owen's love of boating is captured in "Stories of Discovery," a documentary series developed by Discover Boating, a campaign by the North American recreational boating industry to promote water sports. They've hit the road with Owen to inspire fans to discover life on the water and share their boating stories.
So what water sports get Owen's engine running?
--Wakeboarding and wakesurfing are something Owen regularly does during his time off. The difference between the two sports is that in wakeboarding you get towed by the boat, while wakesurfing, you use the boat to get you up and then you're on your own to surf. Owen's favorite spot for this is on Center Hill Lake in Middle Tennessee, about 60 miles from his Nashville home.
--Stand-up paddle boarding is great exercise and a good activity to do with your friends or family. "I do that when I'm back home in Florida a lot with my mom, my family, and my little girl."
--Pontoon boating is something Owen enjoys doing--just sitting on the boat, grilling and having a good-old-fashioned party.
He says he still finds time for some water-filled fun when he's traveling. "When we are out on the road, we try to find people who want to take us out on their boat, and it's a good way to connect with our fans."
But touring during the summer still captures his heart, something he describes as, "like ordering guacamole at a Mexican restaurant."
Fox News Entertainment Producer Ashley Dvorkin covers celebrity news, red carpets, TV, music, and movies. Dvorkin, winner of the 2011 CMA Media Achievement Award, is also host of "Fox 411 Country," "Star Traveler," "Fox 411 Big Screen," and "Fox on Reddit."