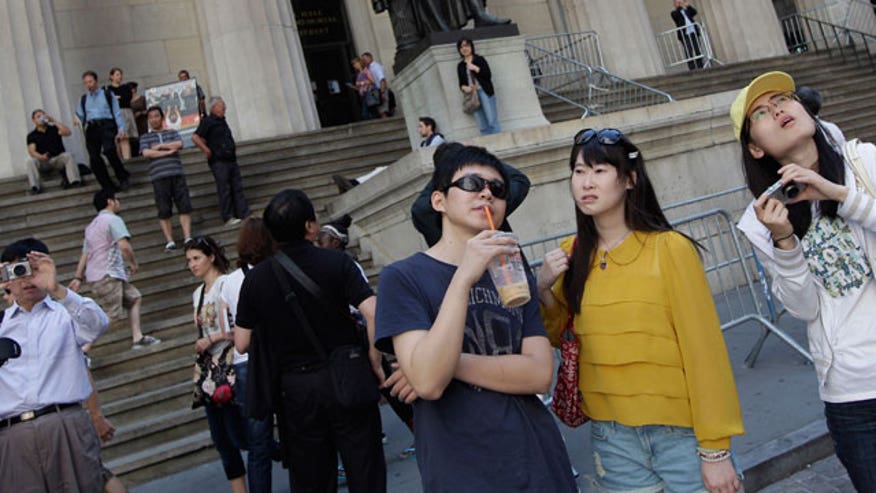 The U.S. will see a significant increase in overseas tourists within the next several years despite a stronger dollar, according to a new report by the global travel group, Brand USA.
Canada and Mexico remain the top nations for visitors to the U.S., yet other countries are gaining notice. Tourists from developing countries, such as China, India, and Brazil, are expected to be some of the most frequent visitors to America.
The organization's CEO Chris Thompson told FoxNews.com "in 2013, we had record visitations – 70 million international visitors, $180 billion dollars spent." While its 2014 report hasn't been published yet, Brand USA projects 100 million visitors annually by 2021.
"China is the largest outbound travel market in the world. There are 100 million Chinese that are traveling … we only get three percent of that outbound travel, but we are the number one long-haul market," said Thompson.
The U.S. should see a boost in travel from China after an agreement last year increasing the length of Chinese visas. Business and short-term tourist visas will be valid for 10 years, while student and cultural exchange visas will last for five.
The Department of Commerce projects annually 1.8 million Chinese travelers visit the U.S., along with nearly a million Indians and over two million Brazilians.
International tourists to the U.S. spend more than $200 billion annually on travel, hotels, dining and shopping, but experts say that growth in 2015 could take a hit as would-be visitors balk at the stronger dollar and grapple with weaker economies at home. While the potential for a global economic slowdown is a concern, Thompson said that the U.S. continues to be a highly desirable destination.
"We're aware of the around the world the different effects on the economy," said Thompson. "But even at that said, we're looking at massive populations with always the aspiration to travel to the United States."
Thompson says that while in the U.S., overseas visitors spend their vacations in tourist hotspots like New York, Miami, Chicago, and Los Angeles. "All of the ones you would expect are the top destinations for many of these emerging countries."
And while they're watching the impact of the strengthening U.S. dollar, he says that foreign visits to the U.S. remain strong.
"It doesn't mean they are not going to come, it just may change the length of their trip or what they do once they get here," said Thompson.
Chris Snyder is a producer for Fox News based in New York. Follow him on twitter: @ChrisSnyderFox.