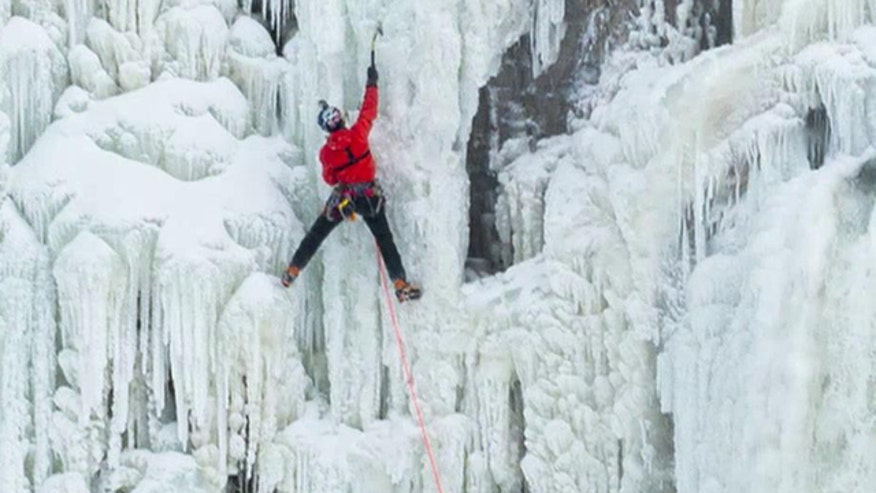 Nine people have successfully gone over Niagara Falls in a barrel but until now, no one had ever successfully attempted the reverse trip.
On Tuesday, a pair of skilled Canadian ice climbers, Will Gadd and Sarah Hueniken, ascended the frozen waterfall, ice-picking their way along the edge of Horseshoe Falls, a 150 foot climb that straddles the Canadian-U.S. border.
"The power of the falls is staggering. It vibrates your intestines and makes you feel very, very small," Gadd told National Geographic. "I've never experienced anything like it."
It took Gadd just under an hour to get to the top while Hueniken, who was forced to take cover in a crevice to avoid falling ice chunks, finished about 40 minutes behind her partner.
Horseshoe Falls, one of three sections of Niagara, stretches for 2,200 feet, falling at an average rate of four million cubic feet per minute in the warmer month. In the winter, not all parts freeze over, making the climb more dangerous.
The professional climbers were sponsored by energy drink Red Bull, but the climb was initially kept secret until news of their success was leaked. According to the pair, the most difficult part of the ascent was actually getting permission to climb it. The process took over a year to complete but to Hueniken, it was the fulfillment of a childhood dream.
"As a kid, I always felt drawn to the edge of the falls," said Hueniken as the climb, who grew up near the falls. "I think it's human nature to be curious about gravity and to wonder what it would feel like to go over."
Gadd and Hueniken were assisted by Lieutenant Patrick Moriarty, a long time veteran of the New York State Park Police, and professional climber Mark Synott who used over 200 feet of rope to secure the duo.
Though Hueniken was "cold and stiff" throughout the latter part of the climb, she was happy to be greeted by her proud father waiting at the top of the frozen fall.
Niagara Falls is one of the oldest U.S. state parks. Attracting between 8 to 10 million visitors per year, it's one of the most popular tourist destinations in North America but most visitors flock to the site during the warmers months.
Check out the incredible icy feat in the clip below.