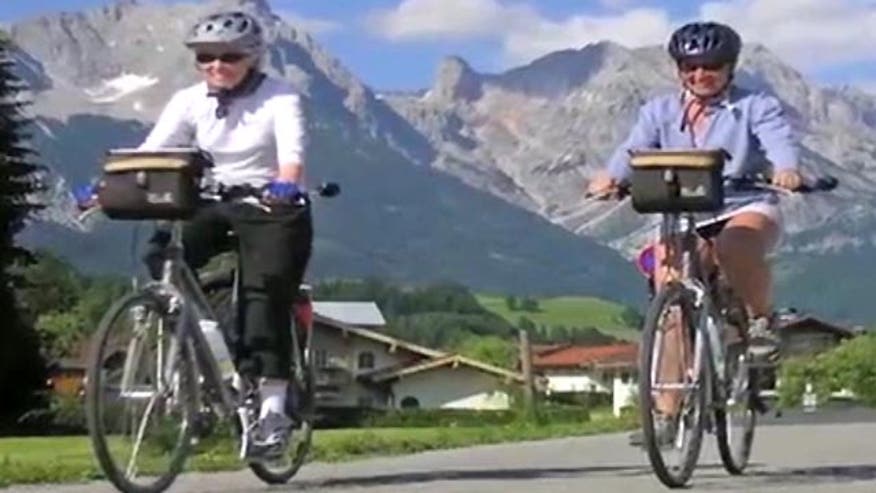 Ready for a bike ride?
How about one that takes you past vineyards, quaint villages and apple orchards, maybe with the Alps in the background.
I just got back from a few days of seeing Europe a different way -- from my bike and I loved it even though, sorry to say, I'm not in the greatest shape. Nor am I a big cyclist. Ron van Dijk, a friend of mine who has been leading bike trips in Europe for more than 30 years, convinced me to give it a try.
We opted for a leg of a trip he leads around Lake Garda, Italy's largest lake. Part of the time, we opted for the increasingly popular Electric Bikes which makes hills a whole lot easier. This isn't like you're on a Moped — you still have to pedal, but you get a much-needed extra push from the electric motor .
These days, you'll see many adventure companies offering cycling trips and multi-sport trips that including cycling including Backroads and REI Adventures. Maybe consider giving a trip next year as a holiday gift to your family? They're certainly a different way to explore Europe. Rather than go from church to museum, you stop to admire the sunflowers growing in fields, or have a cappuccino in a tiny village. You'll meet locals running tiny restaurants and maybe even pick some apples, as we did in Italy. Pedal from vineyard to village to the lakefront. (You can read about what I wrote about our adventure.)
Another plus: everything is arranged for you — where you are staying and transporting the luggage from hotel to hotel, most meals, the route — there's always a guide with you and you also have detailed maps with turn-by-turn directions. There's someone to fix a broken bike and of course you also have the option to hop in the van if you are tired. Prices start at under $3,000 a person.
I discovered there are bike trips for every type of traveler and van Dijk, like other adventure companies, is always scouting for new itineraries. Europe is a great place to cycle because there are so many bike paths everywhere that pass through little towns and villages. Gather your own group — say eight of you — and you can arrange your own itinerary for the same price.
FOR FAMILIES—Consider Germany's Mosel Valley or Holland. It's pretty flat—no small thing when cycling with kids. In Germany, you'll cycle through forests and tour castles that seem right out of a Disney movie. Let's not forget the local beers! Holland actually gives cyclists the right-of-way on most streets. Here's your chance to bike over canals and even visit a working windmill.
FOR HISTORY LOVERS -- You can't go wrong in Tuscany or Normandy. (Here's what I said about our visit there last year.) Besides all the great scenery and good eats, there are plenty of historic sites and in Normandy, the chance to shuck your own fresh oysters. Even the hotels are special — like a chateau built for a nobleman's mistress in the 17th Century we visited outside of Bayeux, where we stopped to see the famous 230-foot long Bayeux Tapestry that dates back to the 15th century. In Tuscany — as long as you can take the hills — there is plenty of wine, of course, the chance to see how olive oil is made , a soak in natural thermal spas and as many churches and historic sites as you care to visit.
WINE LOVERS can choose from Burgundy or the Loire Valley in France; Rioja in Spain.
BEER AFFICIONADOS won't go wrong in Austria or Germany.
NATURE LOVERS should be happy anywhere, especially in the South-Tyrol where we seemed to be cycling most of the time beside the lake or a river, the Alps in the distance.
The best part—you won't feel guilty whatever you eat for dinner. You've earned it.
Eileen Ogintz is the creator of the syndicated column and website Taking the Kids. She is also the author of the ten-book Kid's Guide series to major American cities and the Great Smoky Mountains. The third-edition of the Kid's Guide to NYC has just been released.