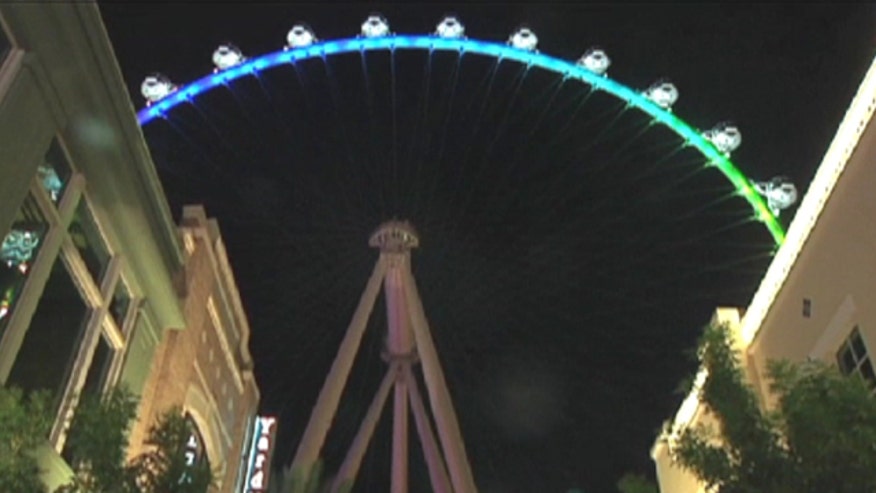 The latest VIP experience in Las Vegas is taking partying to new heights.
"There's nothing like it in the world," said Eric Eberhart, general manager of the High Roller.
For $1,900, you and up to 25 guests can ride in a private party pod on Caesar's High Roller—the newest addition to the Vegas skyline and now the tallest observation wheel in the world at 550 feet.
Your party enters one of the climate-controlled, party pods at the base of the observation wheel. Inside, there is a TV's, music and an open bar complete with a bartender to make just about any drink you can think of.
"It's really fun," said partygoer Maxine Peck. "Drinks, friends and a view you can't beat."
The ride lasts about 30 minutes. Partiers can dance to the beat of their own music or keep the noise level down for a more relaxing experience.
Guests can even plan a wedding or business-oriented event.
"I've been on a lot of the roof tops and stuff like that but getting in here you've got the silence, the comfort level and you still get to see the amazing view," pod rider Robert Norris said.
The pods are about the size of a small kitchen, can easily fit 15-30 people and are almost entirely made of glass, providing for a 360 degree view of the Las Vegas strip and valley.
At nearly $2,000, the VIP experience is something most tourists can't afford. But, if you divide the cost up among two dozen people, it's about the same cost of going to an upscale night club.
"If you get a group of friends together, you're going to spend this much money on drinks at the bar anyway in 30 minutes," Melanie Hackam said.
It's a sky-high experience that guests say is worth the trip.
Matt Finn is a Fox News correspondent based in the Chicago bureau. Follow him on Twitter: @MattFinnFNC