From cocktail-mixing robots to dancing entertainment screens to high-tech wristbands and apps that put everything at passengers' fingertips, Royal Caribbean's Quantum of the Seas is being billed as "The World's First Smartship."
Its technology – some of which has never been used on cruise ships – will help guests stay connected and maximize their experience even before they step on board, the cruise line says.
"This ship's combination of ease and flexibility would make a yoga instructor proud," Royal Caribbean chairman Richard Fain said during a press conference at the shipyard in Papenberg, Germany. "We were determined to take the best advances in modern technology, turn them into shipboard 'wows' and take the frustration out of the vacation."
Service on the "smartship" will include high-speed Internet, which is usually very expensive and notoriously unreliable on other cruise ships.
The Internet connection will enable passengers to interact with a radio frequency identification (RFID) bracelet that they will receive upon arrival and will keep them connected to the ship's network. The bracelets will manage room access, onboard purchases and dining and tour reservations. And because they are rubber-protected, they will never demagnetize, unlike the magnetic ID key cards most cruise ships use.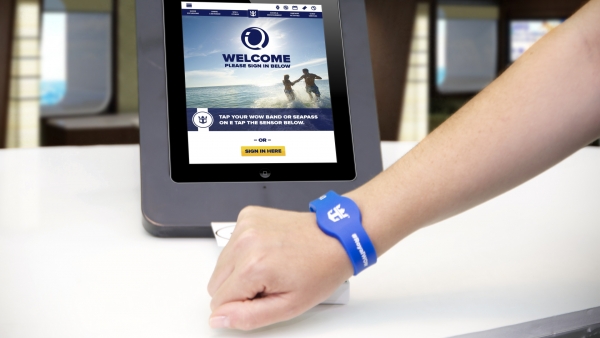 RFID WOWband wristbands allow passengers to make onboard purchases, serve as the room key and more. Royal Caribbean
Royal Caribbean says passengers who book dining reservations, shore tours and other cruise activities before departure can have that information and all their necessary check-in documents ready and loaded on their RFID bracelets when they arrive. The plan is to have guests aboard the ship within 10 minutes.
In addition, a new app called "Royal IQ" will track the ID, stateroom, preferences and reservations of each passenger and provide maps of the ship and its daily schedule of events at the push of a button. Tapping the RFID bracelets with a finger will allow guests to interact with "Royal IQ" with hand signals at screens stationed throughout the ship.
Helping to cut down on check-in confusion, each piece of luggage left with a stevedore upon arrival will be tagged with an ID number. The "Royal IQ" app will tell you its exact location at all times, as well as the moment it is brought to your stateroom.
The secret behind these advances is much faster Internet access provided by a network of low-orbit communications satellites from a company called O3B Networks. The satellites maintain geosynchronous orbit (an orbital period the same as the Earth's rotation) at a much closer distance to Earth than satellites used by other cruise ships – allowing Internet signal transmission directly to the ship.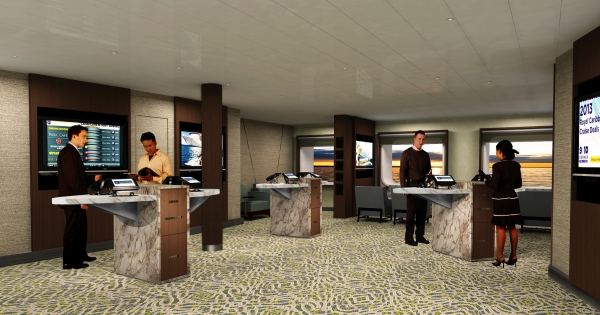 Royal Caribbean
With the O3B Network, Royal Caribbean says, passengers can use Skype and even play interactive games with people across the world while at sea – unprecedented as far as cruise ships are concerned.
Other high-tech features include a robotic bartender that can make a "killer mojito" in the new Bionic Bar, where drinks are ordered on tablets, and the Two70° showroom with its "robotic dancing screens," an array of robotic arms mounted with rotating video displays.
The ship will also offer virtual balconies – large, high-resolution screens that display the feeds from permanently mounted cameras on the bow and stern of the ship – in its inside staterooms. The screens are framed with curtains that look like balcony doors, and the image has computer-generated balcony railings in the frame, giving guests the feeling of a real balcony experience.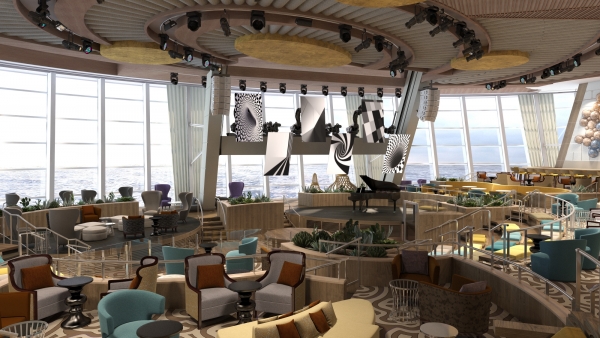 Royal Caribbean
To help crew members integrate with all of this technology, Royal Caribbean will give them Microsoft tablets with Internet access and the Royal IQ app, so they can interact with passengers. They can also use the tablets for personal use, which means they can stay in close touch with family members while at sea.
The ship has several environmentally friendly features, including all-LED lighting and a hull and engines designed for minimum drag and better fuel efficiency.
Quantum of the Seas is scheduled to be formally launched at the end of October and sail first to Southampton and then to New York around November 10.
Paul Motter is the editor of CruiseMates.com, an online cruise guide. Follow him on Twitter @cruisemates.