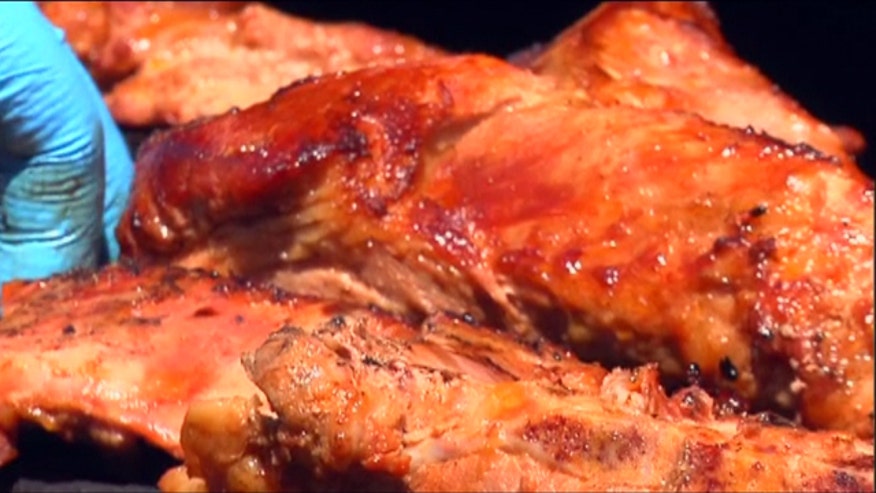 Far away from the glitz of the Las Vegas Strip is a small barbecue joint that make you think you're in a small Southern town rather than an city that never sleeps.
But, when John Mull's Road Kill Grill in Las Vegas is open, it's a safe bet that a line of customers will extend out the door into the Vegas heat.
Why?
"This is what you call finger licking good," said one customer who ordered a barbecue ribs meal for lunch.
"They put the soul back into the food," another woman said as she waited in line for her food.
Everything at John Mull's Road Kill Grill, which was featured on Guy Fieri's "Diners, Drive-Ins and Dives" is made from scratch. Dozens of employees start at the crack of dawn mixing spices with fresh foods to create the homemade items.
On the menu is ribs, chicken, sausages and classic sides like coleslaw and mac n' cheese.
"We take a lot more pride in what we do, it's not like we're just throwing it into a package and that's it," said Chuck Frommer, who's grandfather established the barbecue joint over 50 years ago.
What makes John Mull's even more unique is that customers can also take home fresh cuts from the in-house butcher shop.
"It's good, fresh meat," said Hunter Buttner, who orders meat for family gatherings and holidays.
Frommer gave us some pointers on how he prepares his most popular dishes. For the fan-favorite dry rub ribs, he starts by cutting the Saint Louis-style rack in half.
"They're easier to grill," Frommer said.
He rubs on the spices and lets the ribs marinade for 16 hours, then they sit in the smoker for up to eight hours.
The result is meat that is crispy on the outside but extremely juicy on the inside. John Mull's also offers sauces if you think the dry rub needs a little moisture --just in case.
Frommer saves the leftover rib tips for an entirely separate menu item. He dices, marinades and then smokes them as well.
To grill an entire chicken, chuck first cuts it in half. Then he removes the excess fat and marinades with it spices and orange juice- not water.
Frommer says the biggest mistake folks make at home is rushing the barbecuing process.
"If you're going to barbecue it's going to take time," he said.
(For a complete list of John Mull's menu and recipes click here.)
Matt Finn is a Fox News correspondent based in the Chicago bureau. Follow him on Twitter: @MattFinnFNC