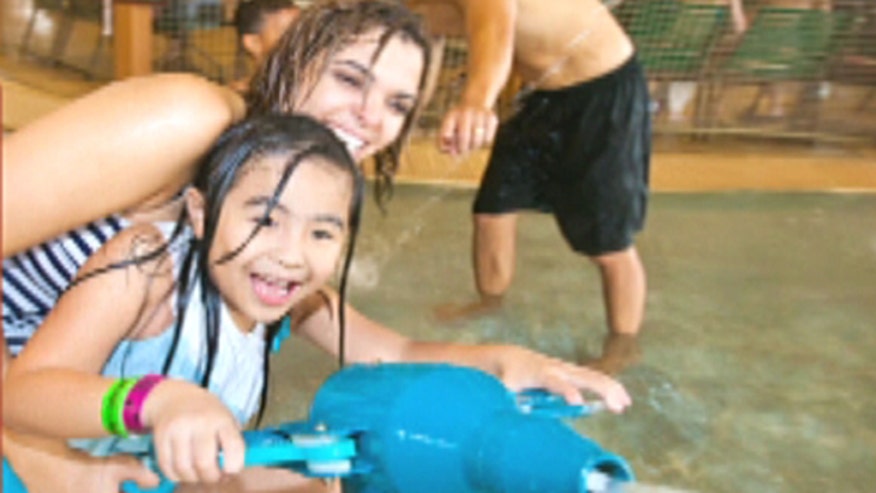 Wisconsin-based resort chain Great Wolf Lodge opened the doors Thursday to its 12th location in North America in the town of Fitchburg, Mass., just outside Boston.
The family-friendly resort is home to a 68,000-square foot indoor water park complete with water rides, an indoor mini golf, bowling, and a 30-foot tall ropes course.
[pullquote]
"We really want families to come here to unwind," said Great Wolf Lodge CEO Kim Schaefer. "The water park is a huge part of the experience, but there are so many other activities and amenities."
Unlike many of the other Great Wolf Lodge locations, the Great Wolf Lodge New England requires visitors to book a room at the 406-room hotel on property in order to enjoy the water park.
"Families are taking much shorter vacations, we've found. Whether it's time or money, families are just over scheduled, so trying to get everybody's calendar cleared for more than one or two days is almost an impossibility," Schaefer said. "We are the perfect alternative and a perfect stop for them because it is so close to home."
Schaefer said the location in Fitchburg was a no-brainer for the company after seeing success over the past six years at their Poconos location.
"We've been in the Poconos location outside New York for about six years now and been very successful at that," Shaefer said. "We understand how families travel in this region so Boston was perfect for us."
Schaefer said there are more plans for expansion and the company is looking at locations in Atlanta, Houston and Colorado. They've already broken ground on a site in Anaheim, just a mile and a half from another famous theme park: Disneyland.
That resort will feature the water slides as well as miniature golf, a motion-simulation theater and a kid spa --all indoors.
"Families are coming to this location," Schaefer said. "There are lots of families that live in that area as well, so they now have another alternative on how they're going to vacation."