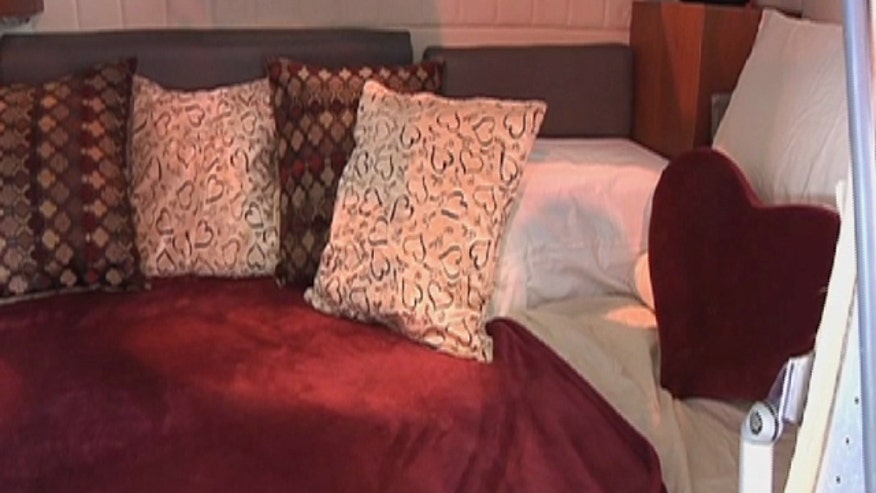 Joining the mile high club just got easier.
Love Cloud, a Las Vegas-based company, now offers couples flights in a private plane just so they can fulfill their mile-high fantasies.
The flight leaves from a private hanger in Las Vegas and returns clients to the same place. But it isn't about getting you from point A to point B. It's about what happens on the way.
For $800 you get 40 minutes on the flight, but you have the option of paying for more time. The captain will fly over the Las Vegas strip or take you over scenic spots like the Hoover Dam or Red Rock Canyon. Inside the six-seater Cessna 421 Golden Eagle, there's a bed that takes up much the space, and other features like mood lighting. Customers can bring chocolates, flowers or whatever they desire.
What's the difference between a plane or a hotel? Customer Michelle Heneghen, who booked a flight with her husband, Mark, for their 25th wedding anniversary said, "I love this man dearly and this is just going to be another notch in our bucket list."
For those concerned about privacy, business owner Andy Johnson guarantees there are no cameras on the plane. A black out curtain divides the cockpit from the passenger area. And when the plane is in the air, it's so loud, it drowns out any noise. If you're still worried, take heart that the pilot also wears noise-canceling headphones.
Johnson tells FoxNews.com that his business offers a legitimate customer service because it can help couples' relationships.
"Maybe generate a little love," Johnson said. "A little spark in the romance of the relationship of their life, then I feel good about myself."
Yet, Johnson stresses safety first. He says he hires only contracted licensed pilots to do the flying, and he focuses on marketing and customer service. In 2012, Johnson, a pilot himself, lost his license after he was charged by the U.S. Attorney with operating an aircraft "carelessly and heedlessly in willful or wanton disregard of the rights or safety of others" in connection with another business he owned, a flight school. Johnson said that case his behind him now, and with Love Cloud he gets a second chance in a town known for second changes.
So who would book a flight on the Love Cloud? It may be surprising that women purchase 90 percent of the flights, Johnson says.
"We're more adventurous," Heneghen said. "The men are going to be nervous or embarrassed."
"They want the romance of it," said Jordan Anderson, who plans to book a flight with her boyfriend of two years.
Guests must be seated and buckled in during take off and landing --other than that, they're free to move about the cabin.
When the ride is over, the plane is professionally cleaned, making it ready for the next couple's ride—where the sky's the limit.
"It kind of brings us together," Mark Heneghen said. "You know, we get to see the other side."
Matt Finn is a Fox News correspondent based in the Chicago bureau. Follow him on Twitter: @MattFinnFNC