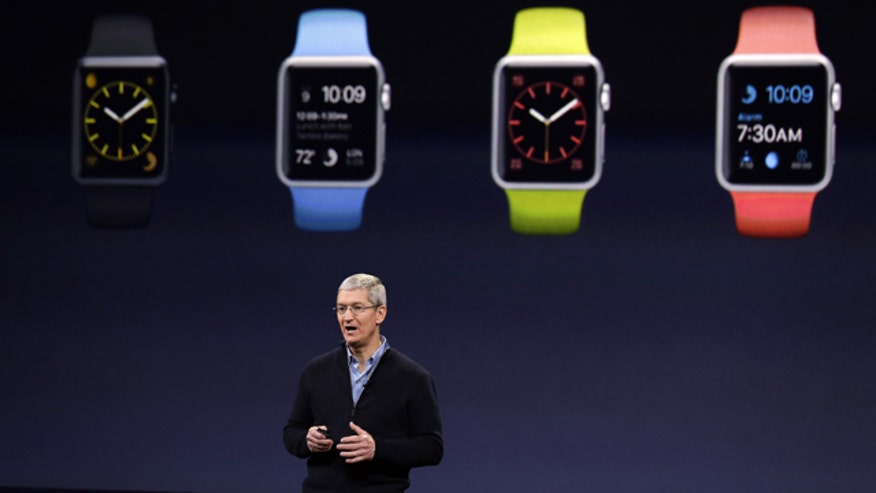 Apple launched its eagerly-anticipated Apple Watch at an event in San Francisco Monday, touting the device as a revolution in consumer gadgets.
Apple Watch, which syncs to the iPhone, is the company's first new product category since it launched the phenomenally successful iPad in 2010.
"The Apple Watch is the most personal device we have ever created," said Apple CEO Tim Cook, during the company's "Spring Forward" event. "It's not just with you, it's on you."
Apple Watch comes in three versions - the entry level Apple Watch Sport, the mid-tier Apple Watch, and Apple Watch Edition, a high-end version of the technology built using 18-karat rose or yellow gold. The watch, which offers 11 different faces, is available in two sizes – 38 mm and 42 mm.
Pricing for the Apple Watch Sport starts at $349 for the 38 mm version, with the 42 mm version starting at $399. The mid-tier Apple Watch is priced between $549 and $1,049 for the 38 mm version, depending on the choice of watchband. Pricing for the 42 mm mid-tier Apple Watch ranges from $599 to $1,099.
Apple Watch Edition is priced from $10,000, and the device will be available in "limited quantities," according to Cook. "The Apple Watch Edition is the most beautiful expression of the Apple Watch," he said.
The Apple Watch products will be available on April 24. Pre-orders will be taken starting April 10.
Clearly keen to give its new product line an aura of exclusivity, Apple announced that the watch will be available to preview or try on at the upscale Galeries Lafayette in Paris, Selfridges in London, and Isetan in Tokyo on April 10.
The touchscreen device offers a host of features, from mobile payments and messaging to health and fitness apps. At one point during the event, Cook was joined on stage by model Christy Turlington Burns, who discussed how she has been using Apple Watch as part of her marathon training.
Apple Watch, Cook explained, can also give its wearer a gentle tap when it receives notifications, such as messages. "It's revolutionary new way to communicate with others," he said.
By designing Apple Watch to work with the iPhone, rather than as a standalone device, Apple has shrewdly bolstered its gadget armory at a time of fierce competition from gadgets running the Android operating system. Wi-Fi and Bluetooth capabilities let users pair their Apple Watch with their iPhone, effectively tying them even closer to Apple.
Highlighting the scale of this opportunity, Apple announced on Monday that the company recently sold its 700 millionth iPhone.
"You can interface Apple Watch with Siri, just using your voice," said Cook, adding that any notifications you receive on the iPhone, such as news updates and sports scores, can be received on the watch. "You can connect to social media, you can keep track of the daily news as it happens," he added.
Cook also explained how, with the built-in speaker and microphone, users can receive calls on their watch. "I have been waiting to do this since I was five years old!" he said.
The Apple CEO noted that, during a typical day's use, the Apple Watch battery will last for 18 hours.
While the device's battery life and aesthetics have come in for criticism prior to the launch event, some experts predict that the device could be a game changer in the wearable device market, with Apple sending a shot across the bows of rival offerings from the likes of Samsung.
"We are projecting Apple Watch to go down as the best selling, new product category (in first 12 months of availability) in Apple's history," wrote Cantor Fitzgerald Analyst Brian White, in a note released on Monday. White predicts 20.6 million Apple Watch sales during its first year on the market, compared to the 19.5 million iPads sold in the tablet's first 12 months.
Apple also launched Research Kit, a software framework specifically for medical research, during its San Francisco event. Organizations using Research Kit, include Mount Sinai Hospital and Weill Cornell Medical College in New York, which are using Research Kit to conduct asthma research.
In a surprise move, Apple unveiled a new MacBook line on Monday, weighing just 2 lbs. "This is the lightest Mac we have ever made," said Phil Schiller, Apple's senior vice president of worldwide marketing. At just 13.1 mm, the new MacBooks are also Apple's thinnest ever, he added.
Pricing for the new MacBook starts at $1,299.
Apple also reduced the price of Apple TV from $99 to $69 during Monday's event. "Apple TV will reinvent the way that you watch television, and this is just the beginning," said Cook.
The Cupertino, Calif.-based firm kicked off the event by announcing that HBO Now will be available to Apple customers in April. The deal marks the first time that an HBO subscription will be available directly to Apple customers.
Follow James Rogers on Twitter @jamesjrogers