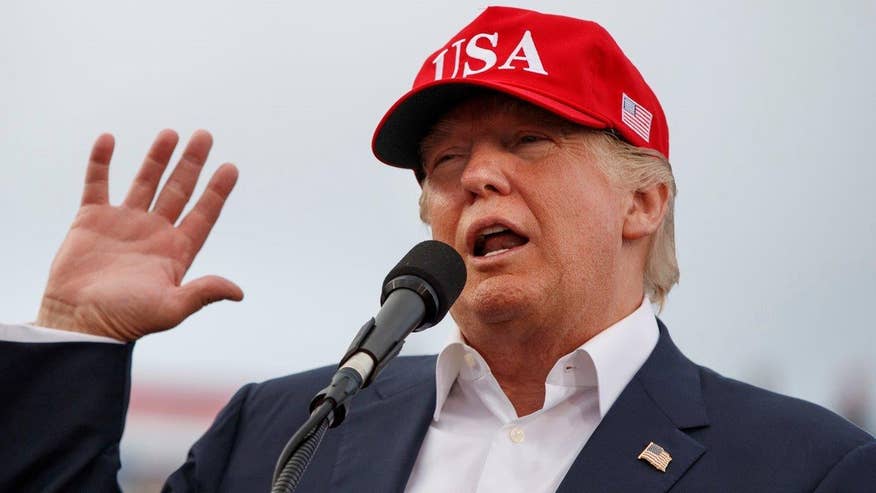 President-elect Donald Trump lashed out at the media Wednesday over the sustained focus on Democratic rival Hillary Clinton's popular-vote lead on Election Day, firing off a string of tweets reminding America that he campaigned specifically to "win the Electoral College."
Those fighting Trump's ascension to the presidency have touted Clinton's popular-vote tally since Nov. 8, even after the Electoral College on Monday affirmed the Republican's election victory. They seized Tuesday on a fresh tally from the nonpartisan Cook Political Report showing Clinton topped Trump by nearly 2.9 million votes, an historic margin for an Electoral College loser.
Trump, though, said Wednesday he would have campaigned "differently" if the United States chose presidents based on the popular vote only.
He argued his rival "focused on the wrong states," asserting that campaigning for electors is "much more difficult & sophisticated." Further, he ripped pundits for glossing over his cash deficit compared with the Clinton juggernaut in the general election race.
Campaigning to win the Electoral College is much more difficult & sophisticated than the popular vote. Hillary focused on the wrong states!

— Donald J. Trump (@realDonaldTrump) December 21, 2016
I would have done even better in the election, if that is possible, if the winner was based on popular vote - but would campaign differently

— Donald J. Trump (@realDonaldTrump) December 21, 2016
I have not heard any of the pundits or commentators discussing the fact that I spent FAR LESS MONEY on the win than Hillary on the loss!

— Donald J. Trump (@realDonaldTrump) December 21, 2016
Trump and his allies at the Republican National Committee in recent days have escalated efforts to put to rest the still-simmering push to disrupt his presidency and agenda, a month out from the inauguration.
After a rocky recount bid resulted in little change to the tally in key battleground states, a campaign by Trump foes to convince Republican electors to flip to an alternative candidate in Monday's vote likewise fell flat.
RNC Co-Chair Sharon Day urged Democrats Monday to "stop their cynical attempts to undermine the legitimacy of this election."
Trump also sparred Tuesday on Twitter with former President Bill Clinton, who was quoted disputing the notion that Trump won in a landslide.
"I got something like 370 electoral votes. That was a landslide," Clinton was quoted as saying.
Clinton indeed got 370 electoral votes in the 1992 election, though he only received 43 percent of the popular vote in a race that included independent candidate Ross Perot as well as Republican incumbent George H.W. Bush.
Trump wrote that the Hillary Clinton team in 2016 "focused on wrong states."
The final Electoral College tally, recorded on Monday, put Trump at 304 and Clinton at 227.
More electors defected from Hillary Clinton than from Trump in the end.