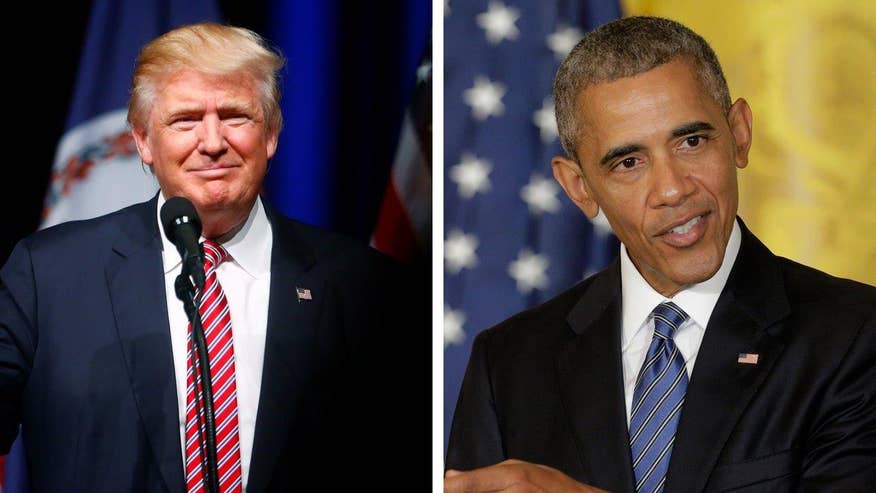 **Want FOX News Halftime Report in your inbox every day? Sign up here.**
On the roster: Obama jumps in the ring with Trump - Time Out: Punctuation won't brb - Kansas primary voters dump Republican renegade - Clinton allies sick of nominee's defense of emails - Spider-Man never has these problems

OBAMA JUMPS IN THE RING WITH TRUMP
In 2016, sometimes you just have to take a moment to reflect on how much and how fast things are changing in American politics and public life.

For instance, it once would have been unimaginable that a sitting president of the United States would have spoken as harshly and explicitly about a candidate as President Obama did of Donald Trump on Tuesday. That Obama did it from the White House and in the company of a foreign leader makes it all the more astonishing.

Standing beside the Singaporean prime minister at a press conference, Obama declared Trump "unfit to serve as president" and lacking "the judgment, the temperament, the understanding to occupy the most powerful position in the world."

In another year, it would have been seen as beneath the dignity of the office for a president to engage this way. Presidents are supposed to say that they will leave it to the voters, defer to the nominee of their party and not get into the back and forth, yadda, yadda yadda… But in 2016, it's sort of "whatevs."

Part of this is the fraying of institutions and the coarsening of the culture. But most of it is Trump himself, who is already proving to be a catalytic historical figure. If his campaign is really teetering on the brink of collapse and Republicans are near open revolt, as is being reported elsewhere, then Trump would be, in fact, a historical one-off.

But that's not what seems to really be happening here.

Yes, Trump is trailing in the polls, but his core support seems to be holding, keeping him consistently above the 40 percent mark – about the same the GOP nominee held the week after the conventions in 2012. Trump had a respectable fundraising haul in July and can be expected to bring in plenty of money in the form of small-dollar donations from his army of supporters.

In short, the political system is appalled by Trump, but the voting public, for now at least, is treating him like an ordinary Republican politician. And there's no reason to believe, based on external signs, that Trump is going anywhere.

Contrary to what many in the press and public life want to believe, this is really happening. And Trump really is going to leave a lasting mark on American politics and culture.

Trump delights in smashing every convention. He attacks his own party with glee, refusing to endorse its leaders in their re-election bids. He's been in a days-long bitter battle with the parents of a war hero killed in Iraq. He won't release his tax returns. He engages in the rawest, most personal political conflict we have seen in modern times. He does whatever he wants and he doesn't care what the rules say.

Obama was looking to call Trump out for his conduct. We watched rival Republicans try to do the same thing in primary battles with Trump and each time it didn't work. Rather than being shamed, Trump was empowered and the other guy ended up abasing himself.

Now, that's not to say that it will work as well in the general election. Hardly.

Former House Speaker Newt Gingrich summed it up in an interview on Fox Business Network this morning, discussing what he said was Trump's "very self-destructive behavior": "Trump is still behaving as though it was the primaries and there were 17 candidates. He has not made the transition to being the potential president of the United States, which is a much tougher league."

True dat.

But even if Trump doesn't win the election, he has already remade his party. Watching the agony of GOP members contorting themselves in the pitiful Terpsichore of the simultaneous denunciation/endorsement would be sad if it were happening to people other than politicians.

That was Obama's point Tuesday when he called out the Republican leadership and urged its members to repudiate Trump: "The alternative is that the entire party, the Republican Party, effectively endorses and validates the positions that are being articulated by Mr. Trump."

Obama is right, at least in the sense that Republicans have substantially lost their party and its traditional posture. That's over now. This is a new party that will live or die based on the way the story of Trump ends. The history books leave no room for asterisks next to nominees' names.

What Obama seems not to grasp is that Trump is changing the rest of politics, too. The president apparently believed he could sacrifice a little more of the dignity and remove of the White House podium in order to shame voters into rejecting Trump. Most of Trump's voters certainly don't care, and there's little reason to believe this kind of tut-tutting does much good in the broader electorate.

Obama was looking to use his office to rise above the moment and be an authoritative voice. But rather than rising above the fray, Obama is climbing into the wrestling ring with Trump.

TIME OUT: PUNCTUATION WON'T BRB
The Conversation: "Though periods can still signal the end of a sentence in a text message, many users will omit them (especially if the message is only one sentence long). This tendency now subtly influences how we interpret them. Because text messaging is a conversation that involves a lot of back-and-forth, people add fillers as a way to mimic spoken language. We see this with the increased use of ellipses, which can invite the recipient to continue the conversation. The period is the opposite of that – a definitive stop that signals, as linguistics professor Mark Liberman has explained, 'This is final, this is the end of the discussion.' For some, this can appear angry or standoffish."

Flag on the play? - Email us at HALFTIMEREPORT@FOXNEWS.COM with your tips, comments or questions

SCOREBOARD
Average of national presidential polls: Clinton vs. Trump: Clinton +5 points
Generic congressional vote: Democrats +2.8

[Watch Fox: A new national Fox News poll on the heels of both conventions will be released tonight on "Special Report with Bret Baier."]

KANSAS PRIMARY VOTERS DUMP REPUBLICAN RENEGADE
Wichita Eagle: "Voters in Kansas' 1st District primary chose newcomer Roger Marshall over three-term incumbent Rep. Tim Huelskamp, one of the most outspoken conservatives in Congress. … Huelskamp would be the third Republican House incumbent to lose this year. On most issues, be it Obamacare, the Second Amendment or Planned Parenthood, Huelskamp and Marshall weren't that far apart. But Huelskamp's confrontational, anti-establishment approach had turned off his colleagues on Capitol Hill as well as many farm groups in the sprawling, 63-county district he represented. 'I think his personality is the underlying issue,' Patrick Miller, an assistant professor of political science at the University of Kansas, said of Huelskamp. … The race drew millions of dollars in outside money, including $400,000 from the U.S. Chamber alone. In a statement, Rob Engstrom, the chamber's national political director, called Marshall's victory 'decisive.' 'Governing was on the ballot,' he said in a statement Tuesday, 'and voters spoke clearly.'"

CLINTON ALLIES SICK OF NOMINEE'S DEFENSE OF EMAILS
The Hill: "Weeks after the Justice Department decided not to press charges against Hillary Clinton for a private email setup that she has admitted was inappropriate, the Democratic presidential nominee's campaign can't seem to put the issue to bed. Instead of finding a way to let the issue die, Clinton has time and again inflamed criticism about the 'homebrew' server, by at times growing increasingly defensive and refusing to answer questions about the setup in the basement of her New York home. The strategy has caused grumblings within her campaign and led to the persistent image that she is dishonest."

PLAY-BY-PLAY
Dubya rebukes Trump policies - WSJ

Josh Kraushaar explains that Democrats' path to the Senate may be through the red rather than purple states - National Journal

Kaine voted to block Zika spending, now blames GOP - Weekly Standard

Kaine's role: raising cash - Politico

Questions persist over Clinton Foundation and State Department pharmaceutical contracts - WashEx

Nate Cohn explains why Clinton's bounce has a good chance of persisting - NYT

Are Democrats too dependent on Trump? - Vanity Fair

AUDIBLE: PAYBACK
"Republican or Democrat."– Donald Trump in an interview with WaPo saying that he plans to invest tens of millions of dollars in super PACs to defeat candidates in future elections, potentially including GOP holdouts Ted Cruz and John Kasich.

FROM THE BLEACHERS
"Dear Chris, Thank you for your insight and HUMOR. I have always monetarily supported the Republican candidate but unless. Trump can [stay] on message rather than his defensive diversions that he gets hung up on, Trump makes it more and more difficult for me to even vote for him in November. Very Frustrating!!" -- Fedora Loth, Surprise, Ariz.

"I've finally had enough of your transition to being part of WaPo. Hillary 'announces' her funding while Trump 'boasts' his numbers? You are not worthy of me." – Charlie McCartan

[Ed. note: We are sorry to lose you, Mr. McCartan. We're not part of the WaPo, but if you see Jeff Bezos handing out any fat checks, be sure to send him our way!]

"What this election needs is a good write in ticket that both sides could rally around. How about Stirewalt/ Kelly? Kelly/Stirewalt? Work out the details with Megyn. Interested? It would be an improvement over current choices." -- Jim Feakes, Colorado Springs, Colo.

[Ed. note: It would surely be the latter! And it won't be either since I'm told that they make you lose weight and exercise to run for veep…]

SPIDER-MAN NEVER HAS THESE PROBLEMS
NPR: "The Transportation Safety Administration is reminding Batman enthusiasts to check their superhero weapons when they fly. According to the TSA, people keep trying to carry 'batarangs' — the sharp, metal bat-shaped weapons that Batman throws at his enemies — onto planes, only to have them confiscated at airport security checkpoints. Agents have confiscated batarangs at multiple airports, including in San Francisco, where these showed up in a carry-on bag. TSA agents at the Salt Lake City International Airport shared an image on Instagram of multiple batarangs that came through a security checkpoint there, and reminded passengers that the bat weapons should be 'placed in your checked baggage along with your grapple gun, bat-saw, collapsible bat-sword, and other utility belt items.'"

AND NOW, A WORD FROM CHARLES…
"People say it's mistake after mistake. At some point you have to ask yourself, is [Trump] capable of conducting himself in any other way?" – Charles Krauthammer on "Special Report with Bret Baier."

Chris Stirewalt is digital politics editor for Fox News. Sally Persons contributed to this report. Want FOX News Halftime Report in your inbox every day? Sign up here.
Chris Stirewalt joined Fox News Channel (FNC) in July of 2010 and serves as politics editor based in Washington, D.C. Additionally, he authors the daily Fox News Halftime Report political news note and co-hosts the hit podcast, Perino & Stirewalt: I'll Tell You What. He also is the host of Power Play, a feature video series on FoxNews.com. Stirewalt makes frequent appearances on network programs, including America's Newsroom, Special Report with Bret Baier and Fox News Sunday with Chris Wallace. He also provides expert political analysis for FNC's coverage of state, congressional and presidential elections.