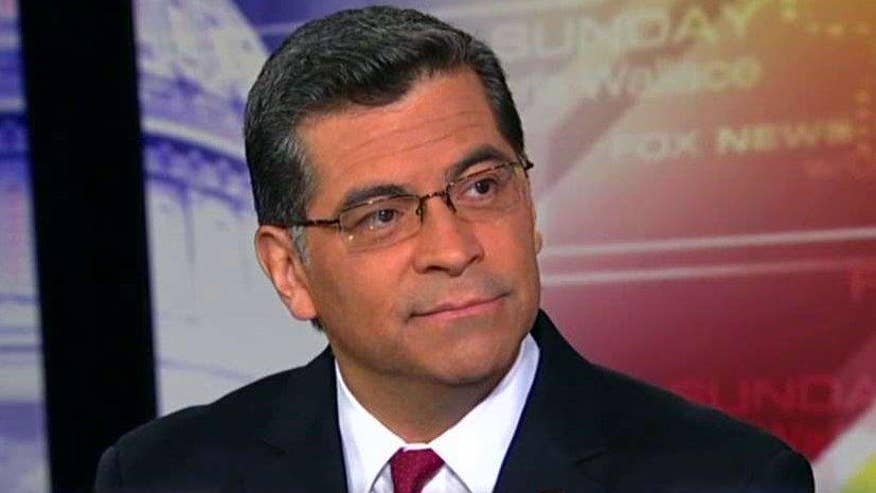 Top Hillary Clinton supporters blanketed the TV airwaves Sunday, trying to build voter trust for the presumptive Democratic presidential nominee amid her evolving email controversy and other issues, while also appearing to audition for the role of vice president.
"She understands that she's got to earn people's trust," California Democratic Rep. Xavier Becerra said of Clinton on "Fox News Sunday." "She's going to work very, very hard to do that. And I give her credit for saying that she's made some mistakes."
Becerra was one of four Democratic lawmakers purportedly on Clinton's vice presidential short list to appear on the Sunday morning talk shows.
He deferred on the question about being vetted for the job by saying, "That's a question that has to be asked of Secretary Clinton. … We'll see."
Becerra was joined on the Sunday shows by New Jersey Sen. Corey Booker (CNN,) Labor Secretary Tom Perez (NBC) and Ohio Sen. Sherrod Brown (ABC.)
Clinton appears qualified to become president, considering she is a former first lady, secretary of state and U.S. senator for New York.
However, her campaign has been slowed from the start by questions about her trustworthiness.
Such questions date back to the Clinton administration and more recently are about donors to the Clinton Foundation and Clinton's tenure as secretary of state -- including the 2012 Benghazi terror attacks and her use of a private email server for official correspondence while at the State Department.
A Gallup survey released Friday found 27 percent of Americans don't trust Clinton.
On Saturday, Clinton was interviewed by the FBI regarding the agency's investigation into whether her using a personal server for official communication violated government rules regarding the handling of classified information.
Earlier last week, her husband, former President Bill Clinton, held an impromptu meeting with Attorney General Loretta Lynch, who will decide whether to bring criminal charges in the FBI probe.
Even Lynch acknowledge the meeting "cast a shadow" over the investigation. She also said that she "fully expects" to accept the recommendations of the FBI director and career prosecutors.
However, a Justice Department spokeswoman clarified Lynch's remark by telling Yahoo News that "the attorney general will be the ultimate decider.''
Also last week, Republicans on the special committee investigating the attacks on a U.S. outpost in Benghazi, Libya, issued a final report on the matter that concluded Clinton as secretary of state and others in Obama administration told the public that the attacks were inspired by an anti-Islam video, despite eyewitness accounts that they were terror attacks.
U.S. Ambassador J. Christopher Stevens and three other Americans were killed in the attacks.
Booker told CNN's "State of the Union" that the FBI interview was merely "routine" and that Clinton being indicted over the emails is "just not going to happen."
"We're going to be seeing an investigation closing up," he said. "And I think she, like most Americans, wants this thing to be concluded and so we can move beyond it and focus on the real issues of this campaign."
Booker dismissed the Clinton-Lynch conversation as little more than a chat about grandchildren and golf.
"This is nothing that in any way undermines this case," said Booker, who also deferred to the Clinton campaign regarding a question about being a potential 2016 running mate. "I know a lot of it is coming from the Trump campaign … trying to whip up conspiracy theories."
Ohio Sen. Sherrod Brown, another potential Clinton running mate, told ABC's "This Week" that he doesn't think Clinton will be indicted.
"I'm not worried. I see what Clinton has done," he said. "She's always been willing to talk. The story that is missing is what we don't know about (presumptive GOP presidential nominee) Donald Trump."
He called the Clinton-Lynch encounter "unfortunate" and focused his answers on criticizing Trump and touting Clinton's knowledge on key issues, including the future of the U.S. auto industry.
"She clearly understands these issues, and she talks in great depth about them in individual interviews and rallies. You get none of that from Donald Trump," said Brown, also deferred to the Clinton campaign regarding a question about being a potential running mate.
Trump said this weekend on Twitter about the FBI investigation: "It was just announced -- by sources -- that no charges will be brought against Crooked Hillary Clinton. Like I said, the system is totally rigged!"
Labor Secretary Tom Perez on Sunday also showed his potential to be a good running mate in attacking the general election rival.
"Donald Trump is a fraud. He's the outsourcer in chief. And listening to him talk about how he's going to put America first again, he spent his entire career putting his own profits first," said Perez who has already joined Clinton on the campaign trail, in part to bring progressives around to her trade policy.
Perez, in the pre-taped interview Friday with NBC's "Meet the Press," even responded to a vice president question by touting Clinton over Trump.
"Trump is such a volatile individual, and what I have seen working with Secretary Clinton is that she is a steady hand," he said. "And I think she is exercised sound judgment throughout."