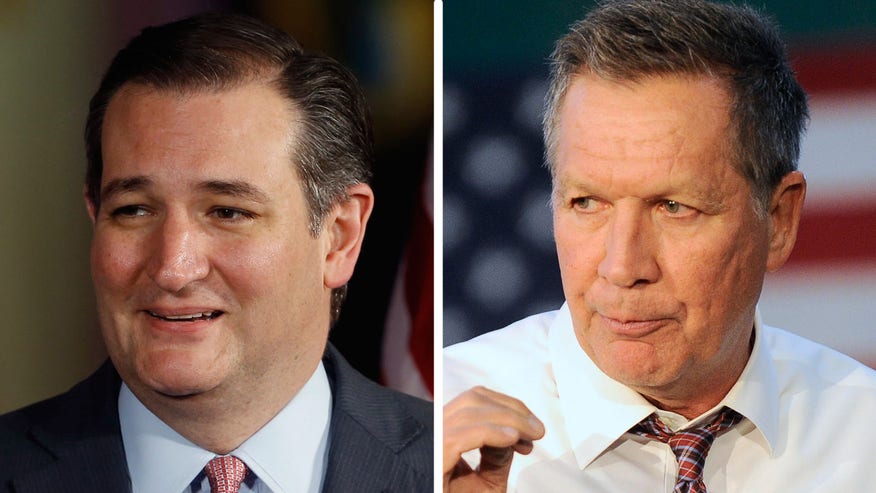 **Want FOX News First in your inbox every day? Sign up here.**
Buzz Cut:
• Two big questions for Cruz, Kasich pact
• Weekend warrior: Cruz grabs more delegates
• Bern out after Tuesday?
• Libertarian-leaning Koch ponders Hillary over Trump
• Catch a tiger by the, um, tongue?
TWO BIG QUESTIONS FOR CRUZ, KASICH PACT
Is the coordinated effort between Sen. Ted Cruz and Ohio Gov. John Kasich a nick-of-time counteroffensive that could keep Donald Trump from capturing the Republican nomination? Or is it another too-little-too-late scheme that will go the way of other bids to block Trump through strategic voting?

After all, the primary map is littered with the bleached bones of others who tried to organize the majority of the party to stop Trump.

The answer depends on two things: Whether the Cruz/Kasich pact can last all the way until the California primary on June 7, and how long Trump is able to keep voters focused on the nominating process itself.

The answer to the first one depends entirely on the initial success of their campaigns' tontine. If Cruz comes up short in Indiana next week, it will be every man for himself and, almost invariably, a Trump nomination.

The second unknown about the media and voter narrative, though, is not nearly so clear cut. Trump needs to keep talking about delegate process and party rules. It keeps his base enflamed and keeps scrutiny off of him and on his party, just where he wants it.

Let's say Trump meets or exceeds expectations and not only wins large pluralities in the five blue states voting Tuesday, but snags 100 or so delegates of the 172 up for grabs. (Don't even get us started on Pennsylvania's delegate process… we'll save that for your field guide on Tuesday.)

That would put Trump at 942 delegates. More importantly, it would put him on a path to finish with something like 1,170. That's even if he doesn't get any boost from a second straight week of coverage about elections wins and the allegedly adumbral nominating process.

Now, we know that things won't stay exactly the same. Trump could start racking up massive wins or he could face sudden setbacks. But let's assume the status quo for the sake of our discussion.

That would put Trump just 67 delegates shy of the goal line when the voting ends on June 7, 40 days before the convention. Under that scenario, Trump would need the support of just half of the unbound delegates who will arrive in Cleveland as free agents.

Trump's claim Sunday that he was not interested in any ballot other than the first is aimed directly at these self-directed delegates.

It's also rooted in reality: Trump's team knows that if he falls short on the first ballot, he will face mass defections and likely defeat. By suggesting he would withdraw from the process after the first ballot is a meaningless threat in a practical sense, but it increases the leverage against those poor souls who are already subject to enormous pressure, unprecedented scrutiny and even, some say, threats.

Many of those unbound would like to "wait and see" until the voters are done or even withhold their votes on the first ballot to see how things are shaping up. Trump is saying that either they vote for him on the first round or he will walk out.

And now that Trump has augmented his public threats and denunciations with the kind of private, professional delegate nuzzling others use, it's silly to think he couldn't squeeze 60 or 70 delegates out of those unbound. Especially if he hammers home the idea that he is being cheated.

The system Trump is railing against has actually been quite good to him. Aside from limits on debates and a compressed primary schedule designed to shield the party's frontrunner this cycle, longstanding delegate allocation rules have helped Trump turn 38 percent of the vote so far into 47 percent of the bound delegates.

As Nate Silver pointed out, the claim that polls show overwhelming support for the candidate with the most delegates getting the nomination depends a great deal on how the question is asked. The alleged outrage among voters is not nearly so widespread as coverage would suggest.

But the Trump attacks combined with relentless, often facile, reporting on the GOP process may be enough to drive these convention kingmakers to support him, even if they would prefer another candidate.

Cruz and Kasich need more than to just coordinate their campaign targets. They need to get the focus back on to Trump and off of these desperate delegates. If it's a referendum on Trump, the underdogs might be able to pull it off. If it's a referendum on the party itself, they're sure losers.

Cruz, Kasich make electability arguments at town hall - Neither Cruz nor Kasich can win the GOP nomination outright, but in a Fox News town hall Sunday hosted by purveyors of political excellence Bill Hemmer and Martha MacCallum, both candidates argued that Trump can't win the general election. In what has become mantra of both candidates, Kasich and Cruz both argued that they perform better against presumptive Democratic nominee Hillary Clinton than the GOP frontrunner.

Weekend warrior: Cruz grabs more delegates - WaPo: "Ted Cruz dominated the race for delegate seats at weekend Republican meetings nationwide, further positioning the senator from Texas to wrest the GOP presidential nomination from Donald Trump if the contest is decided on later ballots at the Republican National Convention."

[GOP delegate count: Trump 845; Cruz 559; Kasich 148 (1,237 needed to win)]

WITH YOUR SECOND CUP OF COFFEE…
Happy birthday to Ella Fitzgerald, who would have turned 99 today. Born in Newport News, Va. in 1917, Fitzgerald was raised in Yonkers, New York by a single mother until she was orphaned at age 15. Living in Harlem with her extended family, Fitzgerald fell in with bad company and landed in reform school. But she got back on track and by age 18 was ready for her big break: an amateur night performance at the Apollo Theater. Her career would span six decades and earn her the moniker "the first lady of song." Composer Ira Gershwin said of her: "I never knew how good our songs were until I heard Ella Fitzgerald sing them." Her duets were incomparable. Her mastery of the Cole Porter songbook was unmatched. She could sing the blues to break your heart. And gospel? Oh, yes. Fitzgerald died in 1996 at age 87, five years after her final performance.

POLL CHECK
Real Clear Politics Averages
National GOP nomination: Trump 42.3 percent; Cruz 30.3 percent; Kasich 22.3 percent
National Dem nomination: Clinton 49.3 percent; Sanders 46 percent
General Election: Clinton vs. Trump: Clinton +8.4 points
Generic Congressional Vote: Democrats +2.3

BERN OUT AFTER TUESDAY?
NPR: "Bernie Sanders has come a long way, but the Vermont independent is running out of friendly states. Tuesday is no different, as all but one of the contests (Rhode Island) in these Northeast states are closed primaries. In other words, independents can't vote. And that's a big problem for Sanders. One analysis found that as much as 40 percent of Sanders' vote total was coming from independents, as of a month ago. Three of Tuesday's states — Maryland, Delaware and Pennsylvania — also have significant non-white populations in Democratic primaries. That plays to Hillary Clinton's strength…Put another way: Hillary Clinton could lose every single remaining state and still be the nominee as long as Sanders doesn't beat her by an average of 59 percent in each and every remaining contest. (And that's to say nothing of superdelegates. With superdelegates, Sanders needs about three-quarters of all remaining delegates.)"

And a new poll backs that up - A new poll from Brown University shows Hillary Clinton beating Bernie Sanders by 10 points in the Ocean State, despite Sanders outperforming her in other New England states. Sixteen percent of Democratic voters are undecided between the two.

Bernie aides trying to set the Democratic agenda - NYT: "Even as his chances of winning the Democratic presidential nomination slip away, Senator Bernie Sanders and his allies are trying to use his popularity to expand his political influence, setting up an ideological struggle for the soul of the Democratic Party in the post-Obama era. Aides to Mr. Sanders have been pressing party officials for a significant role in drafting the platform for the Democratic convention in July, aiming to lock in strong planks on issues like a $15-an-hour federal minimum wage, breaking up Wall Street banks and banning natural gas 'fracking.'"

Libertarian-leaning Koch ponders Hillary over Trump - Time: "When asked if it was possible that Democratic presidential candidate Hillary Clinton could be preferable to another Republican, Koch told ABC's Jonathan Karl: 'It's possible.' Koch was critical of Republican frontrunner Donald Trump during the interview, saying that there are 'terrible role models' among those vying for the GOP nomination. However, he said he is not yet ready to endorse Hillary Clinton's candidacy. 'We would have to believe her actions would be quite different than her rhetoric. Let me put it that way,' Koch said."

[Dem delegate count: Clinton 1941; Sanders 1191 (2,383 needed to win)]

CATCH A TIGER BY THE, UM, TONGUE?
News Channel 9: "It's not unusual to see a cat roaming the neighborhood now and then, but this particular cat caused quite a scene. 'I see something run into the bushes, it was really big, and Jonathan hopped out of the car was like 'I'm gonna go catch it,' said Erin Poole. 'I see the collar and leash. I just walked up to it, and it ran up to me and started kissing me in the face and licking me,' said Jonathan Gessner. Gessner and Poole said they couldn't believe their eyes or their luck, not only finding a tiger roaming the streets, but a friendly one. But now Conroe, Texas police would like a friendly word with the tiger's owner."

Chris Stirewalt is digital politics editor for Fox News. Sally Persons contributed to this report. Want FOX News First in your inbox every day? Sign up here.
Chris Stirewalt joined Fox News Channel (FNC) in July of 2010 and serves as politics editor based in Washington, D.C. Additionally, he authors the daily Fox News Halftime Report political news note and co-hosts the hit podcast, Perino & Stirewalt: I'll Tell You What. He also is the host of Power Play, a feature video series on FoxNews.com. Stirewalt makes frequent appearances on network programs, including America's Newsroom, Special Report with Bret Baier and Fox News Sunday with Chris Wallace. He also provides expert political analysis for FNC's coverage of state, congressional and presidential elections.