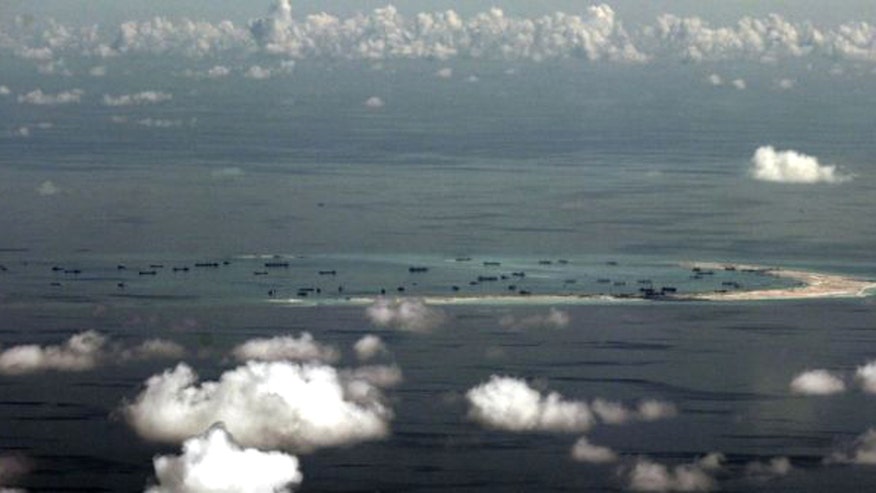 Two American B-52 bombers flew near artificial islands built by China in the South China Sea last week in the latest close encounter between U.S. and Chinese forces in the disputed area.
The Pentagon confirmed the flights Thursday, saying the B-52s were contacted by Chinese air traffic controllers, but completed their mission as planned.
"We conduct B-52 flights in international air space in that part of the world all the time," Pentagon spokesman Peter Cook said. "My understanding is there was one B-52 flight, I'm not even sure the date on it, but there was an effort made by Chinese ground controllers to reach out to that aircraft and that aircraft continued its mission. Nothing changed."
Pentagon spokesman Bill Urban told Reuters the flights took place on the night of Nov. 8-9 and the bombers took off from and returned to Guam on a routine mission. He added that the bombers did not fly within the 12-nautical mile zone that China claims as its territory around the Spratly Islands.
Washington and Beijing are locked in a diplomatic dispute over the South China Sea, with China declaring territorial sovereignty over the region while the U.S. insists on freedom of navigation.
Chinese Foreign Ministry spokesman Hong Lei said Friday that China opposed flights that used such freedoms as mere legal cover, strongly implying that Beijing considered the flights by the B-52 bombers on Sunday and Monday as an excuse to challenge China's territorial claims in the South China Sea.
China "firmly opposes violating international law and undermining China's sovereignty and security interests under the pretext of navigation and overflight freedom," Hong told reporters at a regular news conference.
In an effort to consolidate its claim, China has been piling sand on the reefs and atolls in the Spratly Islands archipelago before adding buildings, ports and airstrips big enough to handle bombers and fighter jets. China has also attempted to impose a 12-nautical mile limit around the islands, contrary to international law, which says such limits cannot be set around islands built on previously submerged reefs.
Last month, the U.S. dispatched the destroyer USS Lassen to sail within the 12-nautical mile limit around the Spratlys. China reacted angrily to the move, claiming that the ship "threatened China's sovereignty and security interests, jeopardized the safety of personnel and facilities on the reefs, and damaged regional peace and stability."
An estimated $5 trillion in global trade passes through the South China Sea every year. The issue is expected to linger in the background when President Barack Obama attends the Asia Pacific Economic Cooperation forum in the Philippines next week, and later have meetings with Southeast Asian leaders in Malaysia.
A U.S. treaty ally, the Philippines has strongly contested China's territorial assertions. Brunei, Malaysia, Taiwan and Vietnam also exercise claims in the region.
Fox News' Lucas Tomlinson contributed to this report.