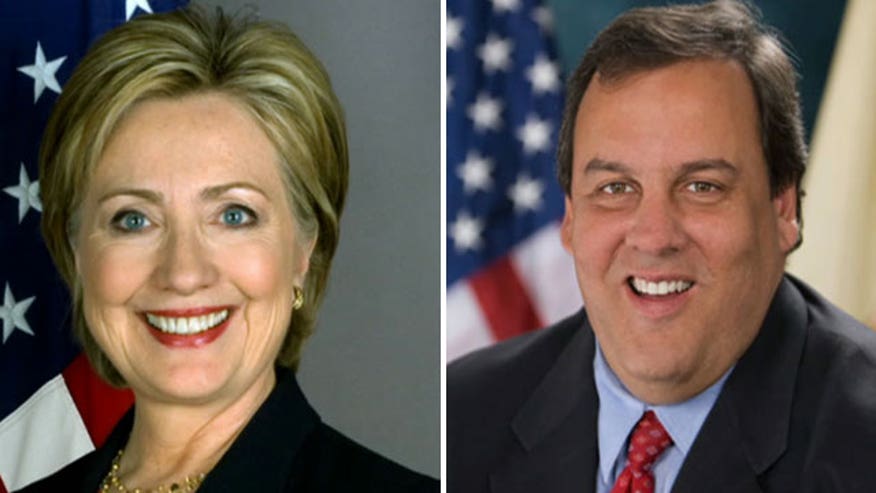 Is it WAY too early to talk about the 2016 presidential primaries? Yes. Are we going to do it anyway? Yes!
Former Secretary of State Hillary Clinton and New Jersey Gov. Chris Christie -- at the moment -- are the top picks among party faithful to receive their respective party's presidential nomination.
That's according to a Fox News national poll released Thursday.
Click here for the poll results.
Clinton is miles ahead of the other possible Democratic candidates tested. The new poll finds she leads the pack with 68 percent support among Democrats. Vice President Joe Biden is a distant second with 12 percent. No other candidate garners double-digit support.
Next is Massachusetts Sen. Elizabeth Warren at seven percent and New York Gov. Andrew Cuomo at four percent. Maryland Gov. Martin O'Malley and Massachusetts Gov. Deval Patrick each register one percent support.
Candidate support is much more splintered on the Republican side. Christie has a narrow edge with 16 percent among the GOP faithful. He's followed by former Florida Gov. Jeb Bush, Texas Sen. Ted Cruz and Wisconsin Rep. Paul Ryan each at 12 percent.
Kentucky Sen. Rand Paul receives 11 percent, followed by Florida Sen. Marco Rubio at eight percent and Wisconsin Gov. Scott Walker at six percent. Texas Gov. Rick Perry and former Pennsylvania Sen. Rick Santorum each receive the support of three percent.
Christie and Bush receive roughly equal support from both Republican men and women. It's more lopsided for some of the other potential candidates. For example, Republican men are twice as likely as women to support Cruz and Paul. Republican women are twice as likely as men to back Ryan and Rubio.
On the Democratic side, Clinton is far and away the top choice among both men and women.
That's how things stand for the 2016 presidential field right now. Stay tuned.
The Fox News poll is based on landline and cell phone interviews with 1,027 randomly chosen registered voters nationwide and was conducted under the joint direction of Anderson Robbins Research (D) and Shaw & Company Research (R) from December 14-16, 2013. The full poll has a margin of sampling error of plus or minus three percentage points. The results among Democrats and Republicans have an error of plus or minus five percentage points.