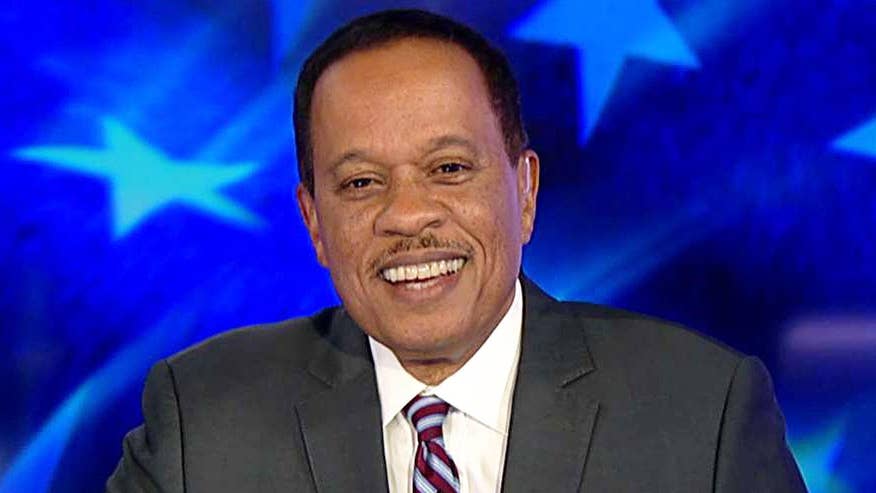 Editor's note: The following column originally appeared in The Hill newspaper and TheHill.com.
Liberal Democrats could yet see their dreams come true.
Last week, a new poll from the liberal outfit Public Policy Polling (PPP) asked Americans if President Trump should resign if evidence emerges that his campaign worked with Russia to help defeat Hillary Clinton. A majority, 53 percent, said he should resign.
That is important because PPP also found that 44 percent of Americans already believe that Trump's campaign did just that.
It is no fantasy to say the drip-drip-drip of the Trump-Russia investigations is draining this presidency of political capital. The president's historically high disapproval rating — 51 percent in the latest McClatchy poll — tells the same story.
It is no fantasy to say the drip-drip-drip of the Trump-Russia investigations is draining this presidency of political capital.
That's why astute Republicans are starting to look out for themselves.
The first Republican to begin to run for cover was Attorney General Jeff Sessions, who decided to recuse himself from any role in the investigation. Last week Michael Flynn, the former national security adviser, sought immunity in exchange for his testimony to congressional investigators.
A majority of Americans want a special prosecutor — including 39 percent of Republicans, according to one poll. Sen. John McCain (R-Ariz.) has called for Congress to form a bipartisan select committee to probe ties between Russia and the Trump camp.
The struggle for Republicans in Congress is two-fold.
First, they have to avoid being blamed for undermining the legitimacy of the Trump presidency. But, secondly, they are worried about the damage Trump will do to their party's fortunes in the 2018 midterms.
The Democrats have a different political challenge.
They have to figure out how to respond to White House efforts to distract the public by denigrating the intelligence agencies and derailing the Congressional investigations.
Rep. Adam Schiff (D-Calif.), the ranking member on the House Intelligence panel, has become a model on that score by avoiding political statements.
He limits himself to saying there is "more than circumstantial evidence" that the Trump campaign colluded with Russia to influence the election.
As a result, Schiff looks virtuous compared to the committee's chairman, Rep. Devin Nunes (R-Calif.). The Republican has failed by playing along with Trump officials who are busy suggesting that the whole controversy has been ginned up by anti-Trump intelligence agents and left-over Obama administration officials.
Meanwhile in the Senate, Democrats are united behind Sen. Mark Warner of Virginia, the Intelligence Committee's vice-chairman, who holds the upper hand over the Republican chairman, Sen. Richard Burr of North Carolina.
The minute Warner says Burr is acting to protect Trump, the committee's entire credibility will crumble.
Burr has announced plans to interview Trump's son-in-law and senior advisor, Jared Kushner, as part of the investigation. Trump associates Roger Stone, Paul Manafort and Carter Page have also volunteered to testify.
In the Senate, the Democrats are also unified behind the political strategy of Minority Leader Charles Schumer (D-N.Y.). He is threatening to filibuster Trump's nomination of Neil Gorsuch to the Supreme Court.
"It is unseemly to be moving forward so fast on confirming a Supreme Court justice with a lifetime appointment while this big gray cloud of an FBI investigation hangs over the presidency," Schumer said recently.
But the Trump White House continues to pursue a failing strategy of distraction.
In conspiratorial terms, these Trump insiders point to a shadowy clique of Washington hands — the so-called anti-Trump "Deep State" — trying to bring down the populist president.
Trump tried his hand at the change-the-subject game with his unsupported claim that President Obama was wiretapping him. That is now a claim that all but his most stalwart allies have abandoned.
Democrats also have to contend with the Trump White House effort to undermine the Congressional investigations. The Washington Post reported last week on White House efforts to stop former Attorney General Sally Yates from giving testimony.
The good news for Democrats is that the White House is not very good at distracting anyone from the Russia scandal.
White House aides got caught leaking documents to Nunes in an attempt to shift media attention to charges of potentially illegal surveillance of Trump campaign officials.
That backfired when the names of the White House aides ended up in The New York Times. One of the men, Ezra Cohen-Watnick, a 30-year-old at the National Security Council, had recently been targeted for dismissal by his boss H.R. McMaster, the national security adviser. Cohen-Watnick had to appeal to the president to save his job.
In this chaos, Democrats have the luxury of watching and expressing apolitical regret. After all, most of the Democratic base views still views Trump as a racist, a huckster, a sexual predator and an illegitimate president.
Democrats have also been emboldened by the health care debacle. House Democratic Leader Nancy Pelosi (Calif.) literally took off her shoes and jumped for joy with protestors outside the Capitol after the vote was pulled.
It has been said that predictions make fools of us all. The campaign and the election that brought Trump to power certainly proved that, since the majority of the media — myself included — predicted he would not win.
But it is no liberal fantasy to say the odds of a Trump resignation or impeachment before 2020 are looking better by the day.
Juan Williams currently serves as a co-host of FOX News Channel's (FNC) The Five (weekdays 5-6PM/ET) and also appears as a political analyst on FOX News Sunday with Chris Wallace and Special Report with Bret Baier. Williams joined the network as a contributor in 1997.