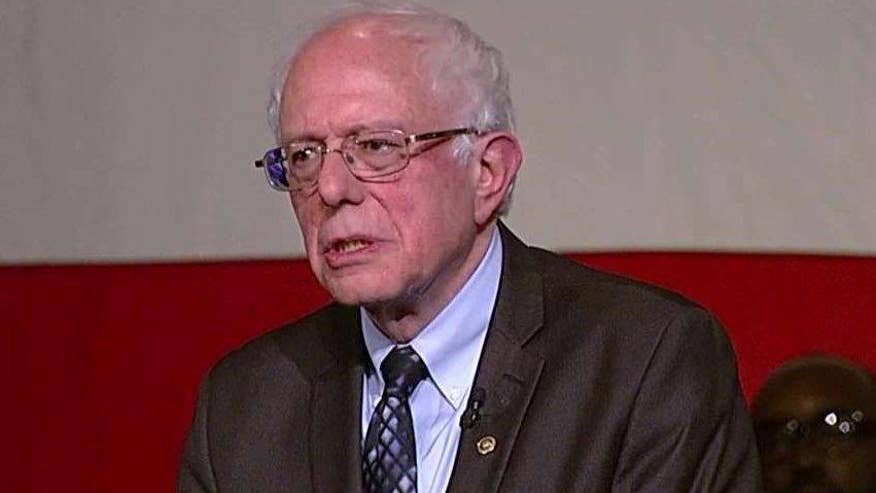 You might recall the biblical tale of the fellow thrown into the lion's den, only to survive the ordeal and see his oppressors instead fed to the beasts.
I'm not saying that's why Hillary Clinton and Vermont Sen. Bernie Sanders agreed to do an hour-long Fox News town hall in Detroit Monday.
Still, let's assume their motives were less than spiritual.
For Sanders, it couldn't be simpler: trailing in the Democratic presidential race, he needs an upset victory in Michigan to keep alive his faint hopes of denying Clinton the Democratic nomination. He's in no position to decline free airtime.
As for Hillary Clinton, making her first Fox appearance since June 2014, the calculation reeked of self-awareness.
On the eve of a vote in an anti-NAFTA state, Clinton doesn't want Sanders to get the last word on free trade and her ties to the financial elites. Besides, if she ends up with Trump as a general-election opponent, she'll be spending more time in Michigan making sure the state remains true-blue (Michigan last voted Republican in 1988).
So what did we learn from Bernie and Hillary's visit to the lion's den?
Contrary to what he said in Sunday's contentious debate, Sanders admitted that white Americans aren't strangers to poverty (maybe he Googled "Bobby Kennedy Appalachia"). Otherwise, he stuck with the script: lavish spending on infrastructure, education and health care, plus death to Citizens United.
Here's where watching Sanders gets very tiring, very fast (he fielded Bret Baier's questions for the town hall's first 25 minutes) name the topic – poverty, health care, national debt, college tuition – and it leads back to income inequality, Wall Street's inequities and social injustice.
Let's face it: Sanders, like modern artwork, elicits different interpretations. If you Feel the Bern, you love the message discipline. If you don't know the lyrics to The Internationale" and prefer to quote Churchill rather than Attlee, you see a 74-year-old man unhealthily parked at the intersection of Wall and Broad Streets.
Then again, Sanders was merely the warm-up act for Clinton, who hasn't done an extended media availability since three weeks before last Christmas.
It didn't take long to see why Clinton first declined the Fox News' invite before accepting – and may not return for another 21 months (though the questions were not as contentious as they could have been).
The Democratic frontrunner was asked by Baier to explain why Libya fell into chaos (she called the situation "deeply regrettable", but stood by the decision to take out Muammar Qaddafi) and deftly maneuvered past his question on scenarios when abortion wouldn't be an option ("we've got continue to stand up for a woman's right to make these decisions – and to defend Planned Parenthood…"). Pressed on the State Department email controversy, she went into "clarify" mode (using the personal server was "a mistake", "nothing I sent was marked classified…").
Voters may not trust Clinton, but she's good in town hall settings – in part, because the indoor venues keep her voice at easier-on-the-ears, lower-decibel levels.
Hillary's answers to audience-fed questions usually weaved a clever historical narrative. With repetition, she's getting good at applause lines ("we have to rip away the school-to-prison pipeline and replace it with a cradle-to-college pipeline"). Confronted by a Bernista as to why she's not on board with his free-college plan, she talked smack about tuition prices, called on states to spend more on higher-ed and reminded the audience that she has a very specific plan to deal with student debt.
Still, Hillary's not her husband. And it shows.
Whereas Bill Clinton is empathetic, his wife is policy-emphatic – maybe that's one reason why she's struggled with the youth vote. And you know Bubba would have linked Nancy Reagan's passing to a more harmonious Washington.
Curiously, the former first lady didn't reference Mrs. Reagan and their membership in what may be the world's most exclusive women's club.
Like Daniel, Bernie and Hillary walked away unmauled.
But it's not just the lions that are hungry.
A lot of us still want to know how either candidate can lead a divided nation.
Bill Whalen is a research fellow at Stanford University's Hoover Institution, where he analyzes California and national politics. He also blogs daily on the 2016 election at www.adayattheracesblog.com. Follow him on Twitter @hooverwhalen.