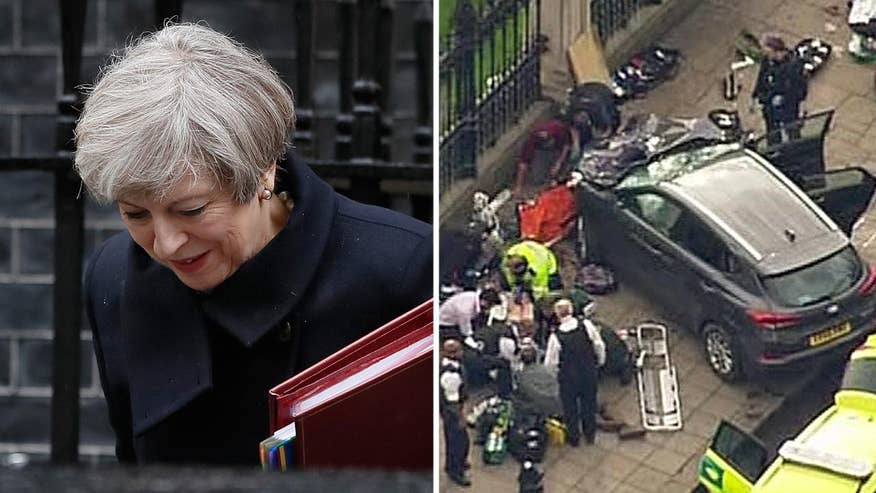 British Prime Minister Theresa May was rushed to safety Wednesday after a knife-wielding assailant attacked a police officer and shots were fired outside Parliament in what authorities are calling an act of terror.
May is back at her office on Downing Street and monitoring the situation very closely, according to reports.
Andrew Bridgen: PM moved away by biggest plain clothes policeman I've ever seen..automatic weapons produced, she was rapidly moved to safety

— Tamara Cohen (@tamcohen) March 22, 2017
May was seen being rushed into the back of a silver Jaguar by a heavy security detail immediately after the incident -- which unfolded while Parliament was in session, according to Sky News. The vehicle left the scene at a high speed.
News footage of her exit shows May being ushered by at least eight armed undercover police officers, some of whom had their firearms drawn.
Officials said a man with a knife attacked a police officer at Parliament and was shot by officers at approximately 2:35 p.m. Wednesday. There are also reports of a vehicle hitting pedestrians on nearby Westminster Bridge, causing "catastrophic injuries."
At least two people have reportedly died in the incident.
London police said they are treating the gun and knife incident at Britain's Parliament "as a terrorist incident until we know otherwise."
The Metropolitan Police said in a statement that the incident is ongoing. It is urging people to stay away from the area.
Every Wednesday, the Prime Minister appears in the House of Commons to be questioned by Parliament members about various issues. The session usually begins around noon.
Parliament was locked down Wednesday afternoon, as officers searched the buildings "room by room," according to Sky News.
Fox News' Greg Palkot and The Associated Press contributed to this report.