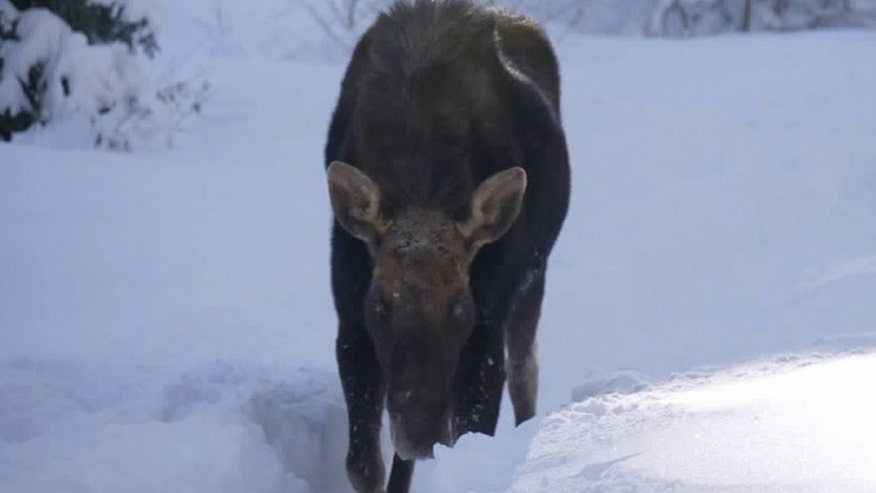 Is there a moose on the loose? Count it.
That's what residents of Anchorage, Alaska are being told in an effort to figure out how many of the antlered animals are roaming around the city.
On Sunday, the Alaska Department of Fish and Game asked the public to call, text, or email each time they saw a member of the four-legged species so that state biologists could get an official moose count.
Moose are a regular site for those living in Anchorage. They could often be seen strolling through parks, wandering down streets in the heart of downtown, or even enjoying afternoons in driveways of homes in suburban neighborhoods.
The department has said it could barely keep up with the hundreds of reports that started rolling in beginning at sunrise on Sunday, according to the Alaska Dispatch News.
The experiment seems to be drawing huge support and excitement from the public. That's no surprise after a 2010 study on local attitudes toward wildlife showed 94 percent of residents "enjoyed watching moose."
The way the experiment works is an Anchorage resident notifies the department of a moose sighting, triggering the dispatch of a biologist armed with a dart gun in an effort to gather a DNA sample from the moose. If successful, the samples collected could help researchers create a genetic family tree of Anchorage moose.
This new plan deviates from the traditional strategy for counting the moose population in an aerial survey. But the combination of public calls, canvassing and DNA sampling could be successful and, according to biologists, could produce useable moose data the next few years.
According to Alaska's Dispatch News, the work had been slower than anticipated. Some of the moose were gone by the time the team arrived. After more than 100 calls and the dispatch of over 40 biologist teams, only 25 moose had been darted.
Nevertheless, this was the first time the department asked for help from the public on this level and Anchorage residents seems enthusiastic about their call to action.